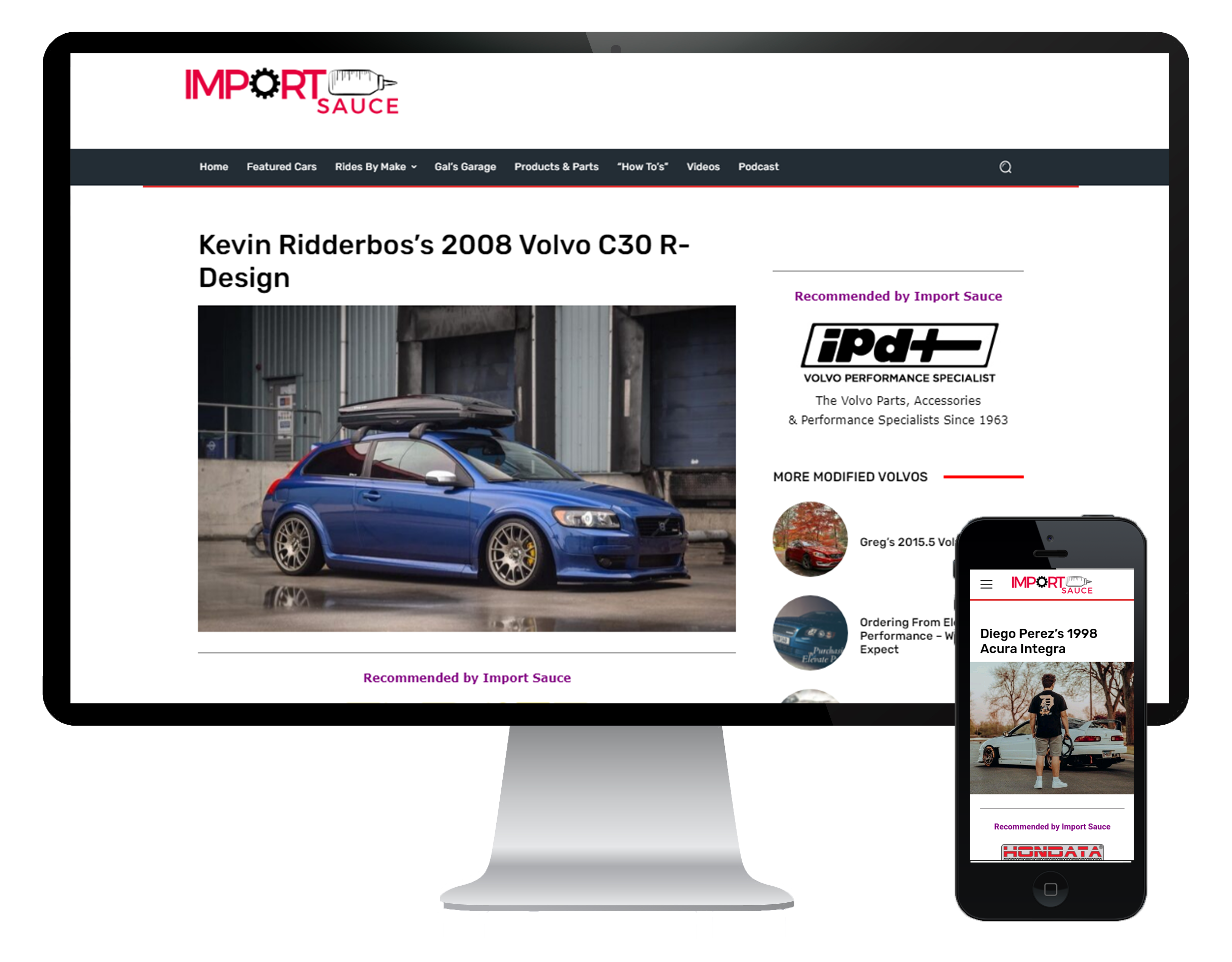 ImportSauce.com offers multiple advertising options across our website. Each is individually tailored to place you directly in front of the potential customer's eyes you need.
All placements are on a 6 month term with first right of refusal for continued terms. Ads are billed for the complete term, and ads go live within 1-2 days of processed payment.
Ads can be a combination of text, logos and or custom artwork with a link to your chosen destination.
Available Placements
All ad placements are per a specific category. You can choose to be in one, or as many as you would like. The pricing is based on a single category and there is a 15% discount for each additional category or ad placement when bundled together.
For example, you can choose the "Article Top" ad for your ad to be placed in the "Honda" category, in which EVERY article in the Honda category on the entire website will have your ad at the top of the article. You can bundle that "Article Top – Honda" with an "In Article" ad in the Acura category. If we have it available, you can bundle up and save.
---
$75/month/category: Article Top Placement: This is the top most portion of any article on the website. The ad falls under the article title and featured image. You can see an example of this placement on this article, in which we see "Elevate Performance", has article top placement in the "Volvo" category. https://www.importsauce.com/jacob-kings-volvo-c30/.
$75/month/category: In Article Placement: This ad position is placed directly inside of the articles within a category. It is typically about half way down in the content. See example on this article here with Elevate Performance's C30 Intake System image ad: https://www.importsauce.com/jacob-kings-volvo-c30/.
$40/month/category: Article Bottom Placement: This ad is the bottom of the article, but not the bottom of the page. While this ad does appear lower, the page still continues on to author information, social sharing information, and related articles. You can see this placement with "Viva Performance" at the article bottom: https://www.importsauce.com/jacob-kings-volvo-c30/.
$30/month/category: Article Sidebar Placement: This ad is found in two separate places depending on if a visitors views the website on desktop, or a mobile device. On desktop, the sidebar ad will be the first item inside the right sidebar of the article. On mobile however, the ad will be under the complete article content (article, article bottom ad, social sharing, author information, related articles). Because of this, the ad will either be the top most thing, or the last thing a visitor sees, depending on how they visit. Our average visitors, based on device is 80% Mobile/18% Desktop. You can see the sidebar placement here with "IPD" placed in the sidebar placement: https://www.importsauce.com/jacob-kings-volvo-c30/.
Available categories for ad placements:
Acura, Audi, BMW, Honda, How To Section, Lexus, Mazda, Mitsubishi, Nissan, Saab, Subaru, Products and Parts, Toyota, VW and Volvo.
For more information, questions or to see what categories are available for advertising, send our team a message below. We are located in Sunny Southern California, and typically respond same or next business day.