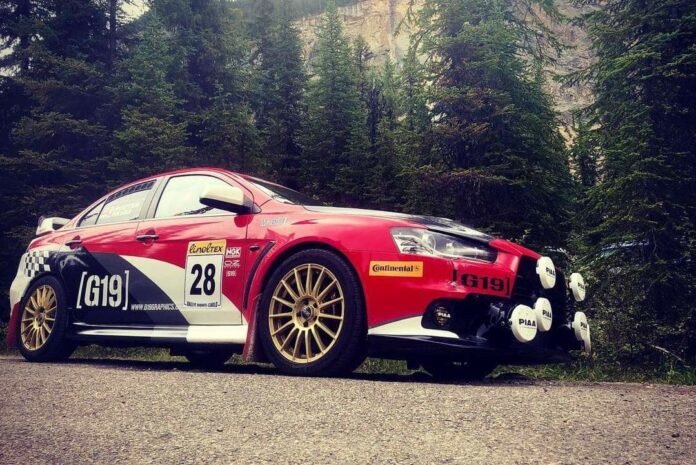 Owner: Daniel Nguyen – Instagram: @papa_piaa
2011 Mitsubishi Lancer Evolution X MR – Location: Alberta, Canada
Photographer: @huesaflash
People I talk to: Wait. You rally this thing with all that expensive stuff under the hood?!
Me: Um yeah? Rallycar gotta rally.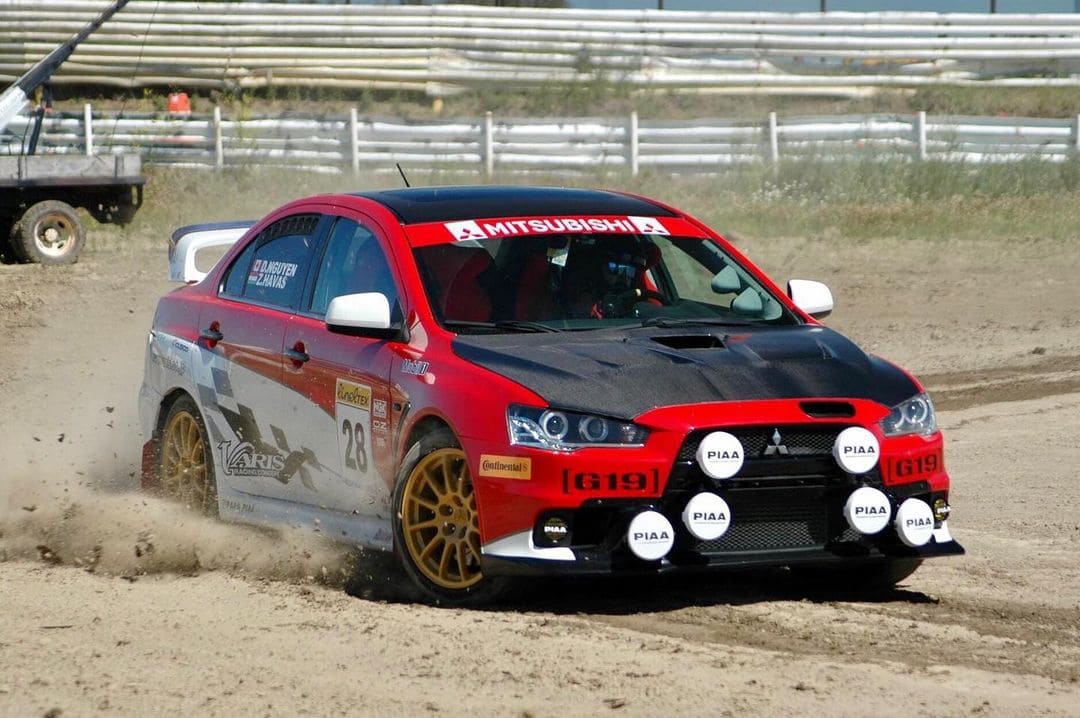 Was there any unusual circumstances around how you acquired your car?
There weren't any. I was looking for a stock example, and found this car for a good price on the online classifieds. The only modifications done to it were a set of KW V3 coil overs.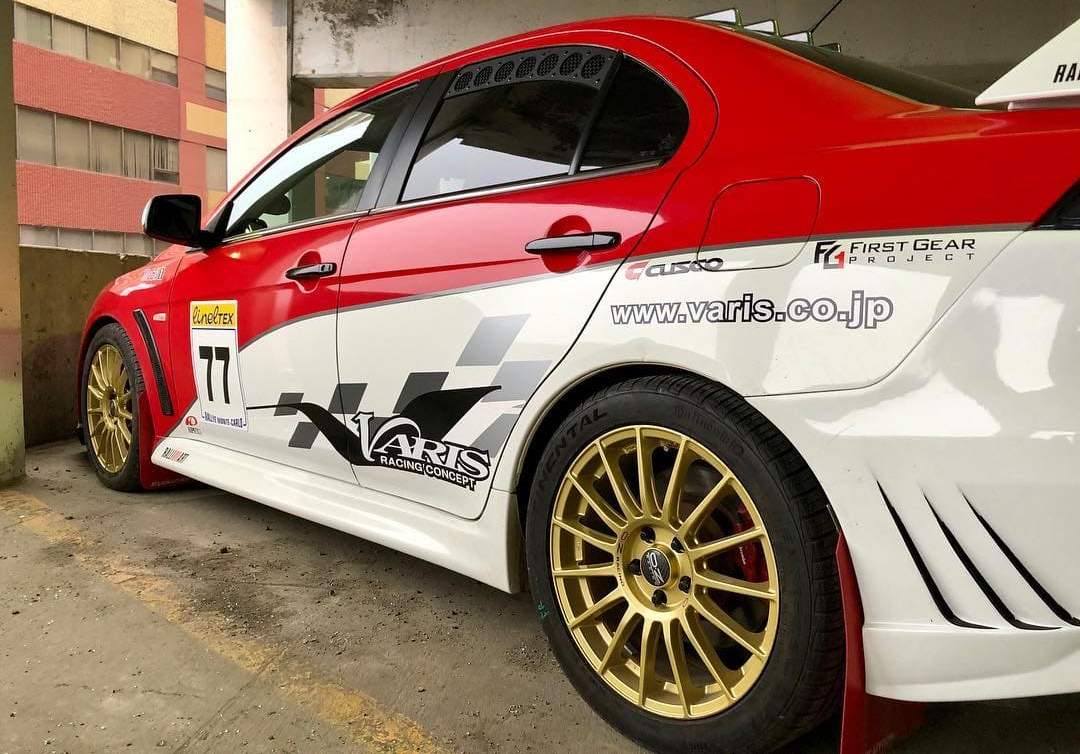 Was there more work on your car than you anticipated? Did you find a bucket of wiring worms, find some secret hidden problems…..
There were actually a LOT of problems that came up when I first bought the car. Within the first month of ownership, I was at the dealership every week looking to get a bunch of different problems fixed.
-One of the wheel speed sensors went out and caused a bunch or codes.
-The ACD/AYC pump for the 4WD system was starting to die, and I had to fight with the dealership to get it replaced under warranty before it ran out.
-I noticed that the front passenger door was slightly indented from an accident that the previous owner didn't tell me about. The accident wasn't in the Carfax either. I ended up later finding a spare door and getting it painted to match.
-The owner didn't give me the right set of lug nuts for the OEM wheels, and they ended up getting over-torqued and snapping off some of the studs when they came off. The dealership ended up having to change out all the studs.
Since that painful month five years ago, I've learned to do all of the work on my vehicle by myself.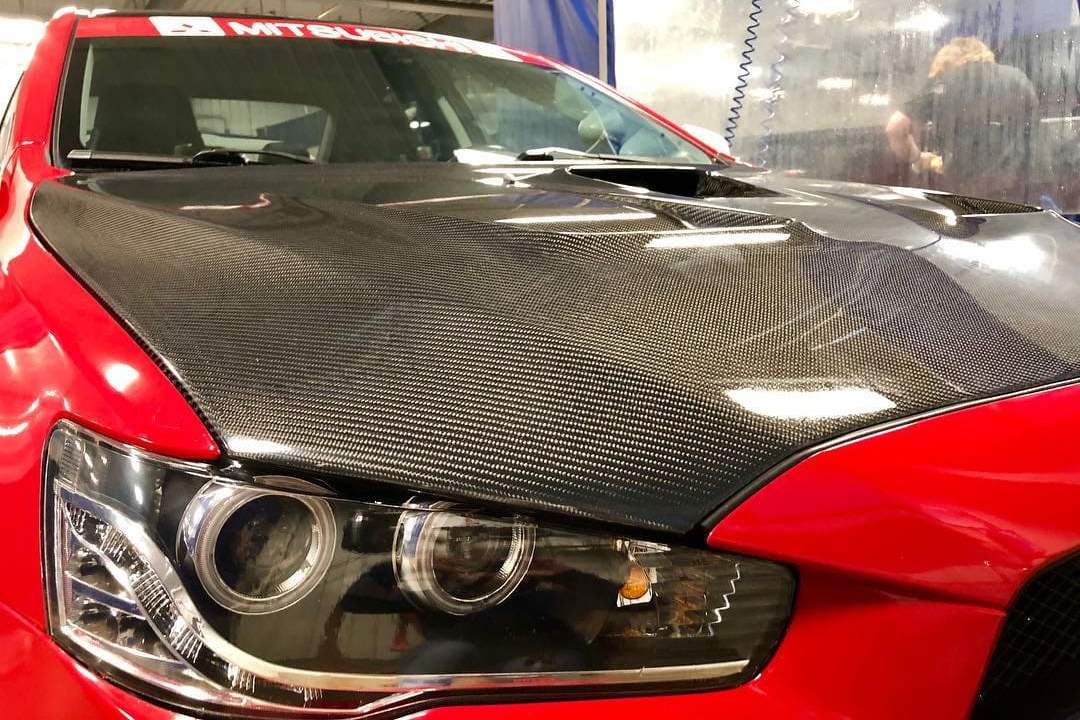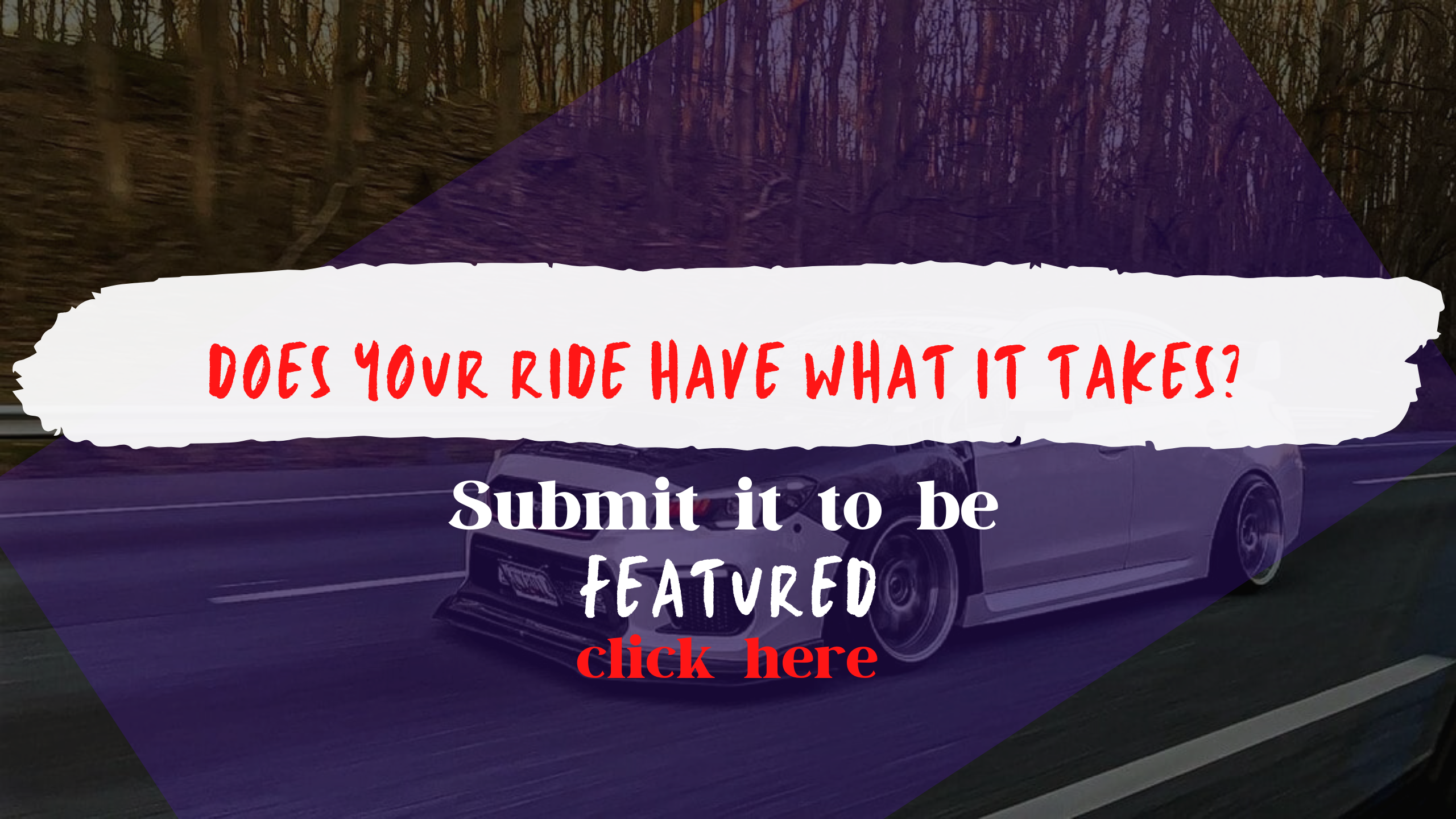 Are there any unique mods on your car? Hyper-rare parts, custom made parts…
There aren't a lot of rare parts on my car, but a piece that is hard to find nowadays is the RKTitanium dual catch can and coolant expansion tank. Not many were bought due to the price, and they were produced in low quantities.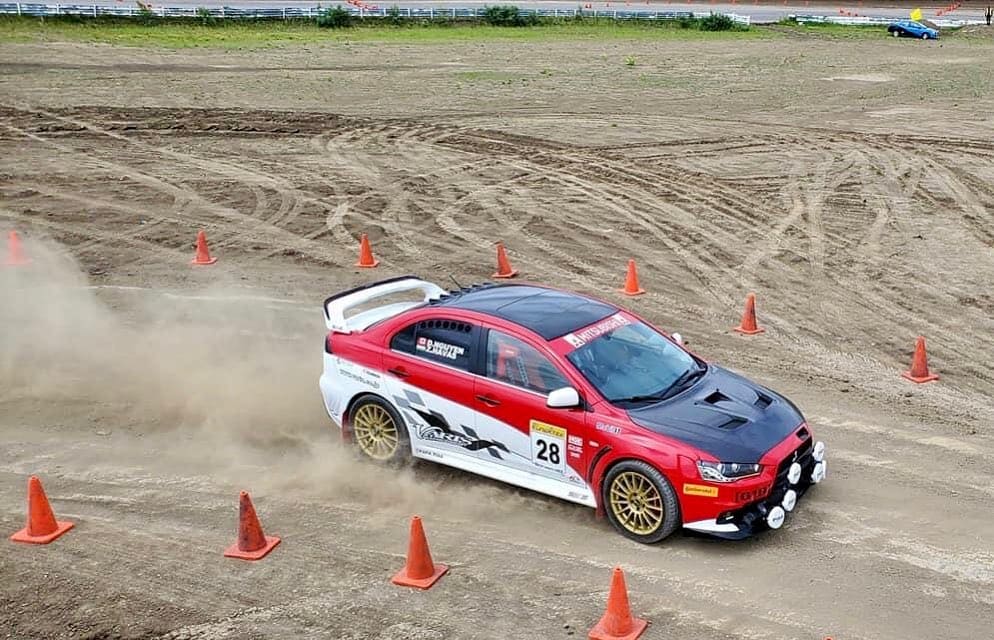 Would you consider your car done in its current form? Or do you have a list of "to dos" still left?
My build is never over, there's always more things that I come up with. I have a Voltex Type 9 wing that should be coming in later this year. I'd like to upgrade the suspension to something more rally oriented, and also get a small brake kit to run 15″ wheels to run gravel tires. I plan someday to get the transmission upgraded for more power, and run a bigger turbo. I plan to strip the interior eventually and fully cage the car.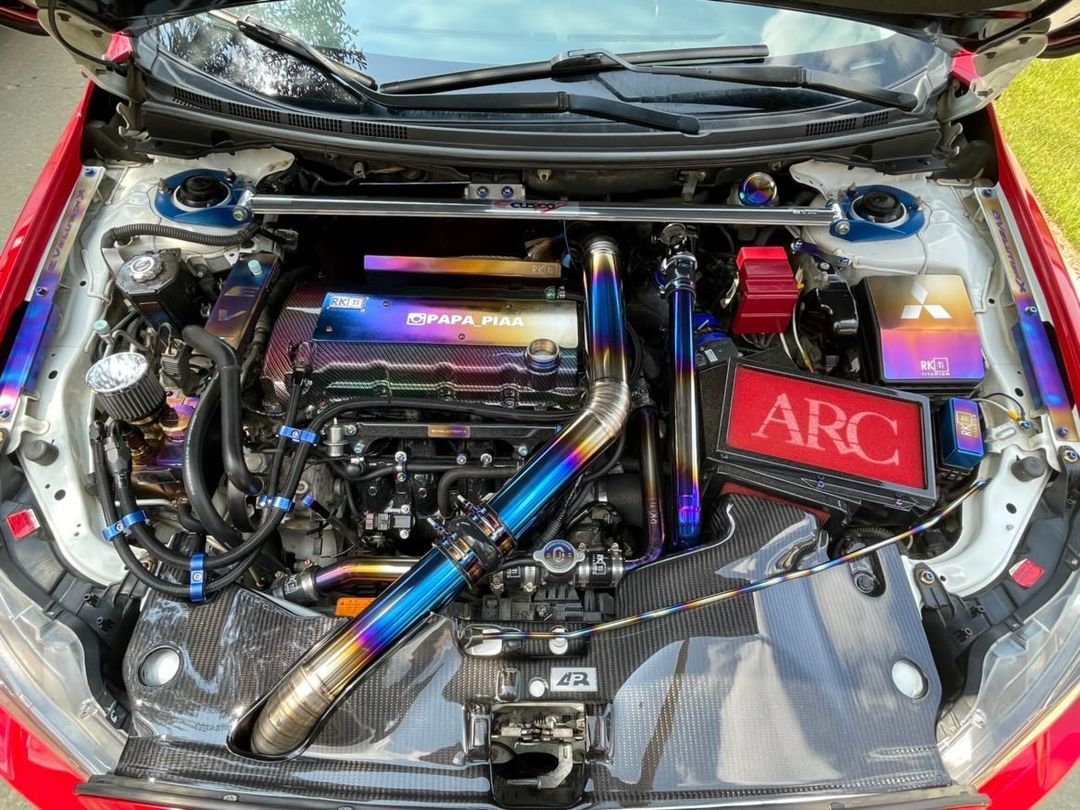 What is the biggest problem you ran into on your build?
The biggest pain was working on the turbo, exhaust manifold and downpipe. The stock heatshields and brackets are placed in the worst places, and it's really hard to get good leverage on some of the bolts. It took me a month to get everything out. This is probably one of the things that I should have given a shop to do and just agree to the cost.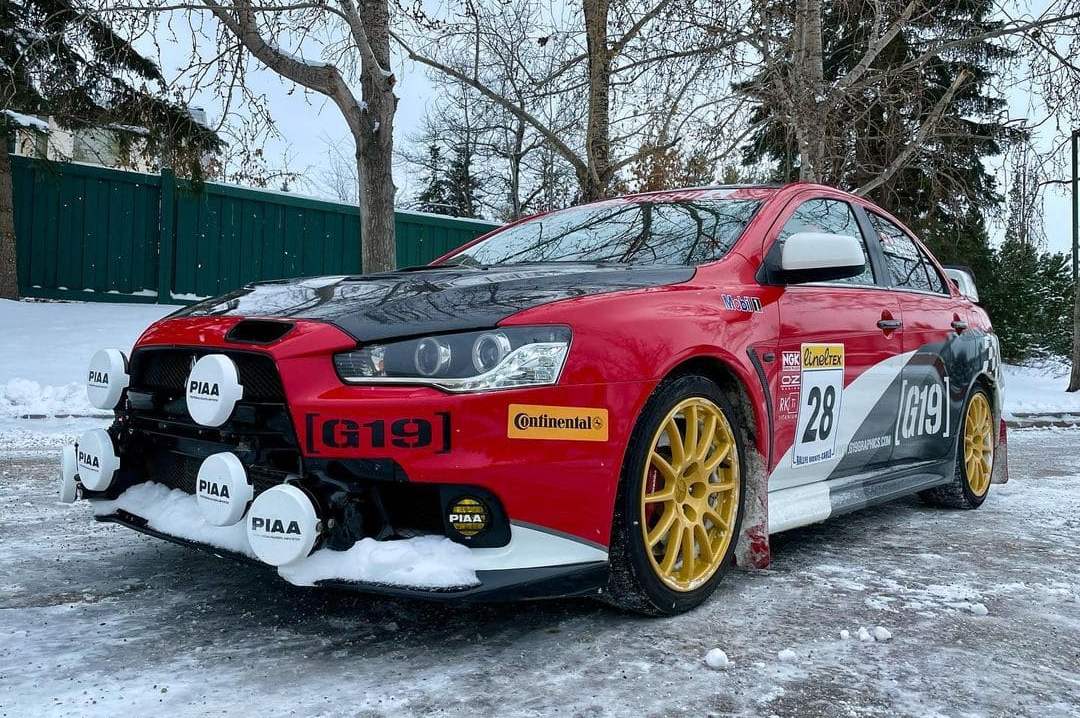 If you had to do it again, would you build the same car?
Absolutely! It was a childhood dream of mine to design and build my own rally car.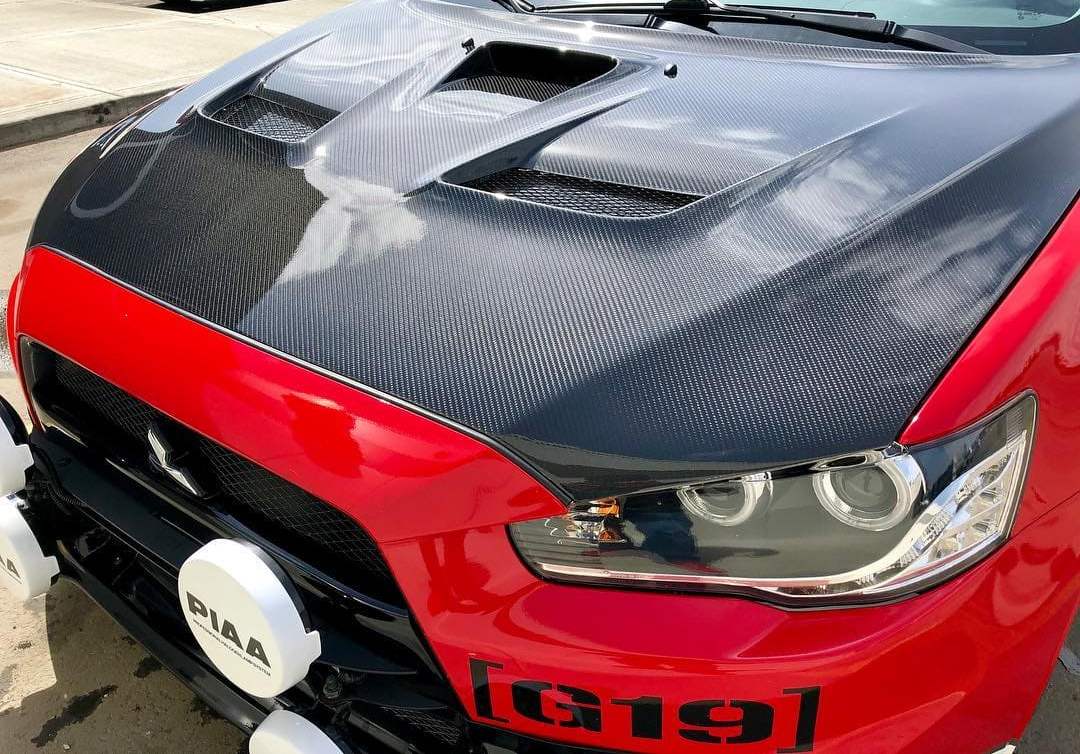 Are you apart of a club or crew with your car?
I wasn't part of a club, but there's a pretty large Lancer Evo community where I'm from. I made a lot of friends there, and learned how to do a lot of mechanical things on the car from them.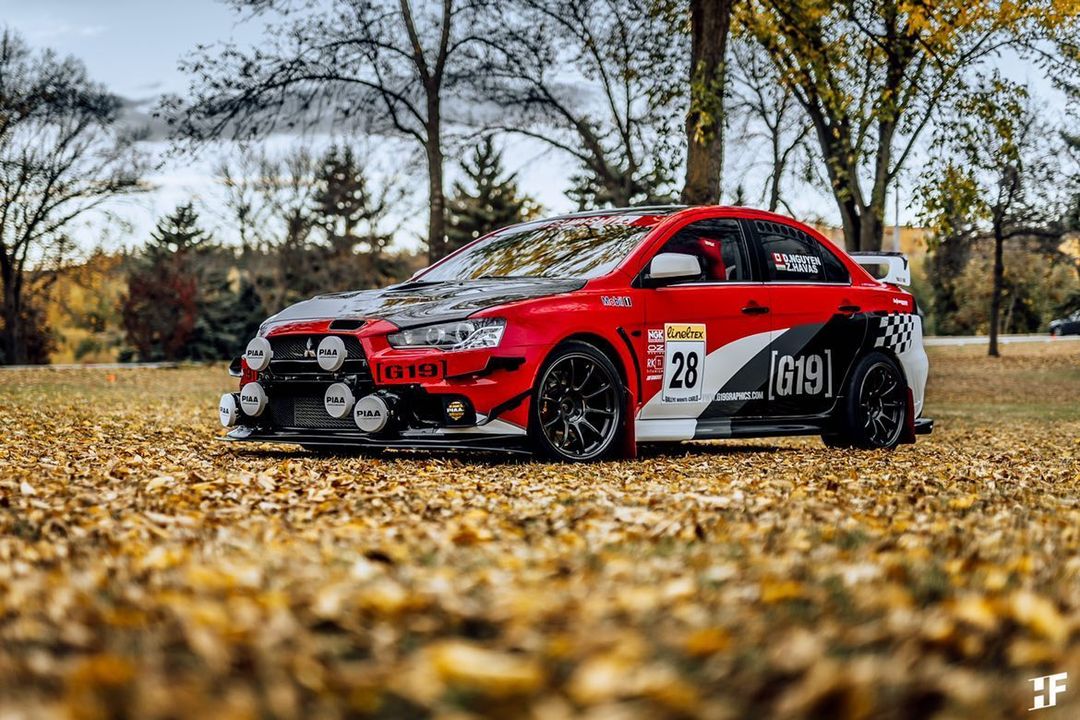 Is there any part/mod on your car you had to do a few times, or installed and then removed?
The AYC/ACD pump on my car. Mine just died recently, and it will be my 4th one that I'll be replacing.
It's the Achilles heel on the X model. It's placed behind the rear passenger wheel, and dirt and grime gets kicked up into there which causes the pump to fail eventually from internal corrosion. The motors from the pump can burn out too in really cold weather due to the oem fluid freezing at low temps.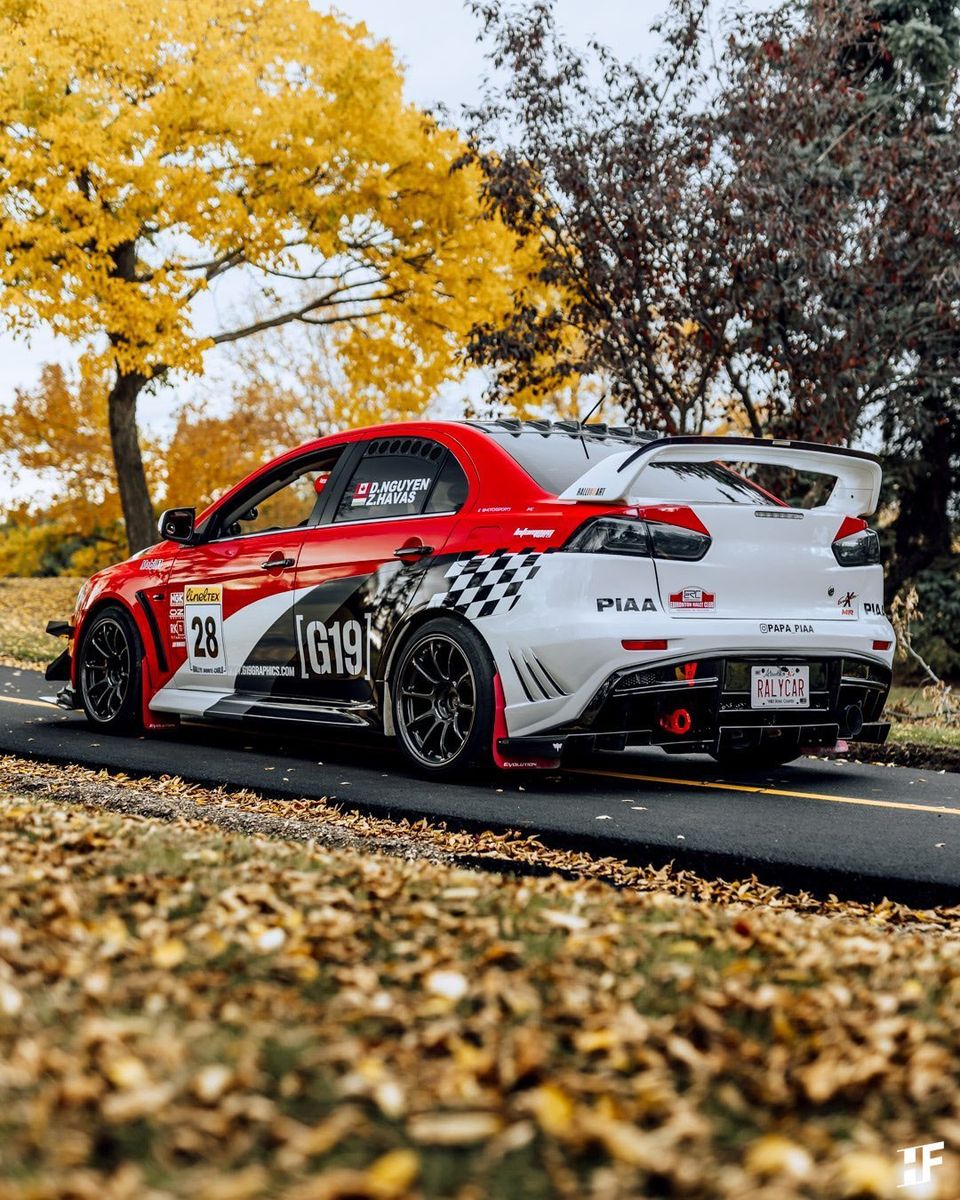 What is your favorite part on your car?
Definitely the front of the car. The front design of the X is aggressive, all of the light pods in front add another level to that. I always find myself looking back at my car when walking away from it in a parking lot.
What's the best memory you had in your car?
My best memory was winning my first car show. I built my build for my own enjoyment, but it was nice to see to that it's appreciated by others.
Build Report
Exterior:
6x PIAA 540 lights,
Rallytech corner pods,
Rally Innovations light pod bar,
FQ400 intake vent,
Varis 09 carbon fiber hood,
Varis rear bumper,
Password JDM gurney flap,
Power House Amuse Titan R1 Souen exhaust,
Volk ZE40 with Advan V601.
Infamous Aeromotive rear diffuser, front splitter, and cannards.
Engine Bay:
APR Radiator Shroud,
ARC intake,
Custom titanium turbo inlet pipe,
Custom Titanium BOV pipe,
Custom Titanium UICP,
Custom Titanium fender shrouds,
Custom Titanium A/C line cover.
GFB BOV,
Hydrodipped Valve Cover,
Chasing J's Titanium Oil Cap,
Chasing J's Titanium Radiator Cap,
RK Titanium coolant pipes,
RK Titanium Coil Cover,
RK Titanium Coolant overflow and Oil catch can,
RK Titanium Firewall heat shield,
RK Titanium Valve cover heat shield,
Clubspec Chicago Power Steering Cover,
JDC Titanium brake reservoir cap,
JDC Titanium A/C caps,
JDC Titanium dress up bolts,
Boomba Racing Fuel Rail,
Cusco Strut bar,
MAP Investment Cast Manifold
Interior:
Bimaro Grip Seats,
Schroth Rallye 3 harnesses,
OMP WRC Steering wheel on Worksbell RAPFIX GTG-R,
Volantech Steering wheel switch plate,
EvolutionX Design Fire extinguisher bracket,
Ralliart Shift knob