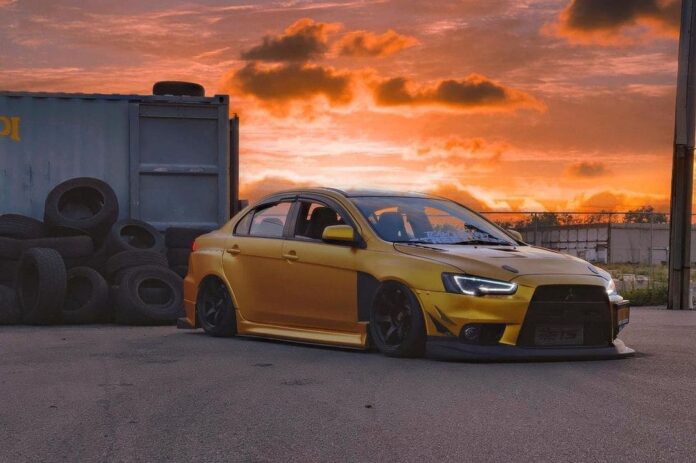 Owner: Jonathan Diaz – Instagram: @evo.within
2011 Mitsubishi Evolution – Location: New York, USA
Photographer: @Frshh.editz
Quality over quantity
Was there more work on your car than you anticipated? Did you find a bucket of wiring worms, find some secret hidden problems…..
I had to pull my own block out over a common issue with the 4B11T Turbo feed lines, the hole that fed oil to my turbo striped and I had to remove the block to have it sealed. I ran a custom oil feed line to a sandwich plate above the oil filter that's how the big turbo is fed oil.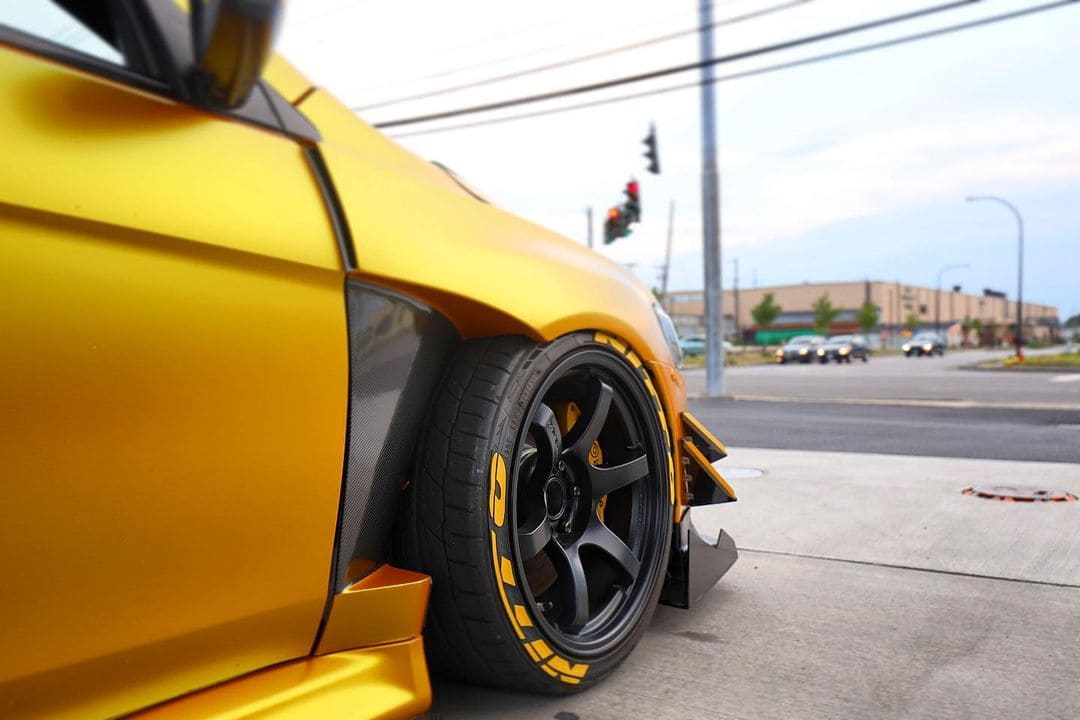 Are there any unique mods on your car? Hyper-rare parts, custom made parts…
Probably the only 4B11T running a turbo set up with a sandwich plate to feed oil to the turbo.
I custom made honey comb design inside of both my headlights and installed demon eyes in them myself.
I installed my own wide body kit made by Victory function.
I wrapped my own car using Avery metallic satin energetic yellow.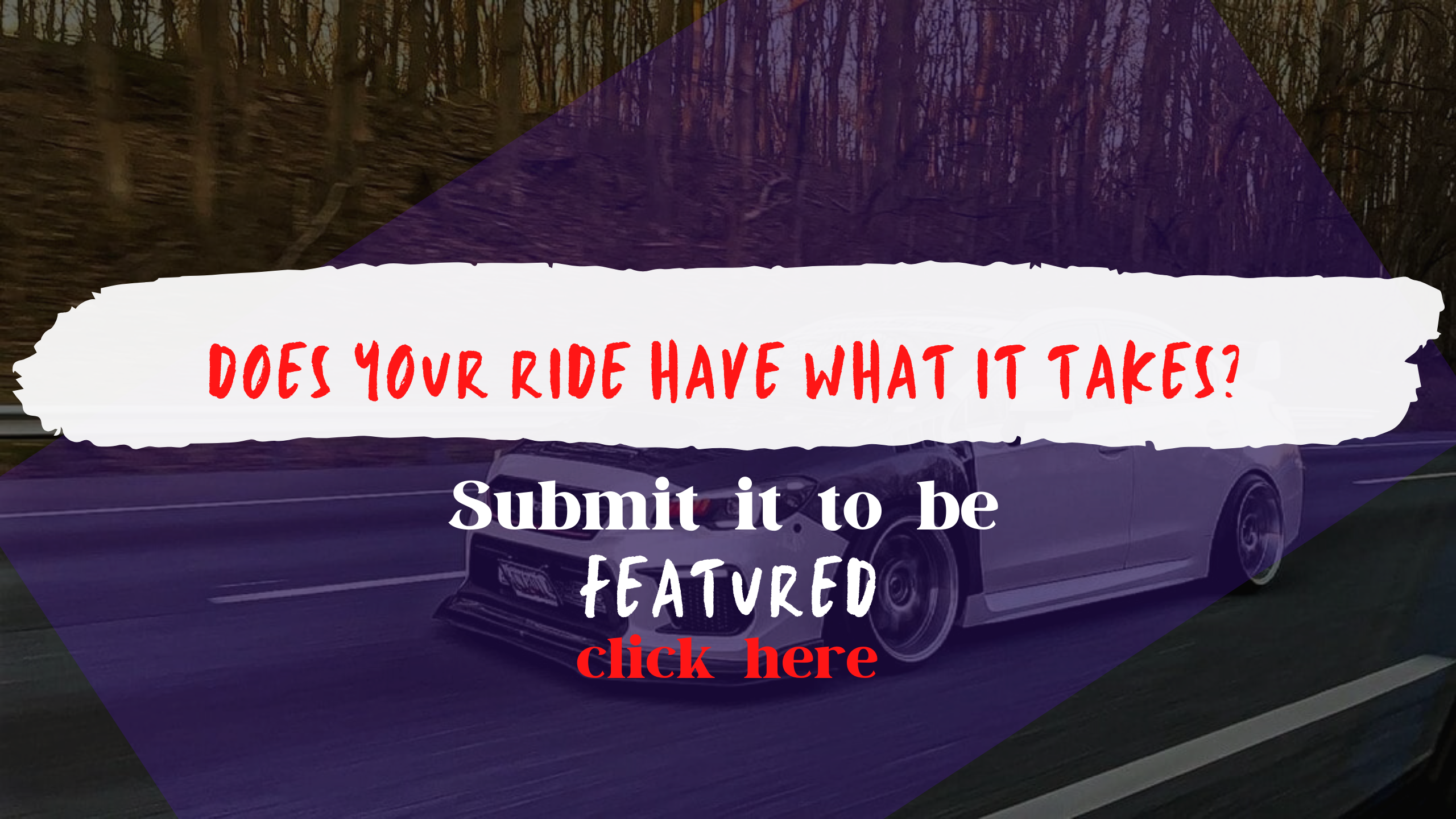 I installed my own Air Ride Suspension 3P kit.
Custom designed and installed my own trunk set up with vinyl wood flooring.
I installed custom hood vents into the hood of my car.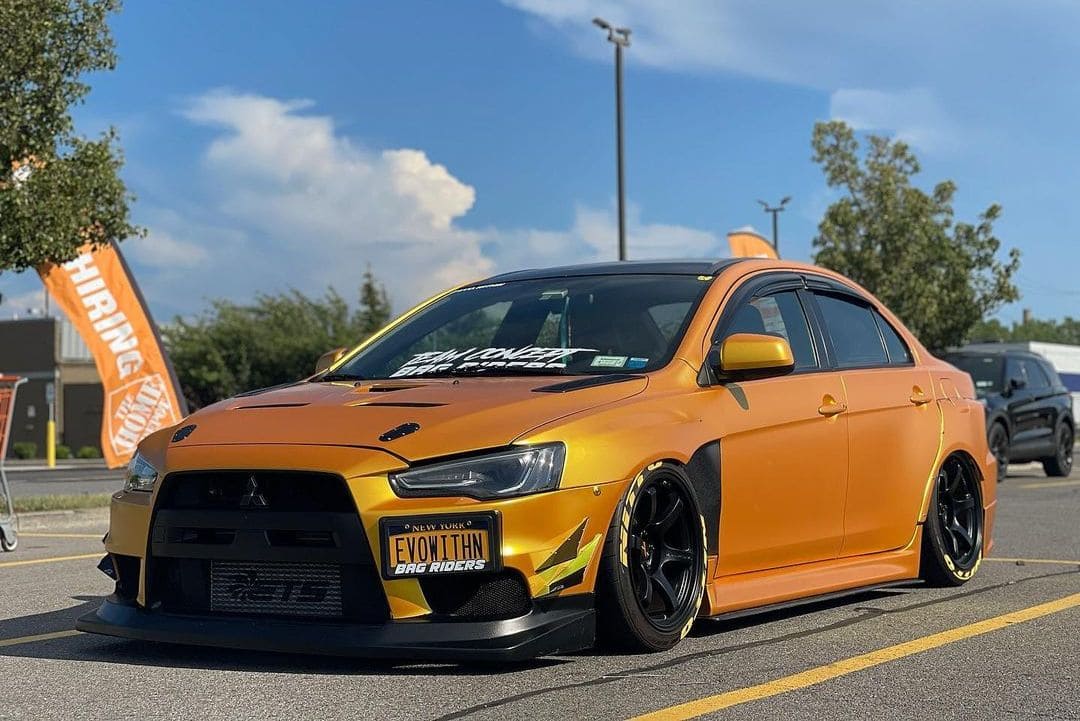 Would you consider your car done in its current form? Or do you have a list of "to dos" still left?
The car is very far from done.. I plan to completely have the engine and transmission built to hold over 1000hp with a full Varis V3 Wide body kit .. I plan to do a air ride hardline set up and a custom trunk set up to accommodate my 3P air suspension system.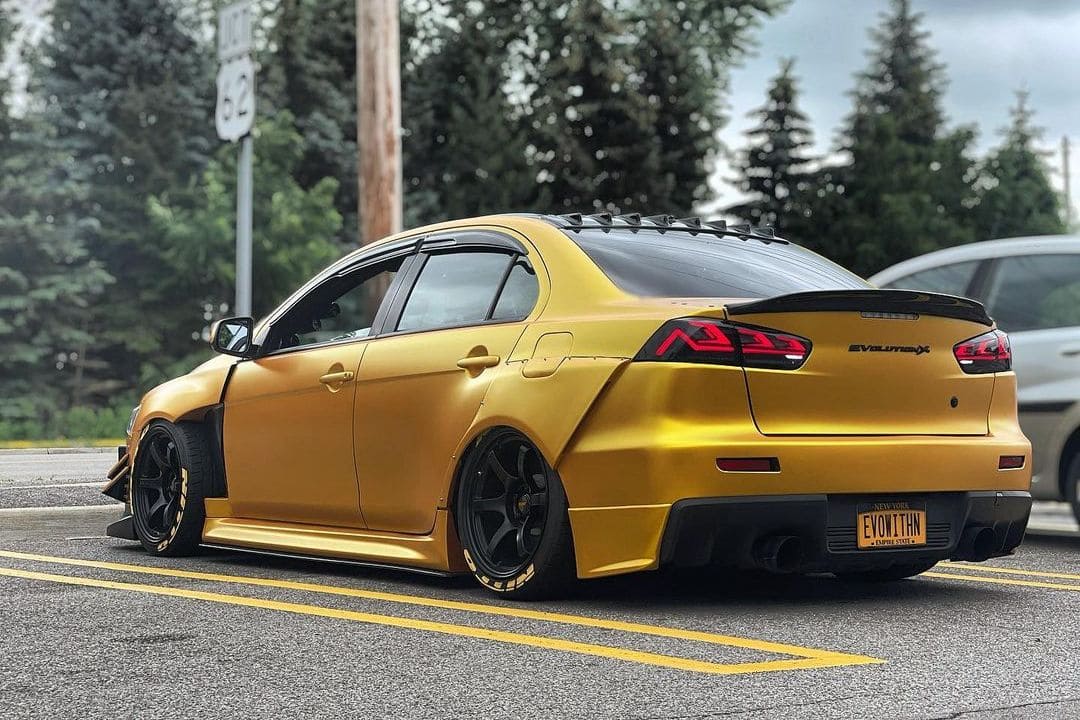 What is the biggest problem you ran into on your build?
The oil feed line was a night mare. Heli coil or time sert nothing worked it continued to leak oil no matter what I did.
If you had to do it again, would you build the same car?
I would definitely build the same car again.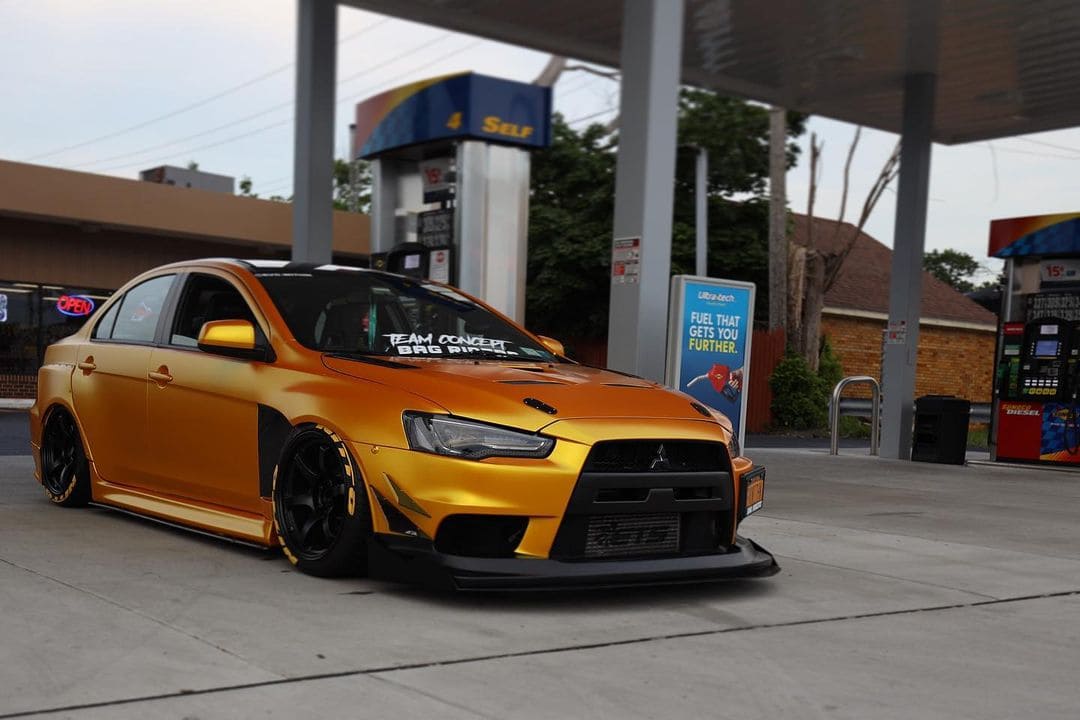 Are you apart of a club or crew with your car?
I am the Founder and President to Team Concept Car Club Here in Buffalo New York. My friends that I've met through the club have been a huge influence in my build so huge that I consider them family more then friends.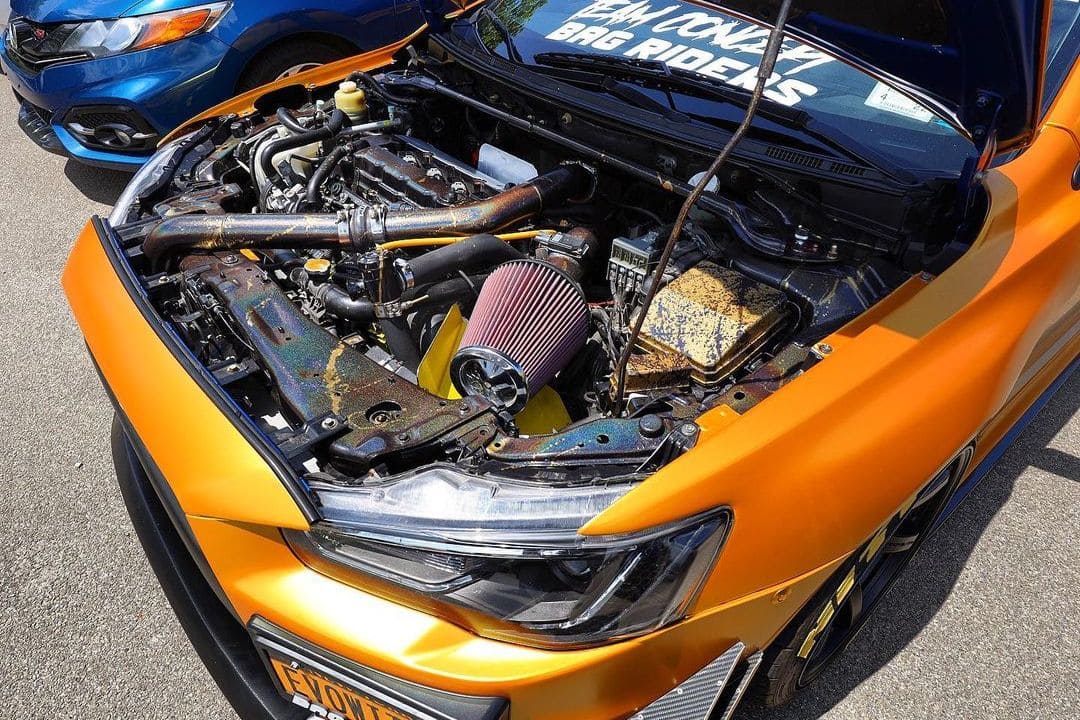 What is your favorite part on your car?
The vinyl wrap.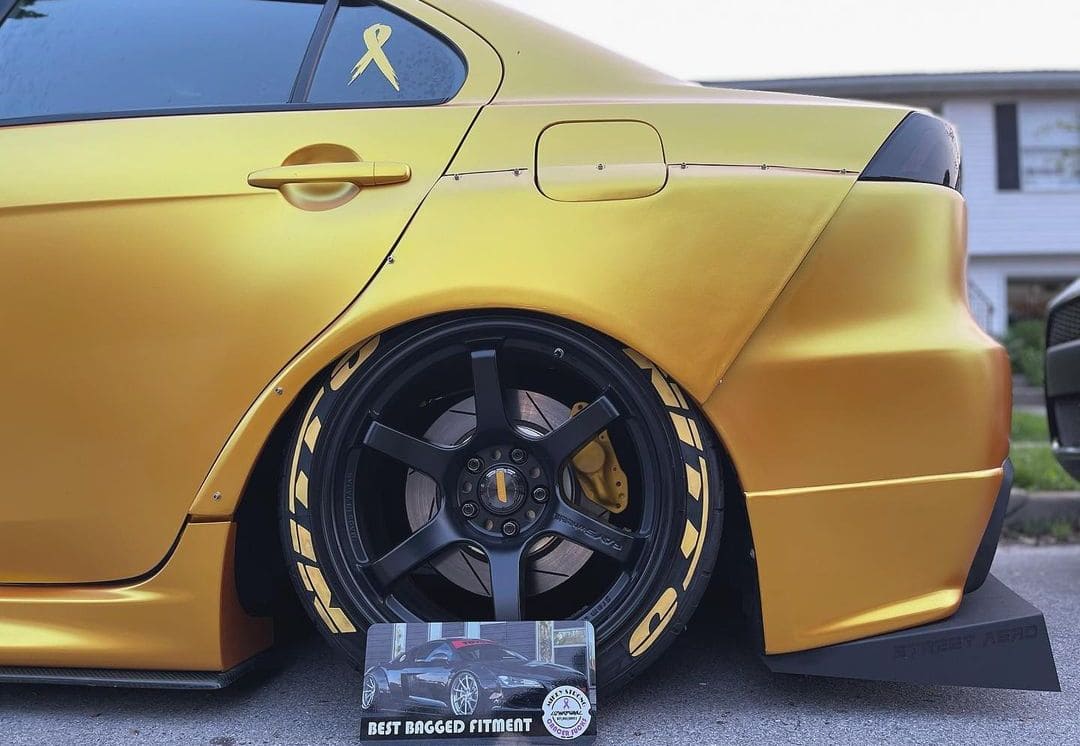 What's the best memory you had in your car?
Car shows with the Club.
Build Report
STM bellmouth intake
STM upper intercooler pipes
MAP Performance Lower intercooler pipes
AP Tubular manifold
Tomei widemouth downpipe
ETS catless Midpipe
CNT racing catback dual exhaust
NRG OPS engine wire tuck kit
Grimeespeed 3port electronic boost controller
4inch ETS intercooler
Torqe solutions racing exhaust hangers
GFB blowoff valve
22psi wastegate
ASNU E85 330 compatible fuel pump
ID1300x2 cc injectors
Panasonic upgraded Fuel relay
Airlift suspension 3P kit
Radium fuel rail kit
Custom Grant Farmer 4000psi oil feed line
Pro sport oil sandwich plate
Turbo Parts Canada GTspec 3582 35R Turbo
Volks Racing GramLights 57DR 18×10.5 +12 wrapped in 245 35 18 Toyo tires
Rexpeed carbon fiber vortex generator
Rexpeed carbon fiber side skirt extensions
AEM Boost, Oil and AFR gauges
Custom OEM gauge pod pillar
10.5 inch stereo center console
Vland Audi style front headlights
Demon eyes and custom retro fitted
Vland HC motion rear tails
V style front lip
Self installed: Avery metallic satin energetic yellow with Avery gloss black roof.
Custom black painted interior
Custom hood with vents
Street Aero rear diffuser
APR front canards