Owner: Veronika Hair – Instagram: @sq5hy
2014 Audi SQ5 – Location: Southern California, USA
Photographer: @wtrandy and @guacttro
sponsored by integrated engineering
Too weird to live, too rare to die.—Hunter S. Thompson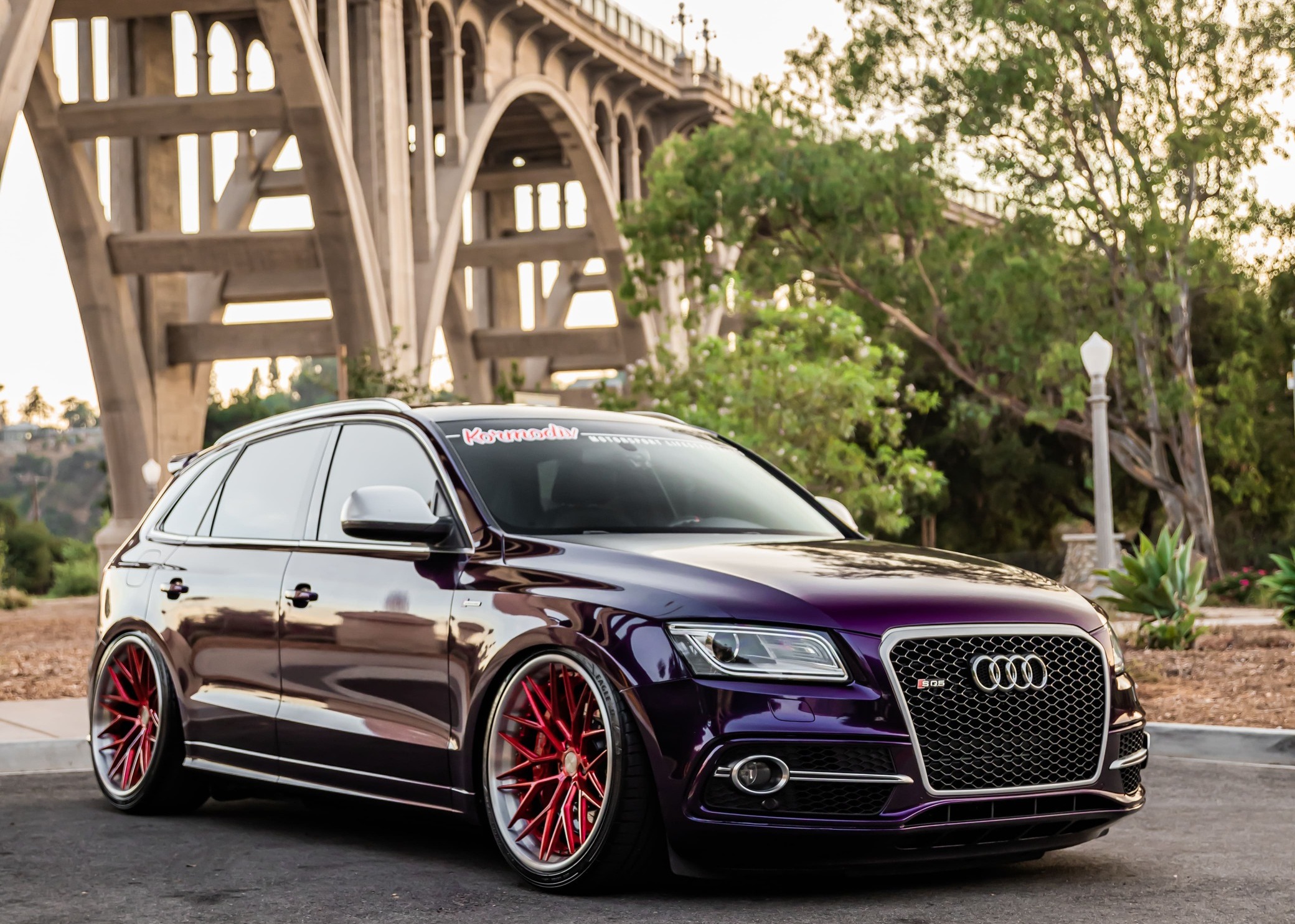 What would you say was the biggest influence in you getting into the car scene?
My husband, Cliff (you may know him as @gated_v10), who really taught me what the car scene was all about and showed me all the amazing folks within it.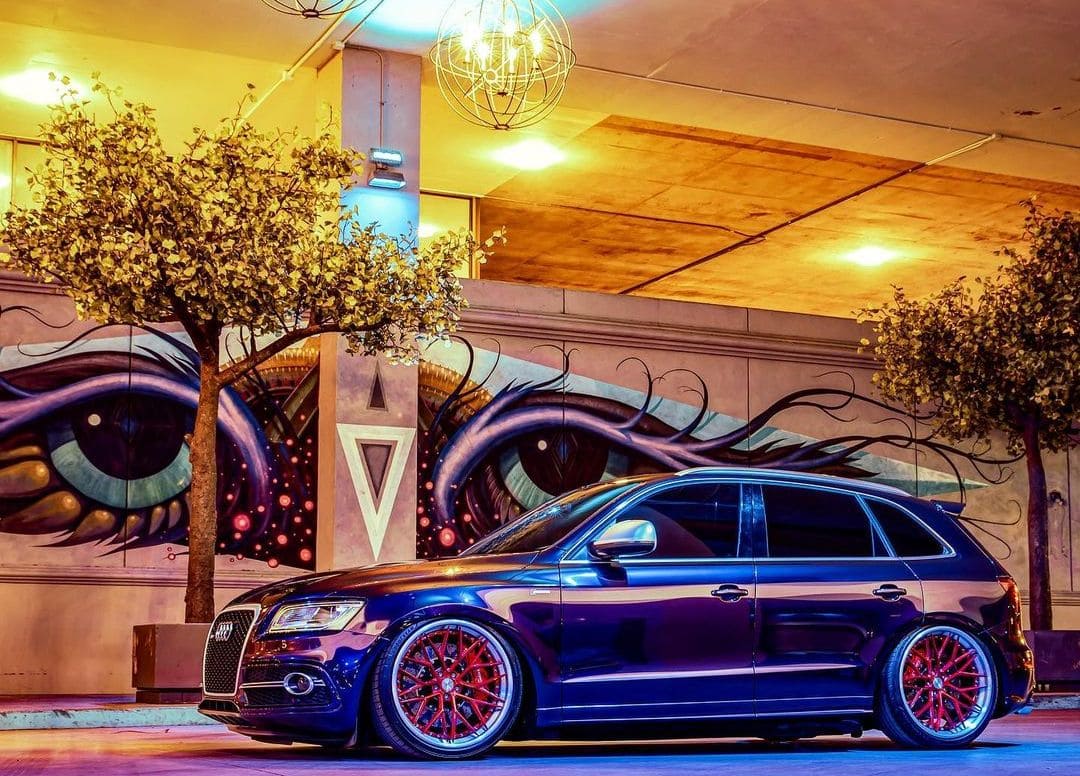 Would you say that being a female in the car scene has been more difficult, or easier?
Haha, as a woman who's always been fascinated by male dominated hobbies (martial arts, rock climbing, hiking, etc), being a female in the car scene is like being a female anywhere else…there are a lot of people who wanna see you fail and a lot of people who wanna see you succeed.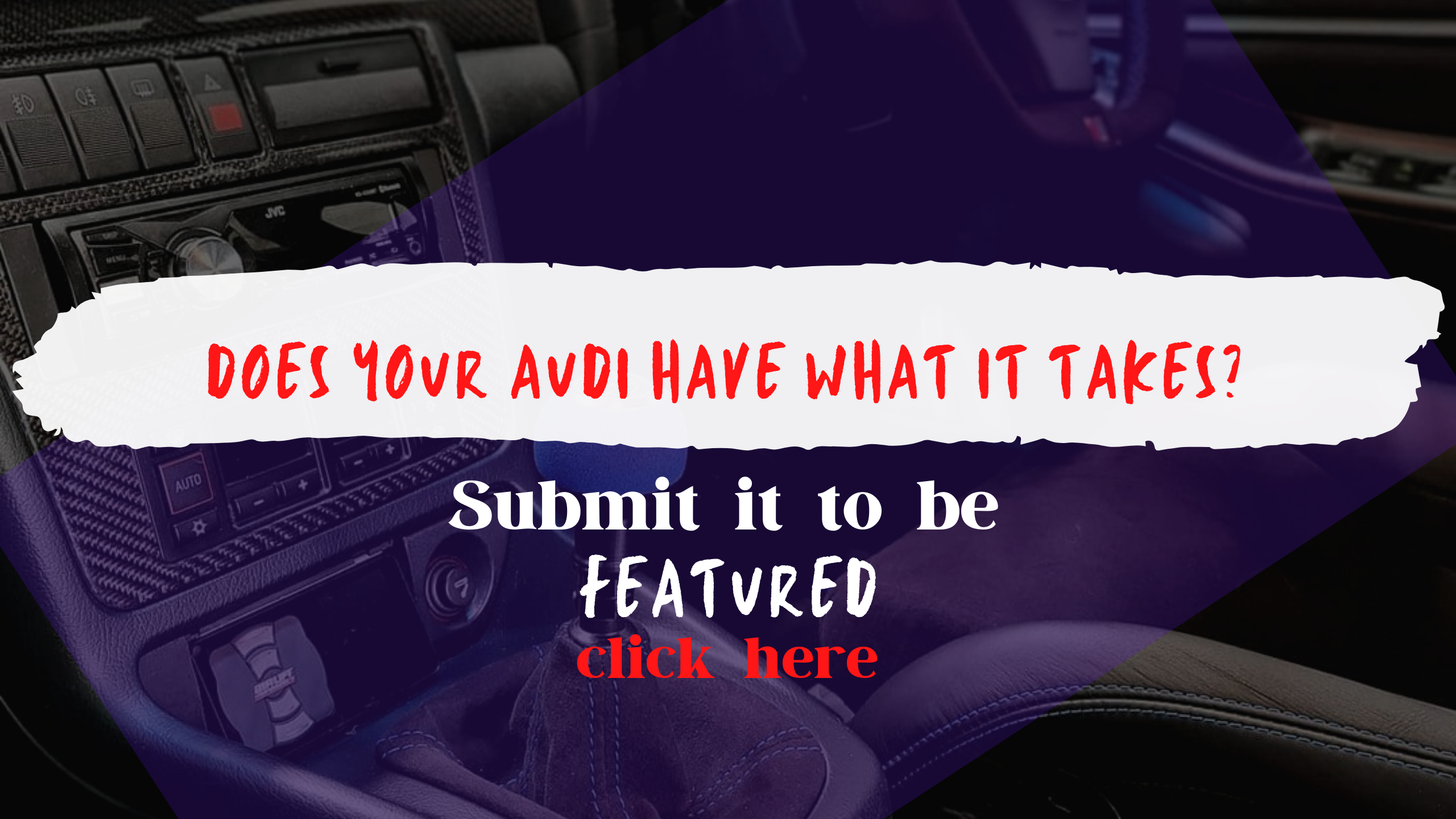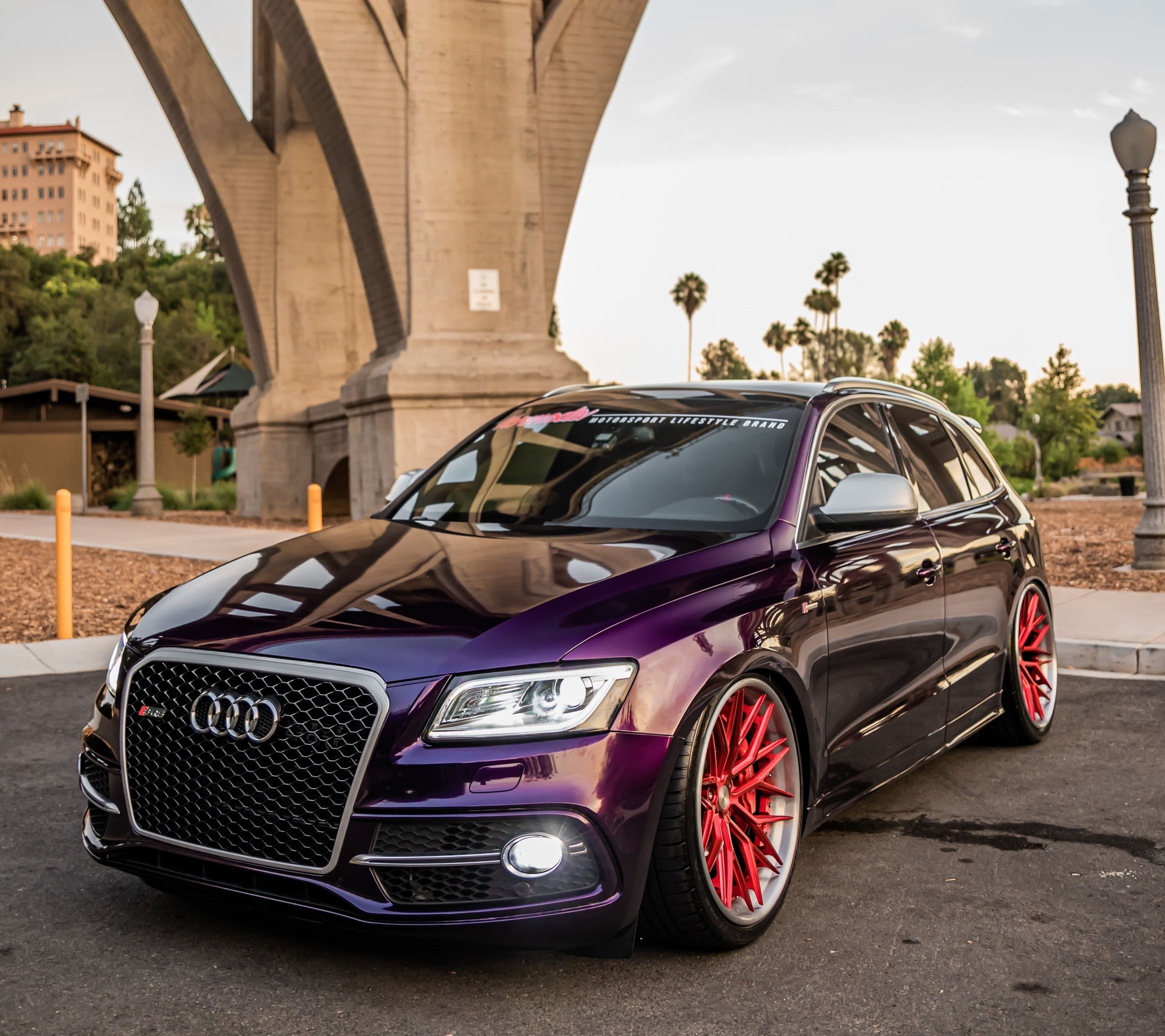 What influences have helped you as a female in the car scene?
Meeting other females in the car community has absolutely helped and shaped my experience. Having some great friends and crews to park and chill or cruise with has been wonderful too! Special shout out to Kormodiv who's made me feel like family as well as SoCal Quattro, a fun crew to kick it with!
Do you think that the rest of the car scene takes you as serious, being a female in the scene?
Honestly, I don't even think about it.
Was there any unusual circumstances around how you acquired your car?
Yes—my husband wanted an R8 so I told him to clean the garage and give me the SQ5. He did so now we have 4 Audis 🤣
Was there more work on your car than you anticipated? Did you find a bucket of wiring worms, find some secret hidden problems…..
No, thankfully. However, when working on my car I tend to be a perfectionist and want everything done just right, which ends up taking way longer….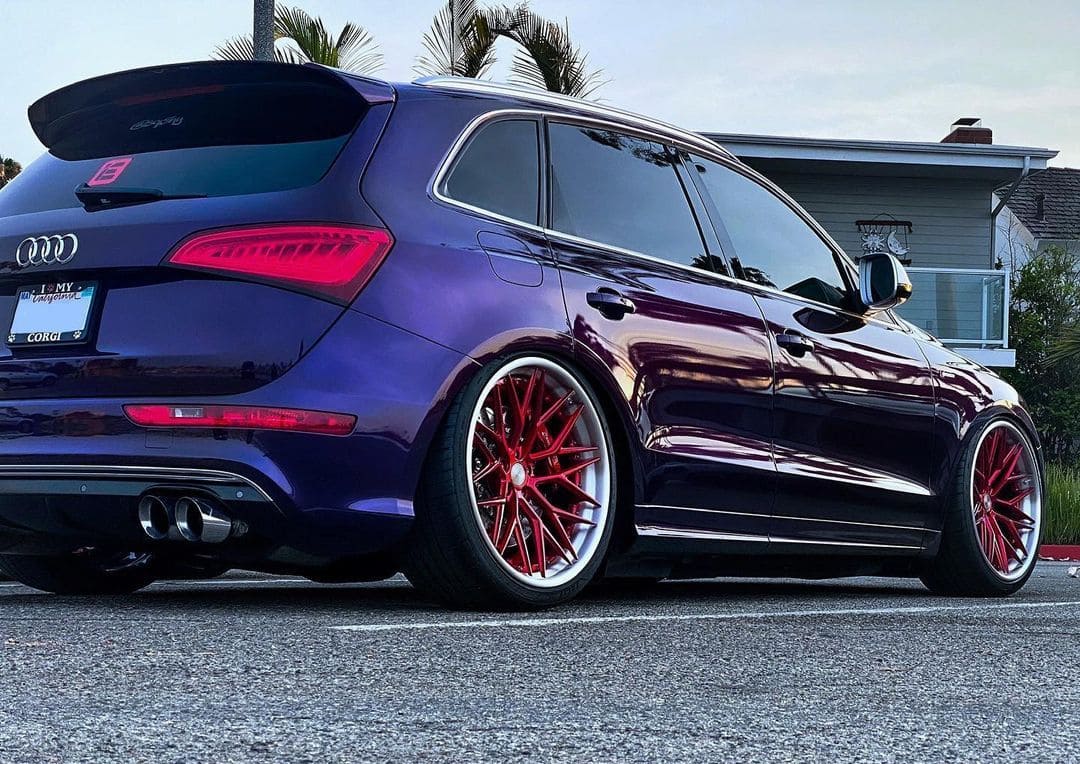 Are there any unique mods on your car? Hyper-rare parts, custom made parts…
R1 Concepts BBK. We went through the R1 Concepts catalogue and specifically chose the calipers (8 piston on front, 6 piston on rear, full floating), sizing, and asked R1 to build it to my specifications. They delivered and I love these bad boys!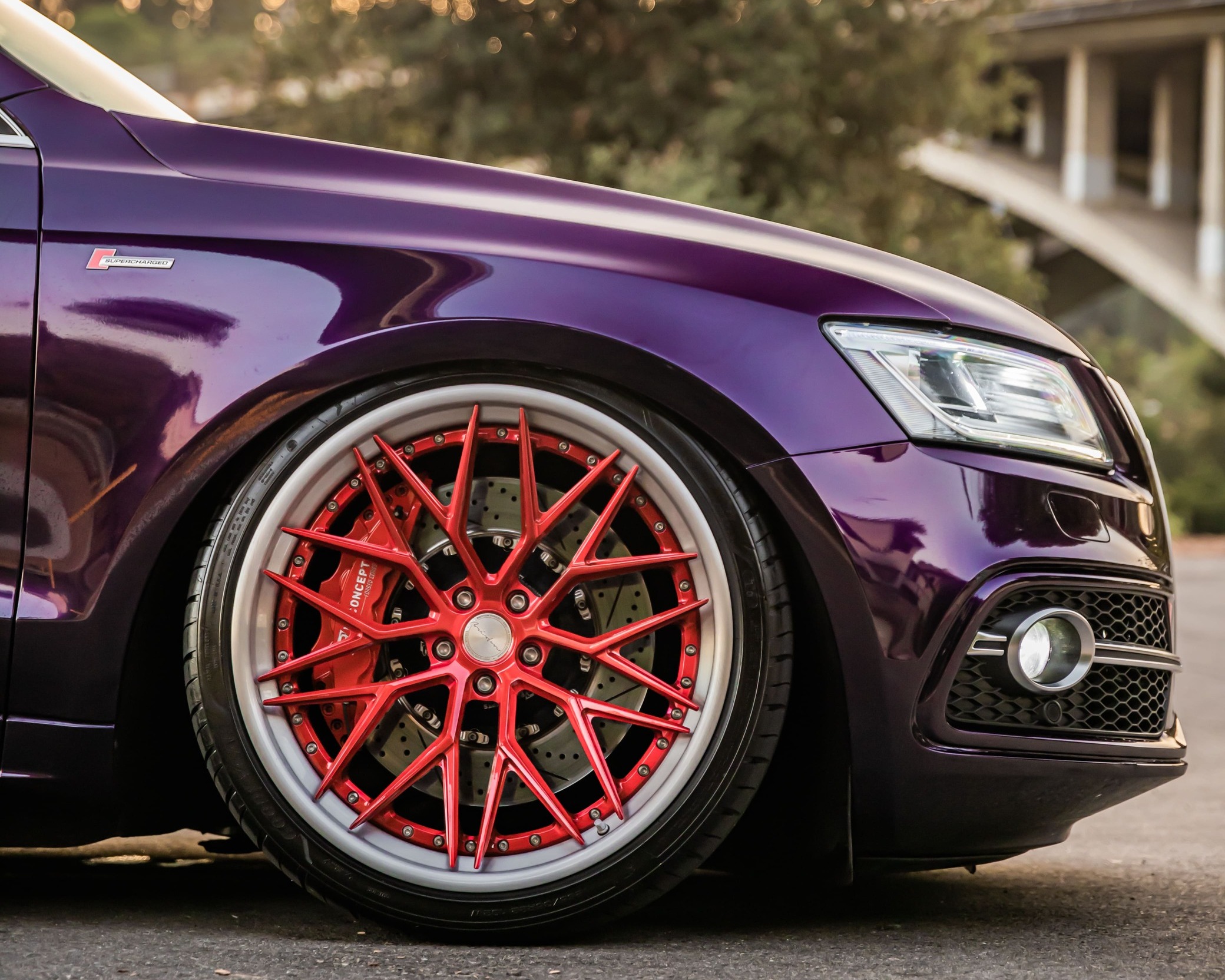 Would you consider your car done in its current form? Or do you have a list of "to dos" still left? If so please expand on future plans.
-Custom built air tank set up
-Sound system
-Awning
-Front lip/splitter
-Rear diffuser
-Side skirts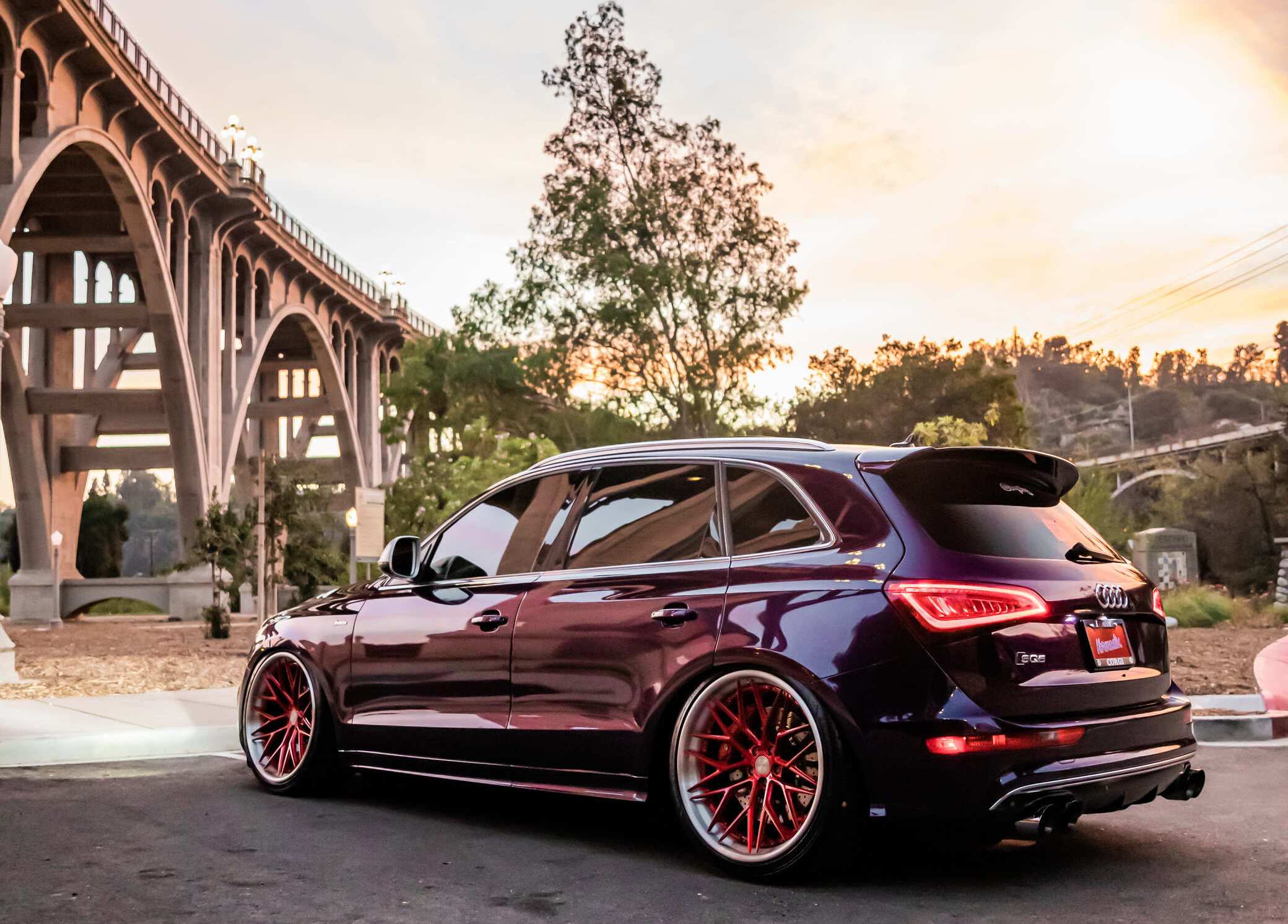 What is the biggest problem you ran into on your build?
There is only one body kit on the market for the B8.5 SQ5 platform (yes, I ordered almost all of it on preorder). There's so much potential for this SUV to look extremely aggressive, so I'm out here looking for that!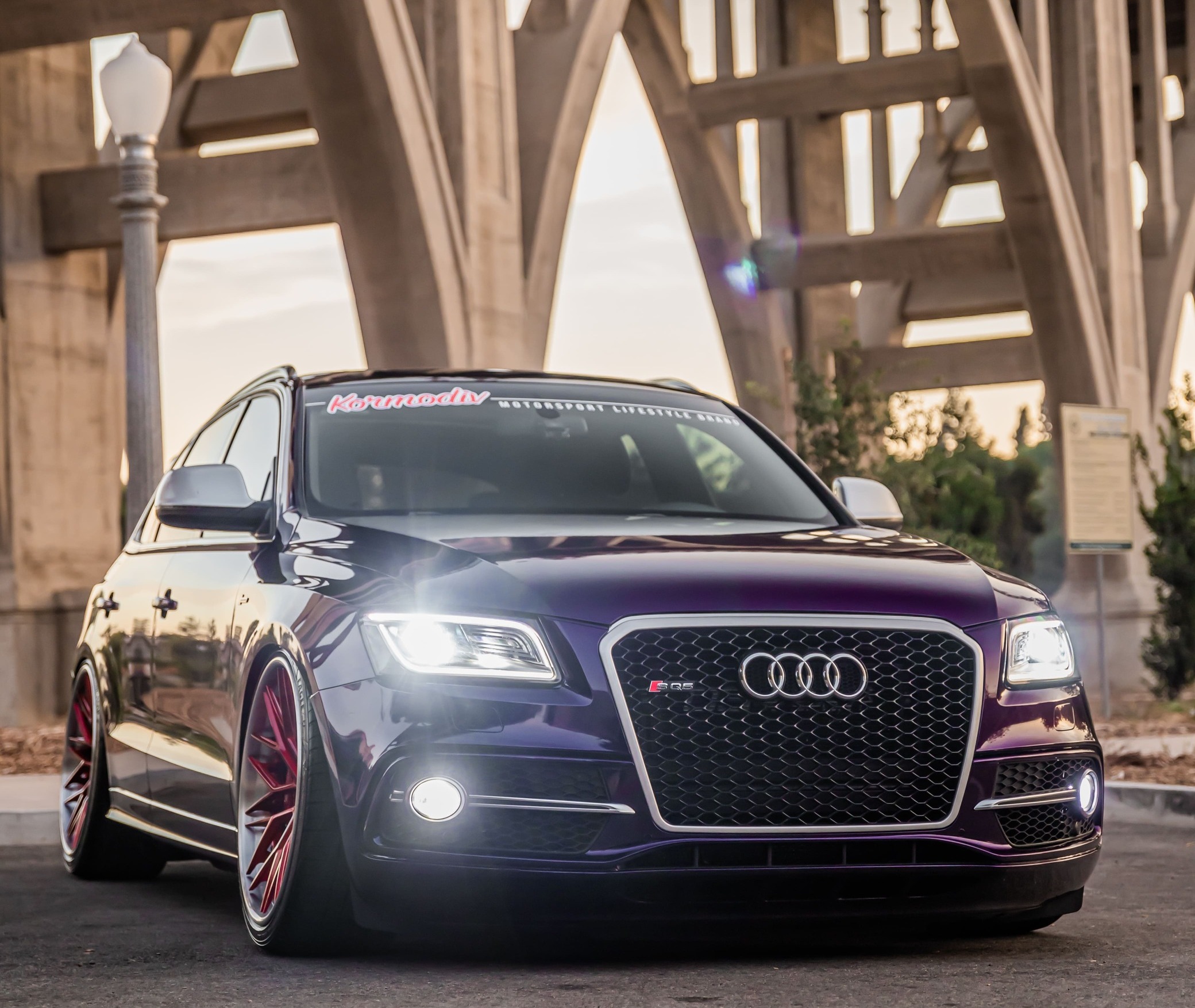 If you had to do it again, would you build the same car? If no, why not.
Absolutely. This car is my daily mom car; hauls kids, dogs, old folks, climbing gear, barbering tools, and SO MUCH MORE—not to mention she's got the speed to get me places on time, ha!! Overall, this car has been fun to work on, drive, admire, take off road…she really does it all.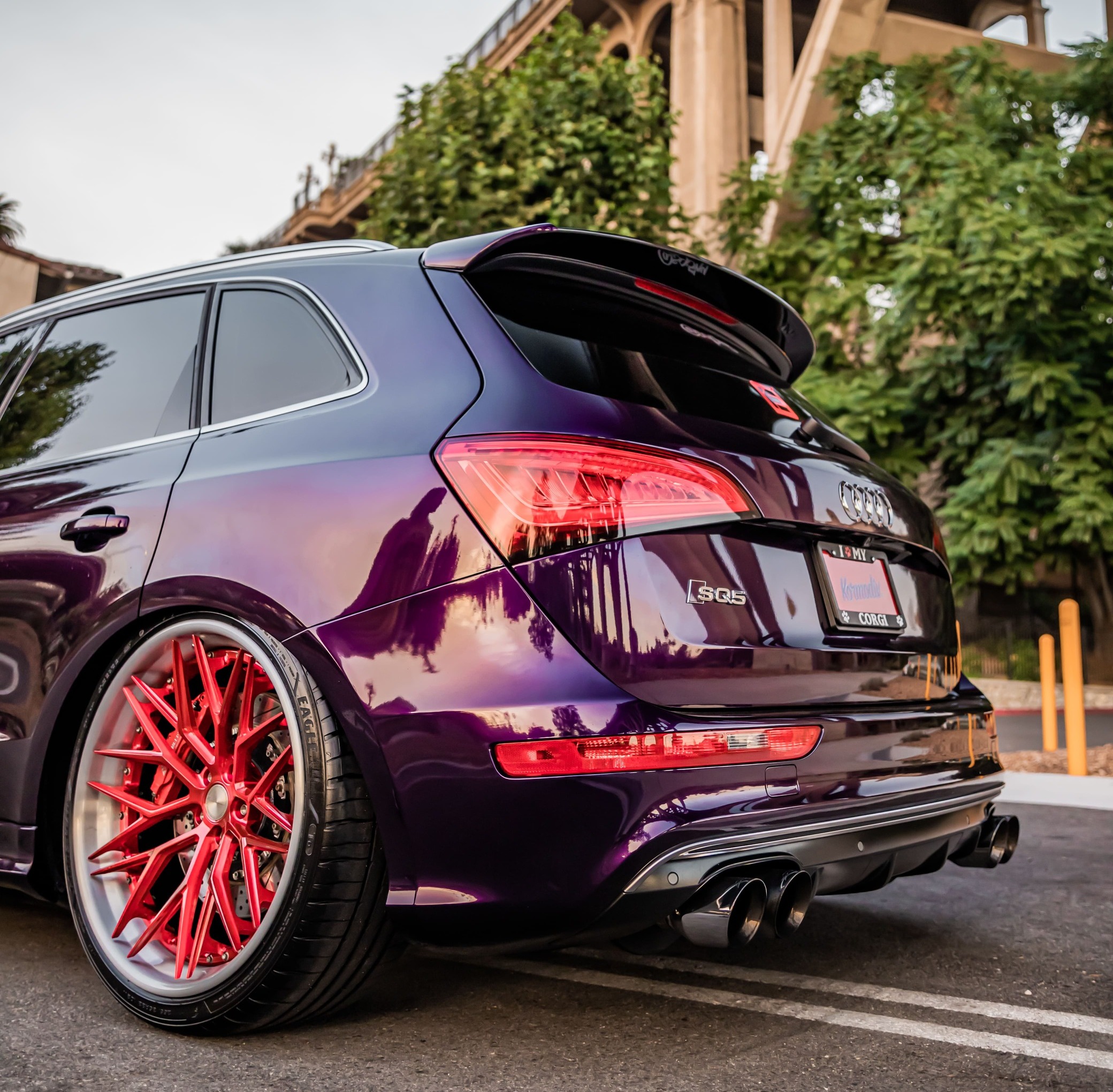 Are you apart of a club or crew with your car? How has that influenced your build?
I roll with a few groups in Southern California. I don't like to be shackled to one group but we tend to be seen at Kormodiv events, SoCal Quattro events, Audi Group LA, and other local South Bay clubs.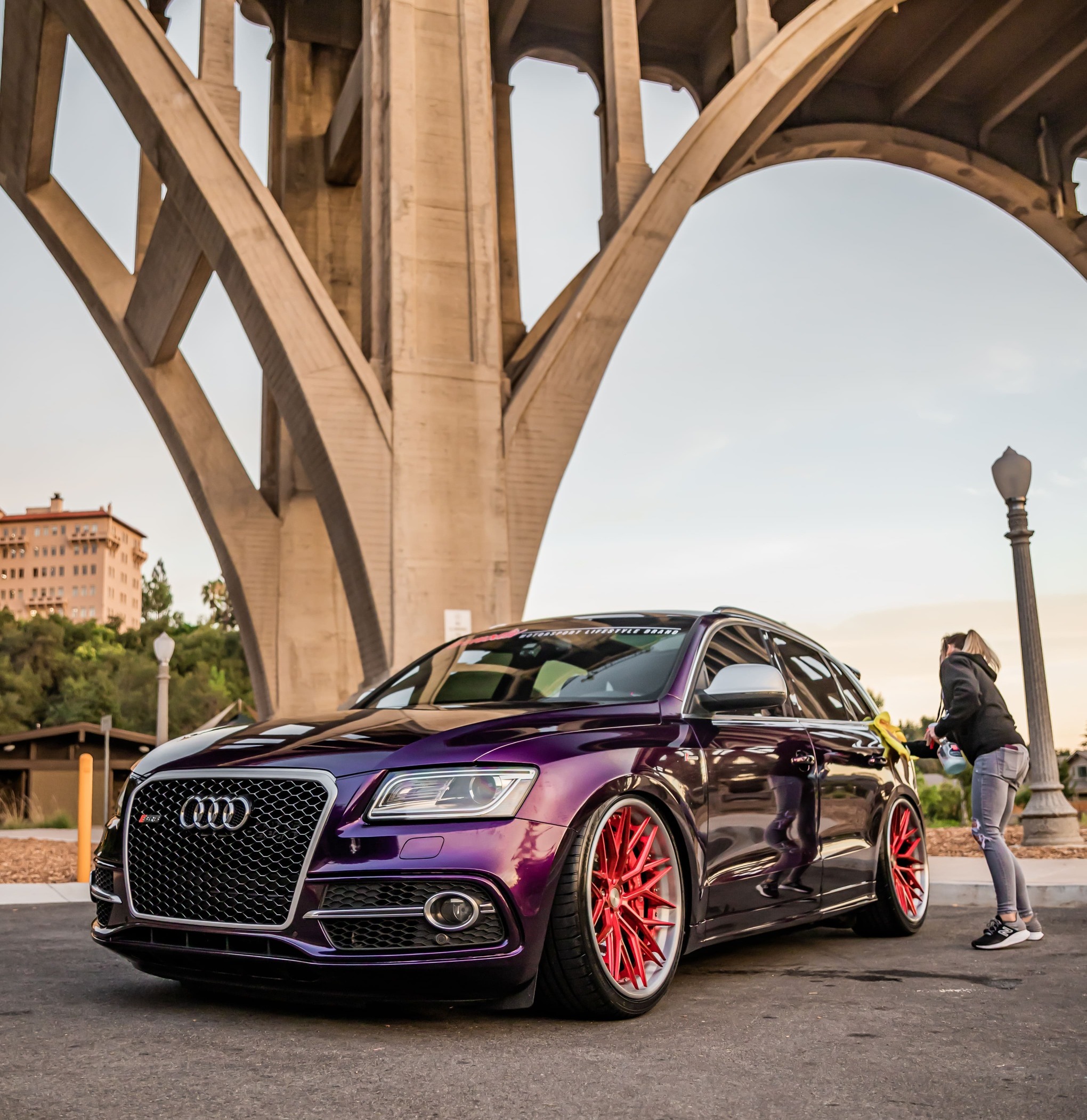 What is your favorite part on your car?
My 3 piece Brixton Candy Red rims 🤤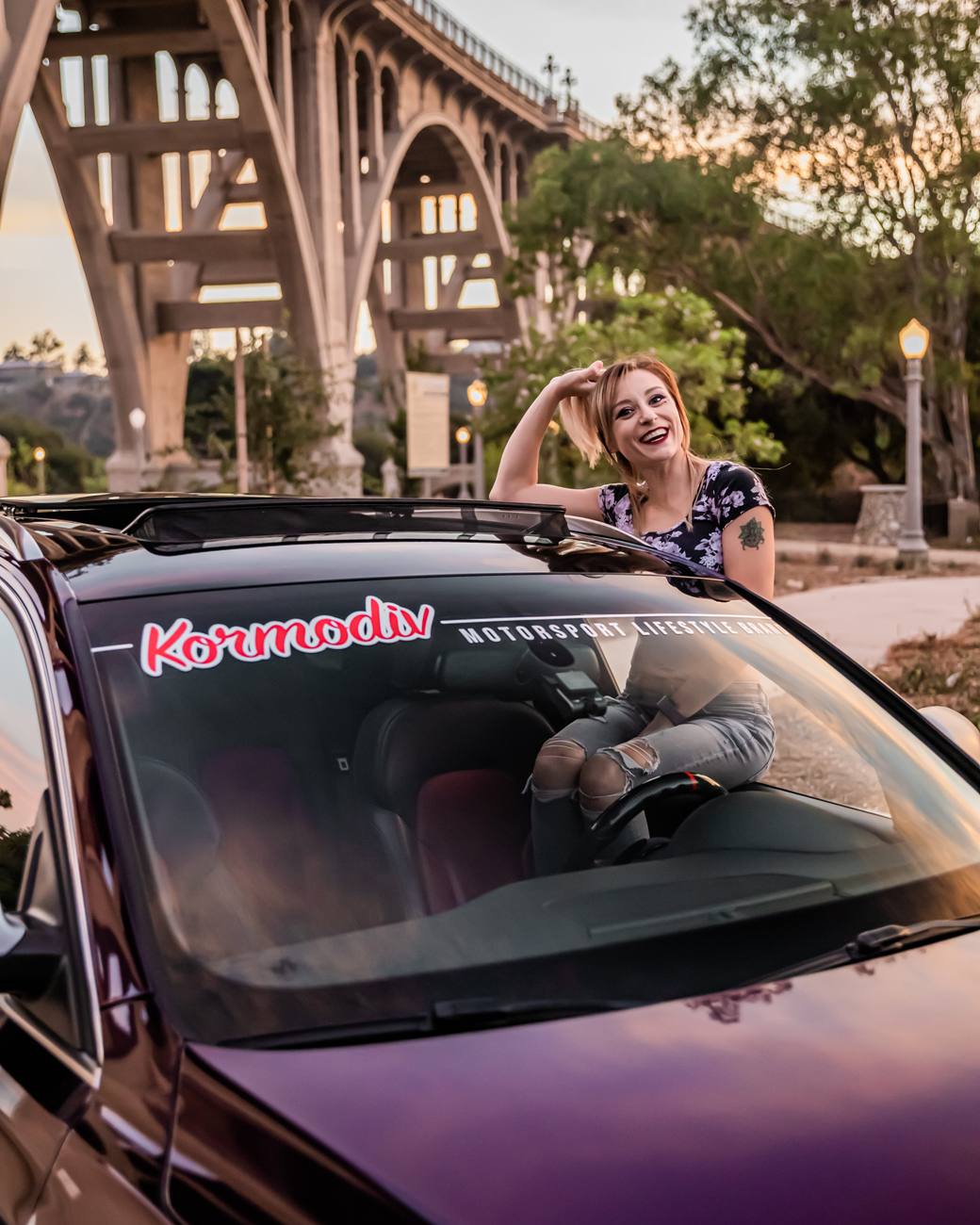 What's the best memory you had in your car?
Driving across the country for sure. Taking my car through Nevada, Arizona, Utah, and into Colorado is always fun. I love seeing people's reactions!
Build Report
Vehicle Information
– B8.5 SQ5
– Lava Grey Pearl Paint
Motor/Performance:
– IE Stage 2 Single Pulley (Crackle Tune)
– 034 Heat Exchanger
– APR Open Carbon Fiber Intake System
– APR Carbon Fiber Back Pipe
– NGK BKR9EIX Spark Plugs
– Carbon Fiber Engine Covers
– AWE Touring Exhaust
– AWE Non-Resonated Downpipes
Wheels:
– Brixton Forged CM10 Targa Series 22×10.5
– Candy Red Over Brushed Centers
– Clear over Brushed Step Lips
– Acer Titanium Assembly Bolts
– USP Titanium Lug Bolts
Brakes:
– R1 Concepts Forged BBK
– 8-Piston, 405mm Full Floating Rotor
– 6-Piston, 380mm Full Floating Rotor
Suspension:
– AirLift Performance 3P Management
– AirLift Performance Bags+Shock+Struts
– Dual Viair 400C Compressors
– 034 Chassis Brace
– 034 Adjustable Upper Control Arms
Lighting:
– OEM E-Code Headlights
– 5500K HID Headlight Bulbs
– 5500K LED Fog Light Bulbs
Exterior:
– RS Mesh Front Grille
– Caractere Hatch Spoiler
– OEM Q7 Rear Rings
– Inozetek Midnight Purple Wrap
Interior:
– Carbon Fiber Steering Wheel
– Carbon Fiber Paddle Shifter
– Black Leather with Magma Red Inserts
– Carbon Fiber Trim
Extras:
– OEM Audi Cargo Box
– Yakima WhispBar Crossbars
– Yakima WindShield Air Deflector
– Rayno S9 Nano Ceramic Tint