Owner: Casey Sturrup – Instagram: @cas900
1988 Saab C900 – Location: Boston Metro West, MA, USA
TO EACH HIS OWN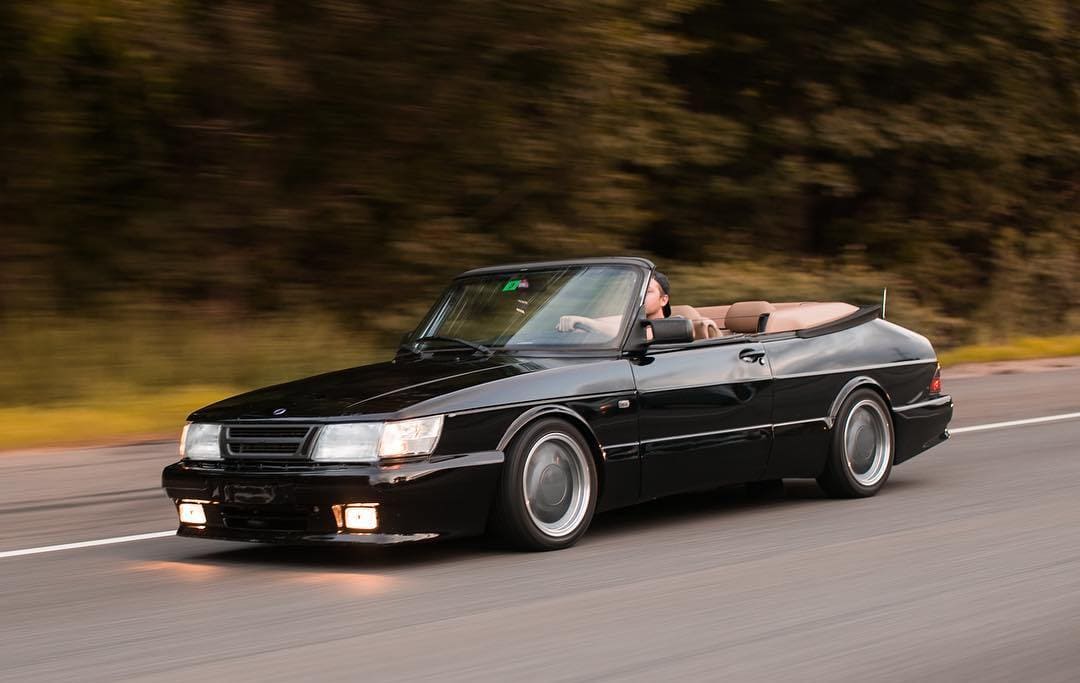 Was there any unusual circumstances around how you acquired your car?
I actually traded a built SAAB 9-5 wagon I had with a blown clutch for this car in rough shape, non-running. I then bought the wagon back a few years later.
Was there more work on your car than you anticipated? Did you find a bucket of wiring worms, find some secret hidden problems…..
Yes and no; I knew I was in for a project from the get go, but around every corner there was another issue. I got it running on T5 then the turbo went, put a new turbo on then cyl 4 piston ring blew up – at this point I pulled the motor and tore it down for a full rebuild. This is where the rabbit hole got very deep very quickly…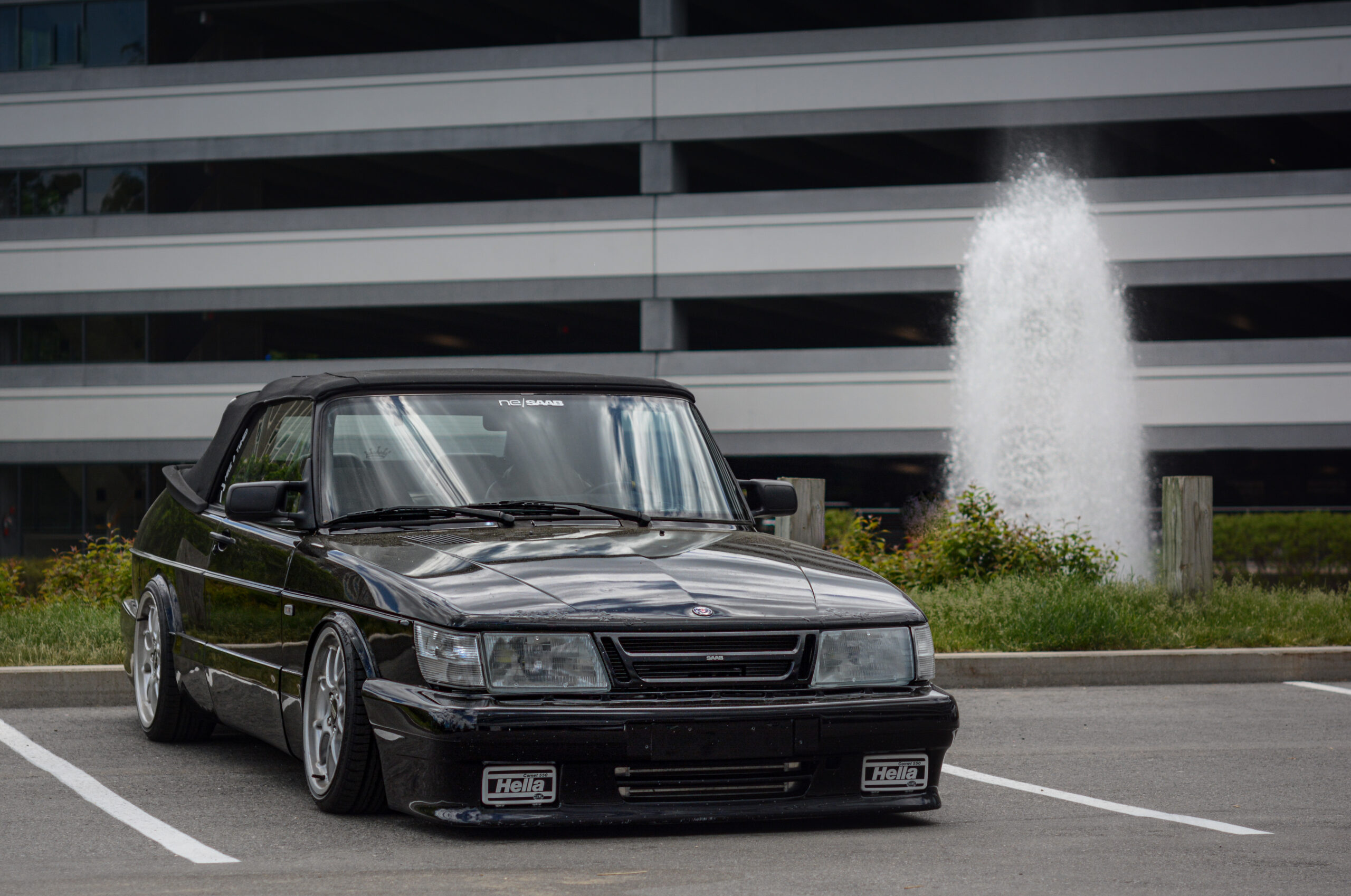 Are there any unique mods on your car? Hyper-rare parts, custom made parts…
Being a unique car is tough, finding cool parts is tougher. Most sought after is likely the OEM Airflow kit: bumpers, side panels, and flares (haven't yet installed, need to trim the fenders).
Would you consider your car done in its current form? Or do you have a list of "to dos" still left?
No certainly not. I would consider the power train mostly "done" has 800 miles on the motor right now so as long as things go well…..
Next to do is full interior in saddle leather and finally get to body work, there's some shaving and molding I'd like to do.

What is the biggest problem you ran into on your build?
Sourcing parts; most difficult was piston rings – the block got honed a hair too large so my ring gap was out of spec. Total Seal came to the rescue though, and got custom ones.
Building the air ride kit, only because there is almost nobody who has bagged one.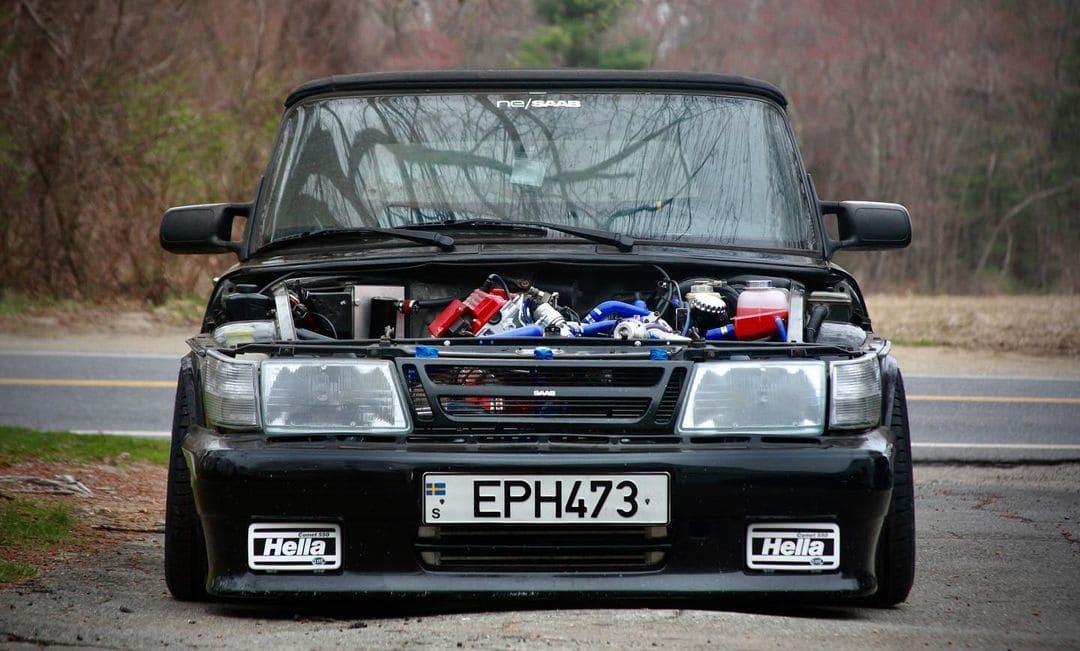 If you had to do it again, would you build the same car?
Yes, absolutely.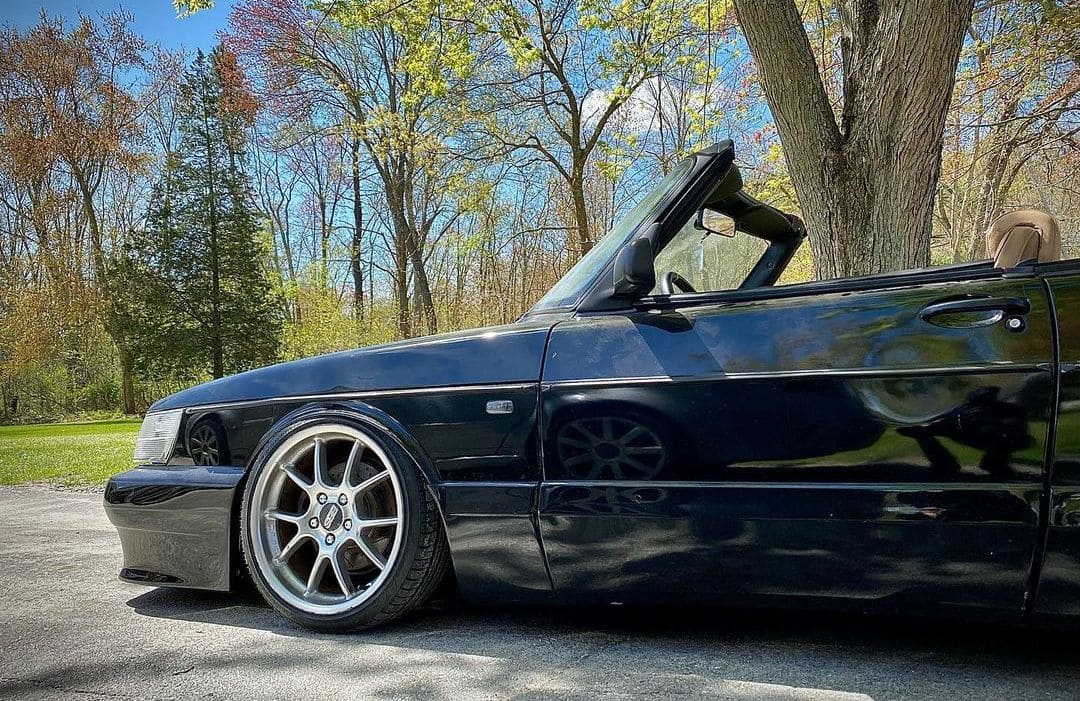 Are you apart of a club or crew with your car?
New England Saab (ne/SAAB); we influence and encourage each other to build these dope SAABs because no one else will!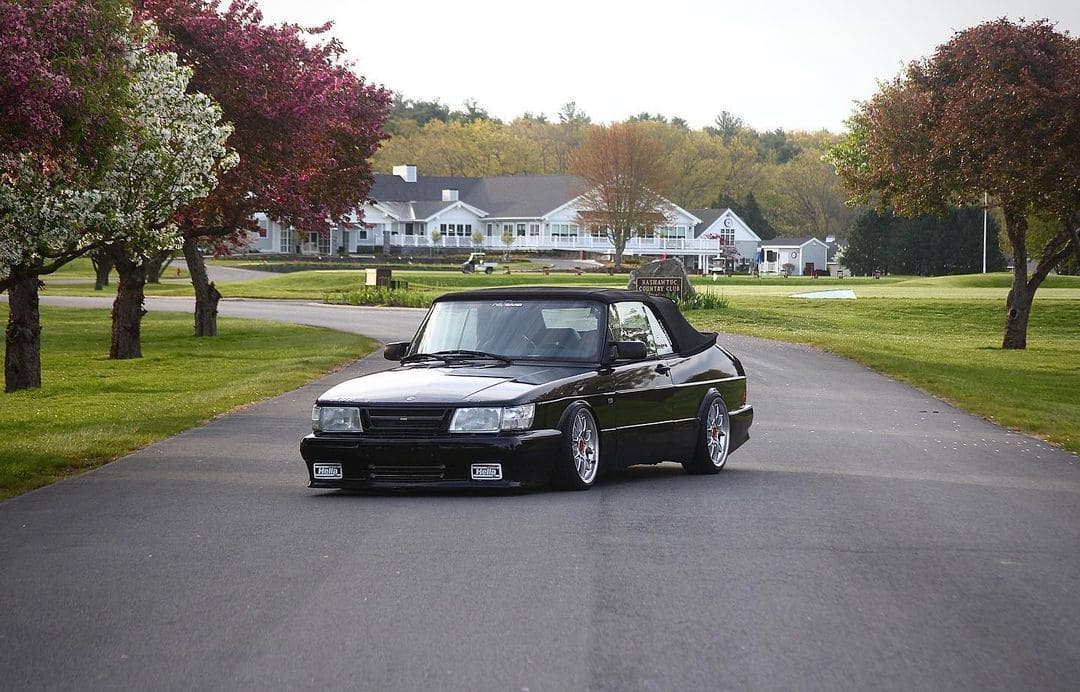 Is there any part/mod on your car you had to do a few times, or installed and then removed?
You name it under the hood and I've done it more than once. I had never planned on fully building the motor: I had done a fair amount of bolt on work and it made 287whp on the dyno but was recording tons of misfires in cylinder 4, afterward did a compression test and numbers were low… so that's when the motor came out and I re-did everything I had done and then some. Would be stoked with mid 3's this time around.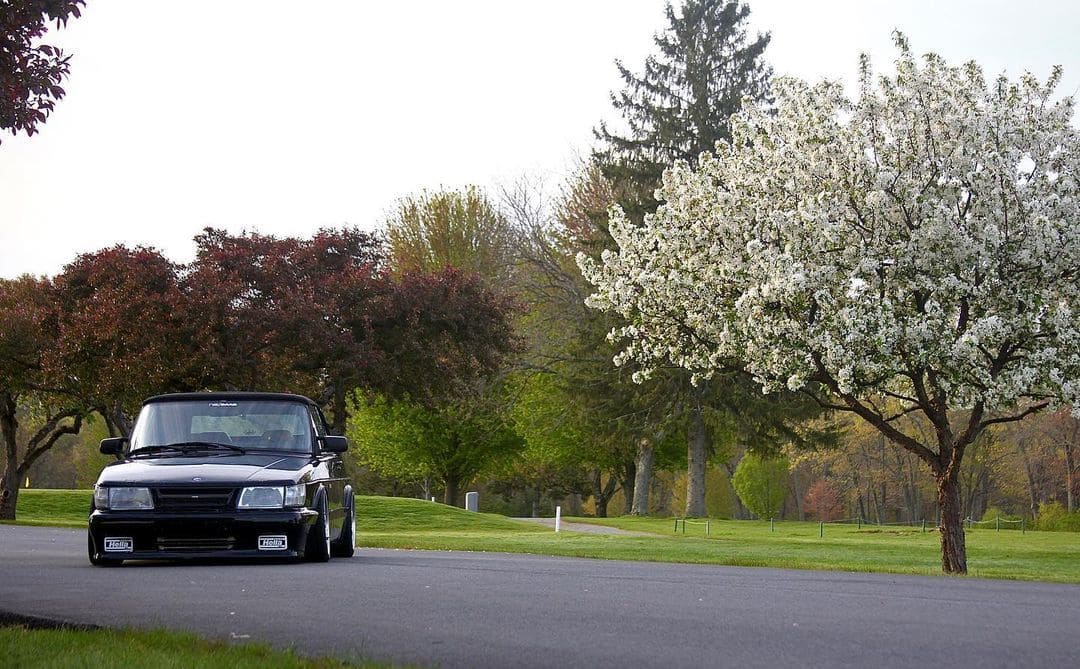 What is your favorite part on your car?
Right now it's the air ride; having the versatility of height means I can take this car anywhere. And pissing off the purists is a huge bonus too.
Also, every time I stop somebody wants to share a story of how they or their parents used to have an old 900 and how much they miss it or the "saab story" of how unreliable it was HAH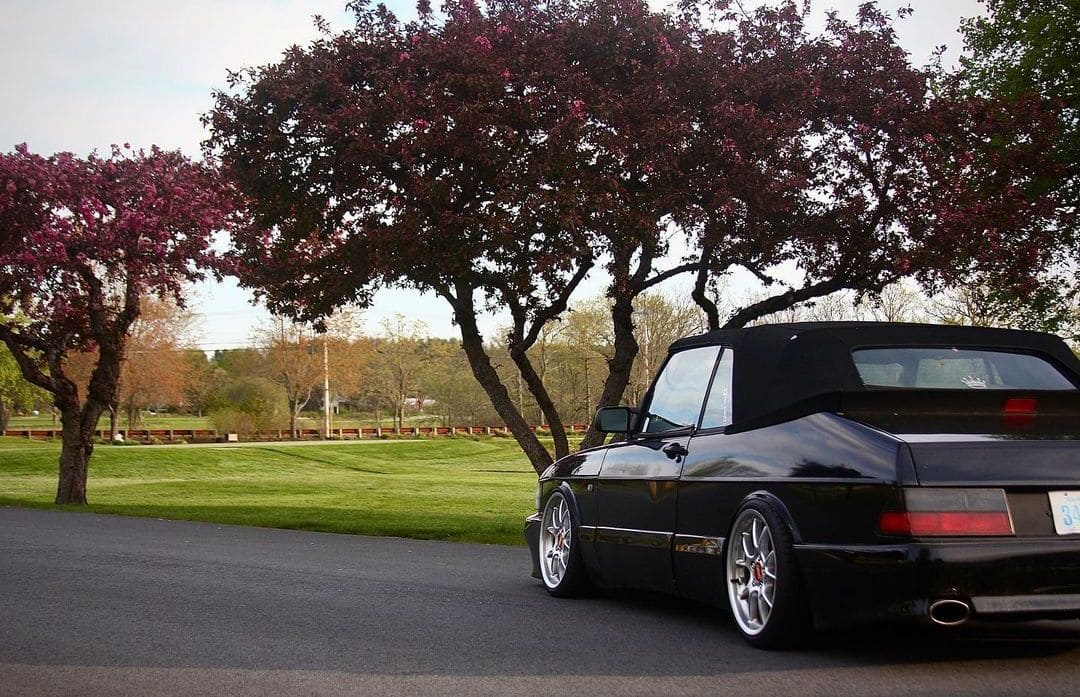 What's the best memory you had in your car?
There are a lot of them; but I'd have to say clipping the dogs into the backseat, putting the top down, and going cruising with the wife, having no destination – just out enjoying the car.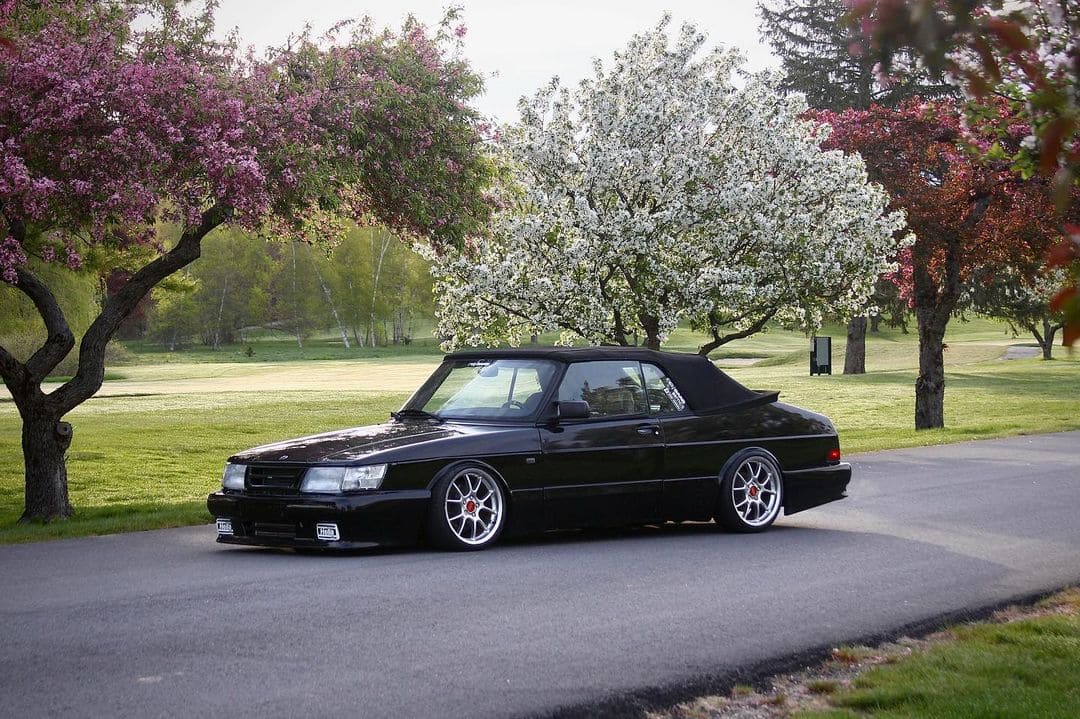 Build Report
Cleaned, decked, honed block.
Custom T7 timing cover
Polished crank
King race bearings
OEM pistons & rods
Total Seal rings
2.1 head, decked
Stiffer valve springs
5-angle valve job
Speedparts equi-length tubular manifold; ceramic coated inside and out
Garrett GT28
3" tbe exhaust
Large FMIC with piping
Aluminum radiator
Do88 silicone hoses
Bosch 044 fuel pump
9k fuel rail
850cc injectors
SwedishDynamics lightweight flywheel
Spec stage 3 clutch & pressure plate
Quaife limited slip
T5 engine management (dyno tuned)
MikeD trigger wheel
MCS poly motor mounts
Battery re-location
Custom air ride kit
Airlift 3P
Adjustable pan hard bar
Custom 4-5 lug adaptors
BBS RK 17×8
Raceseng weighted shift knob
Custom SS short shifter
OEM Airflow kit
AEM gauges
Luisi steering wheel
etc…