Owner: Ann Marie – Instagram: @stormy_xc_60
2020 Volvo XC60 AWD T5 Inscription – Location: New Jersey, USA
Life is too short to drive a boring car!
Was there any unusual circumstances around how you acquired your car?
Well, I had been shopping for a Volvo for quite some time and the closest dealership was an hour and a half drive from us. After looking at their inventory, I didn't see anything of interest. So, I asked my husband if he would mind taking a 3 hour drive to an out of state dealership in Maryland. He agreed, so we hopped in the car the next day! We test drove about 10-12 Volvo's (the poor salesman lol). I was ready to give up until he pulled my car up for the last test drive. As soon as I saw it, I just knew it was the ONE! The denim blue/blonde Inscription model is just breathtaking. You get the comfort of a luxury car along with the sportiness of the turbo charged engine & premium HK sound system….you can't go wrong!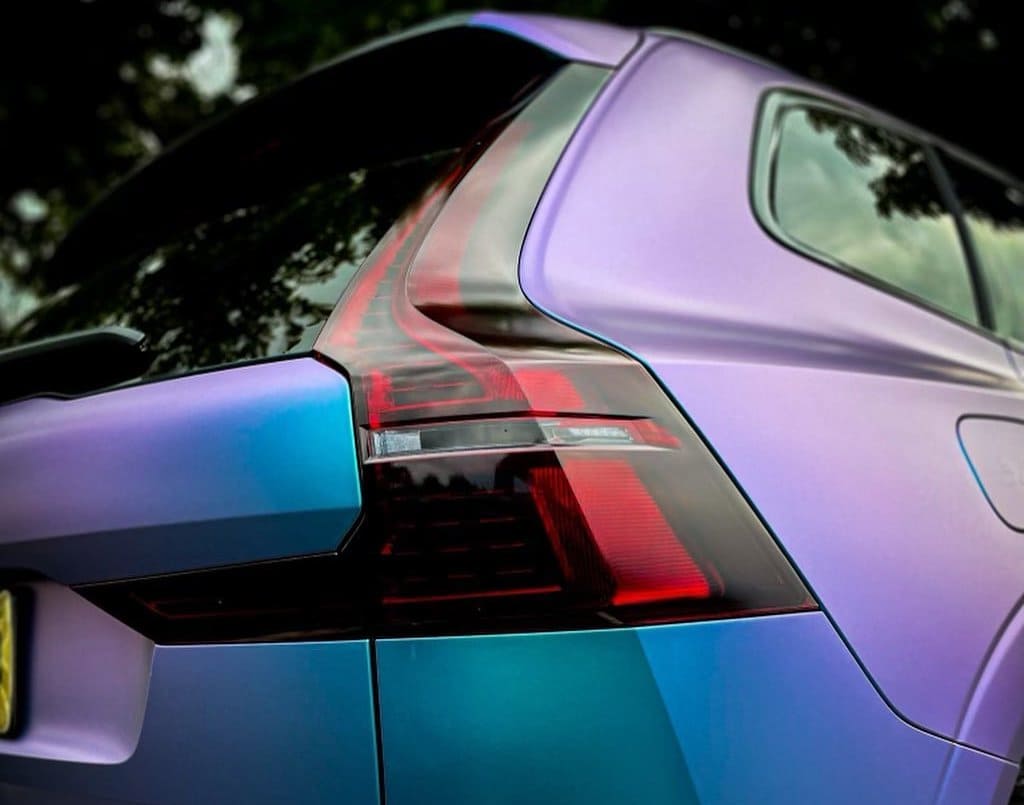 Are there any unique mods on your car? Hyper-rare parts, custom made parts…
The center caps on the rims are hand painted purple thanks to my wonderful husband. She has a full chrome delete which includes the entire roof, front grill, and all the trim. She also has a turquoise lavender shift effect matte vinyl wrap. I'm sure there will be some more unique mods in the future since I'm just getting started on her!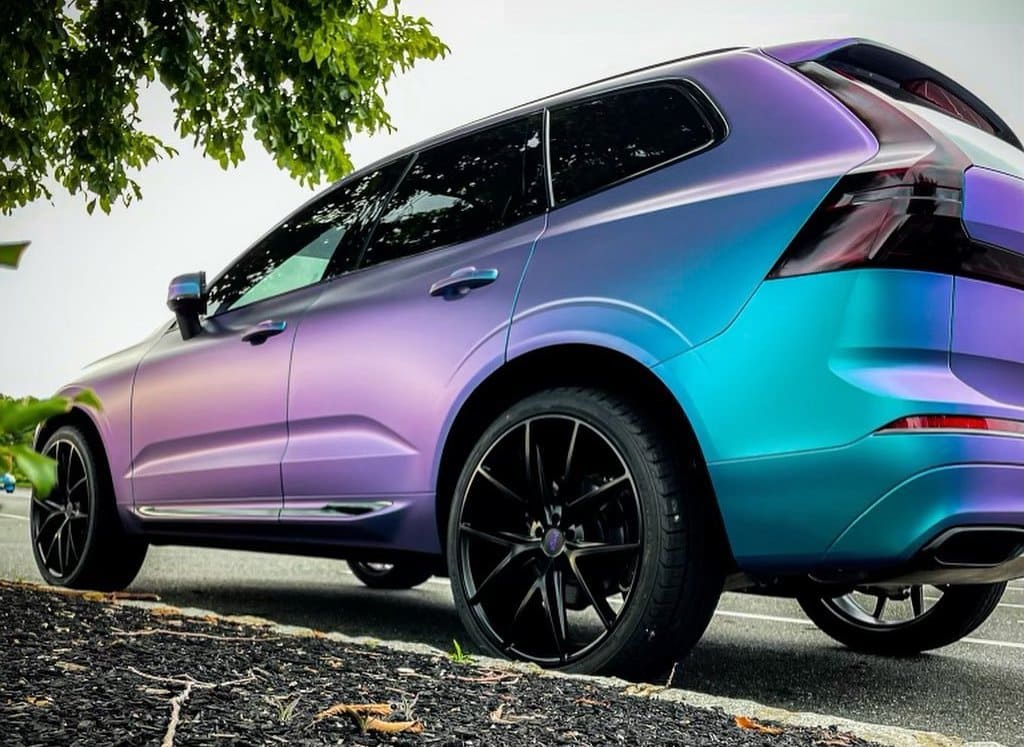 Would you consider your car done in its current form? Or do you have a list of "to dos" still left?
Once you start is your car ever truly "done"?! lol I just picked up some Heico sport lowering springs from Viva Performance so she will be getting lowered this week. My future plans are: Heico sport exhaust system, Do88 turbo intake system, TDI tuning box, KT4 purple carbon fiber steering wheel, and I'm sure there will be more ideas as additional mods come out for the newer XC60's….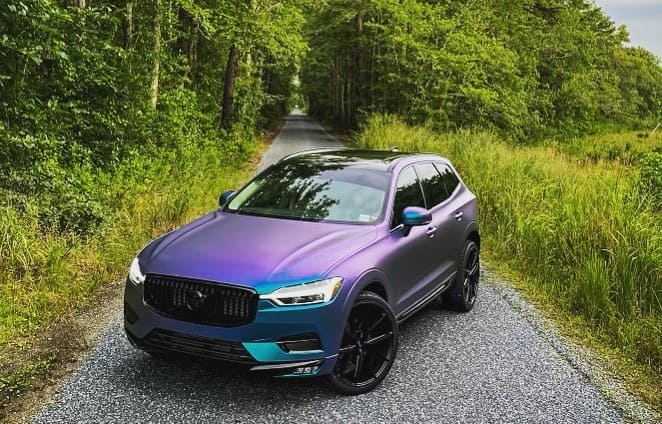 What is the biggest problem you ran into on your build?
Not a major problem, but a headache. After waiting weeks for the rims/tires to arrive and getting the run around from FedEx, they arrived completely damaged and the rims were all scratched so badly that the metal was exposed. After the process of declining the delivery, we ended up waiting almost two months for them which was a total bummer.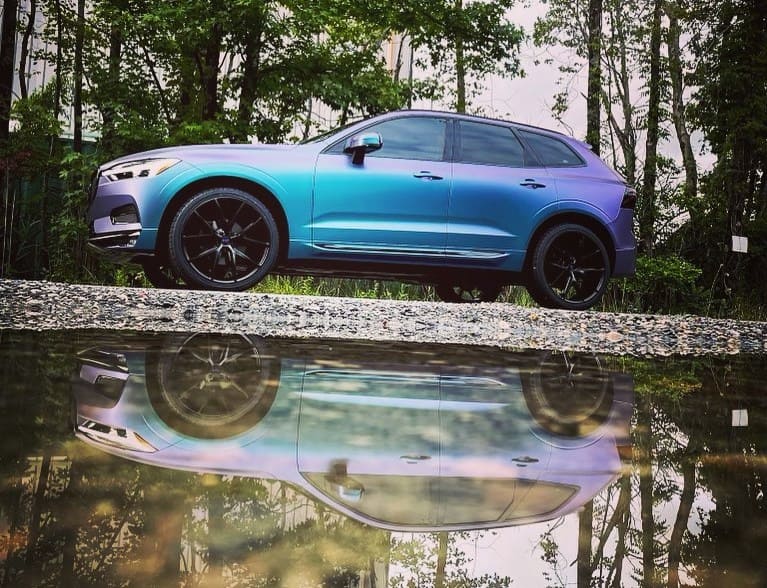 If you had to do it again, would you build the same car?
Most definitely! I love the fact that my car is unique, you sure don't see many customized XC60's! People ask me all the time what kind of car it is and it makes me smile knowing she's one of a kind!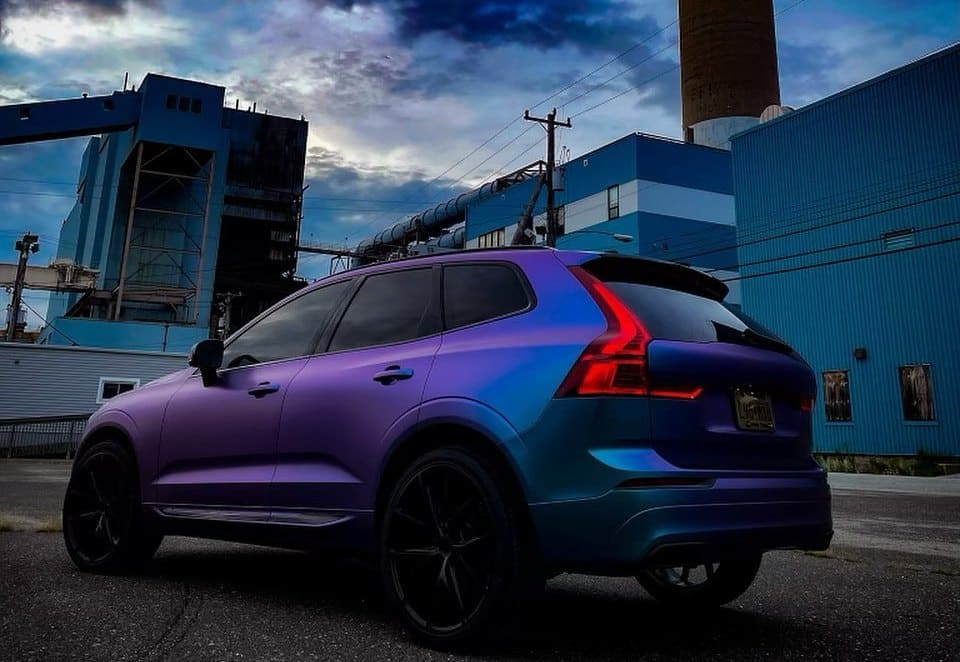 Is there any part/mod on your car you had to do a few times, or installed and then removed?
We tried doing the chrome delete on the window trim and it didn't take so we decided to have 360 auto works take care of it (with the rest of the chrome delete) while they did the wrap. We also blacked out the rear emblems, but ended up removing them and going with the clean "shaved" look on the rear of the car.
What is your favorite part on your car?
I love the interior, the blonde leather along with the driftwood inlays is top notch! I also love the curves of the car. There is this one section just below the rear quarter panel window that has a beautiful curve where the taillights extend out. The colors in the wrap really shift & show all the beautiful colors in this one area. I'm constantly turning back to look at her after she's parked! lol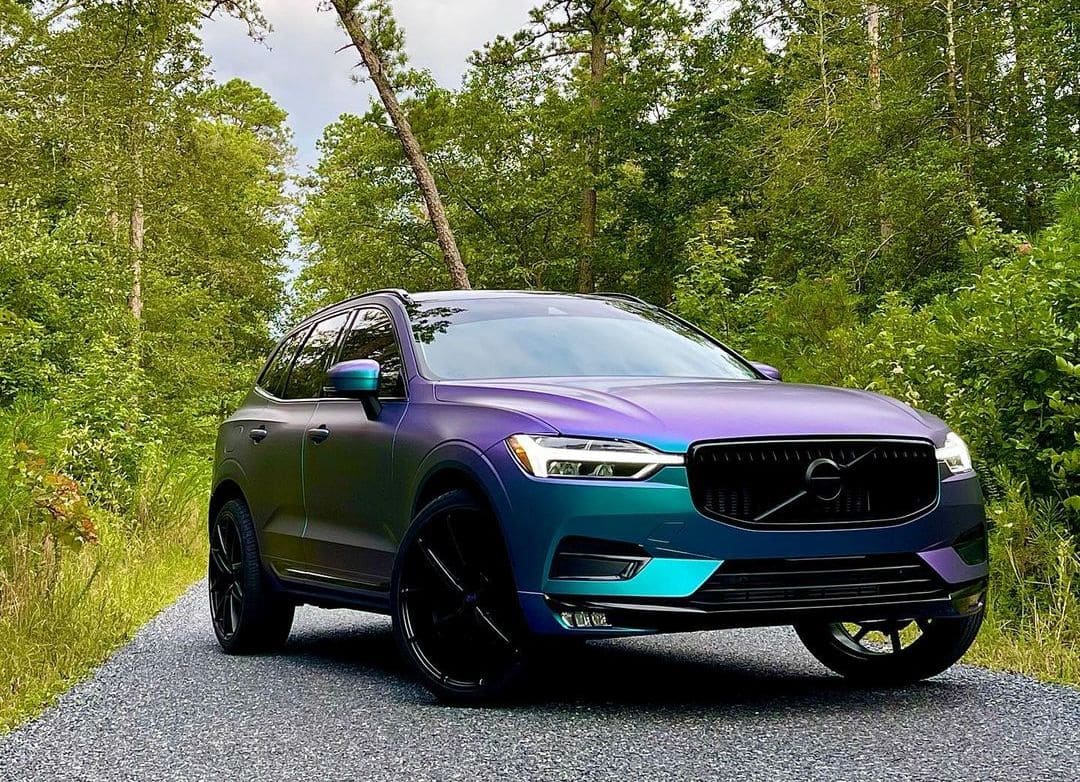 What's the best memory you had in your car?
Driving through the gorgeous Tennessee mountains with my husband. You could hear the whistle of her turbo charged engine against the mountains! lol She didn't have any trouble with those high mountain inclines either! 🙂
Build Report
Heico Sport Lowering Springs
Full Chrome Delete (entire roof, trim, front spoiler, exhaust tips, front grill, and side Inscription trim)
Turquoise Lavender Shift Effect Matte Vinyl Wrap
"Shaved" Emblems on Rear
Rear Taillights coated with nite-shades
22″ Niche Misano Rims in Matte Black
Aftermarket 265/35 Ironman Tires
More to come….