Owner: Jowell Gordo – Instagram: @jeproxs_z34
2017 Nissan 370z – Location: Southern California, USA
Photographer: @mr2mivin , @exil_empire , @50mm_luna , @pitstop.raw, @_kittos_
Cars are meant to be driven. Drive it. Feel it. Take your time with the process. Most of all, have fun.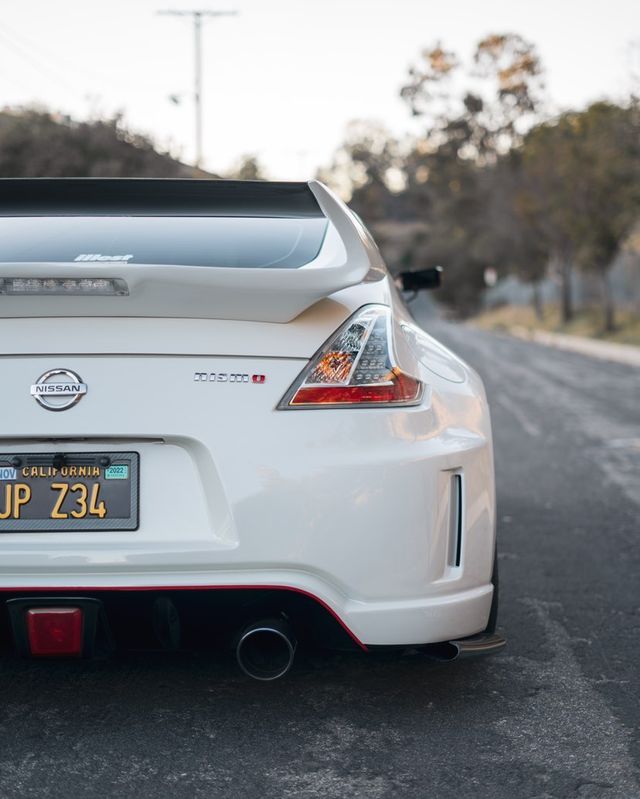 Was there any unusual circumstances around how you acquired your car?
No. I've always been a fan of the Nissan Z for its heritage and history.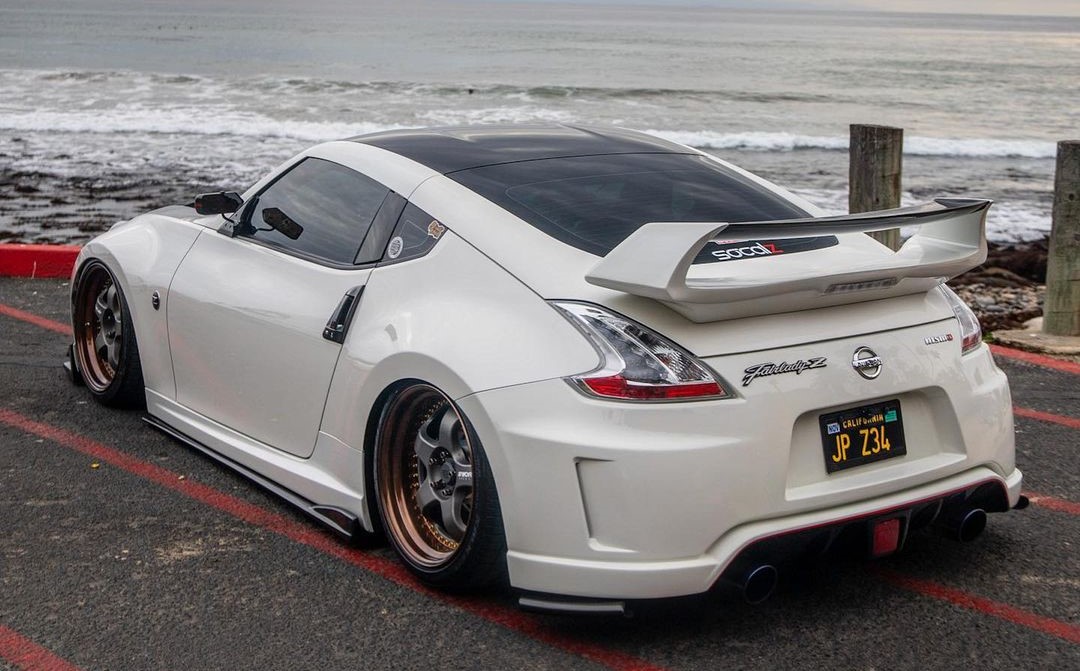 Was there more work on your car than you anticipated? Did you find a bucket of wiring worms, find some secret hidden problems…..
Not at all. The more I work on my car, the more I learned about it. I figure out more in depth and details of why the car is built and design the way it is. Some easy to get thru and others were difficult. Either or, it's always a learning experience.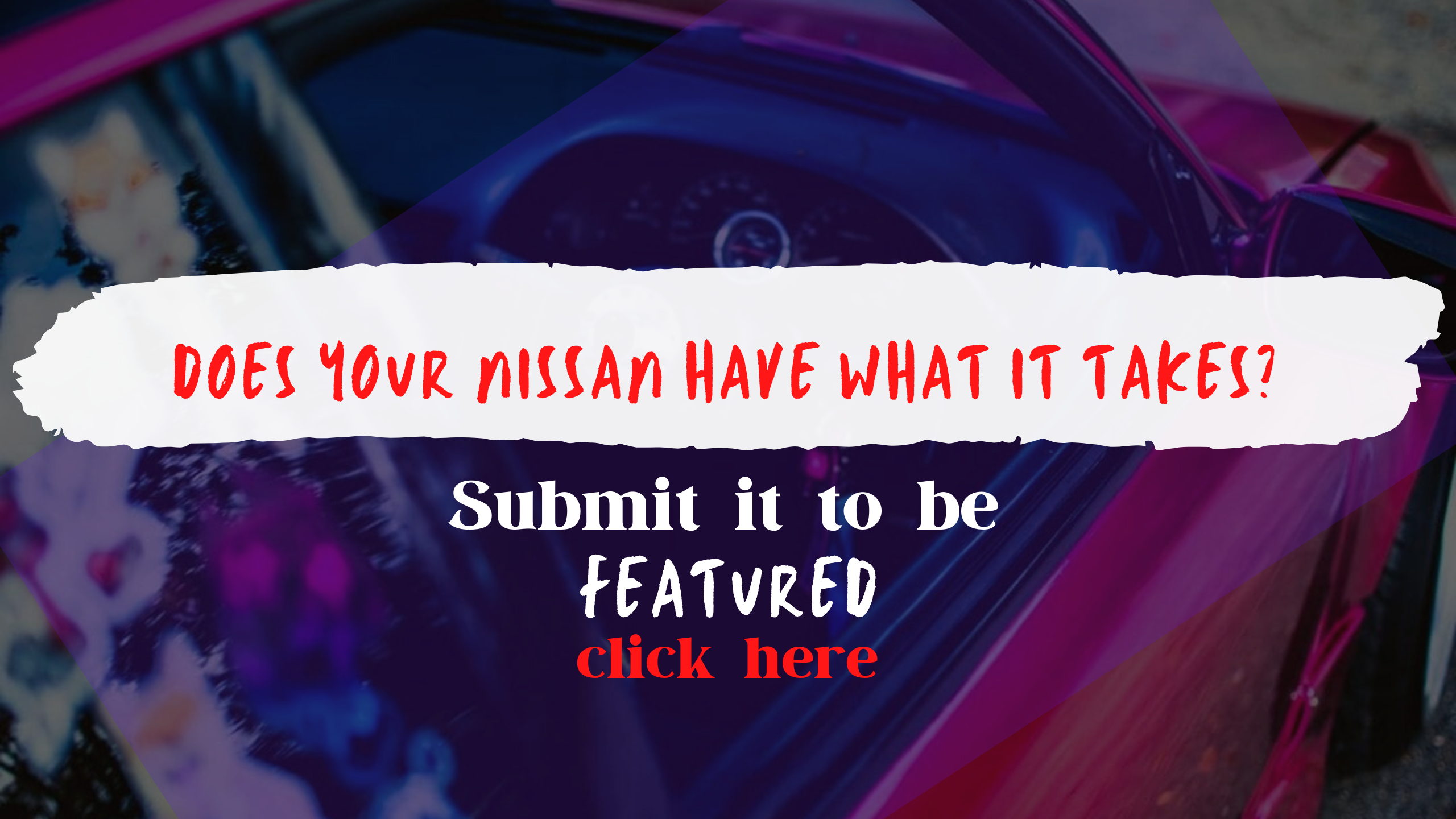 Are there any unique mods on your car? Hyper-rare parts, custom made parts…
Yes. The carbon fiber splitters are made for another car. As well as the top secret carbon fiber winglet off from a diffuser. I was able to make adjustments – had to cut and make it fit. Other custom parts include titanium parts and carbon fiber parts in the engine bay and interior, custom headlights.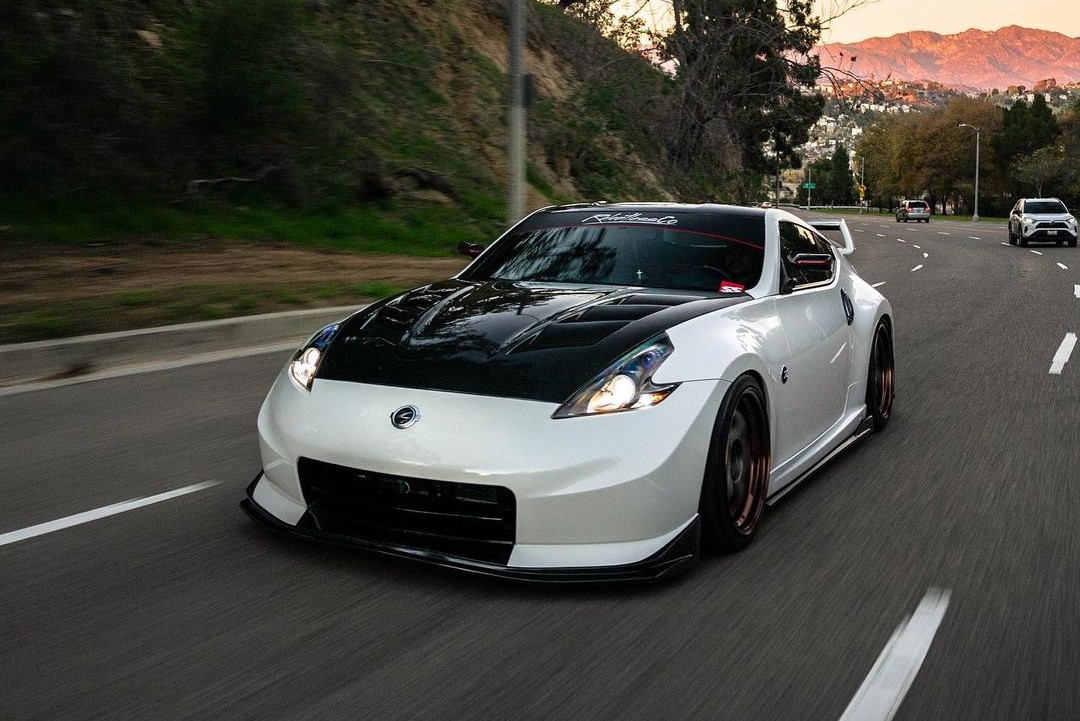 Would you consider your car done in its current form? Or do you have a list of "to dos" still left?
I do have plans in the future for a turbo kit. I have a voltex racing spoiler and carbon signal fenders that are on the way. I'm also considering taking it to the track in the near future.
What is the biggest problem you ran into on your build?
One of the highest maintenance is the air suspension. I do come across issues on the management system – causes me headaches at times.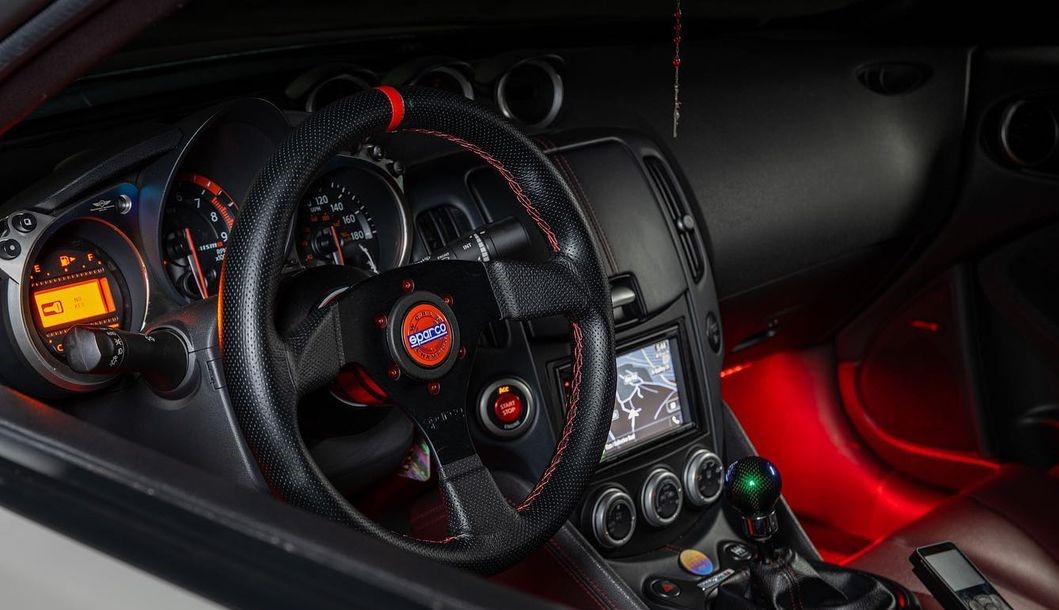 If you had to do it again, would you build the same car?
With trials and errors building my car, as many other car enthusiasts face with theirs, I think I would know better and learned from the process. I would know what direction I would go towards to and know what exactly I want. I would say yes, I would build a better one.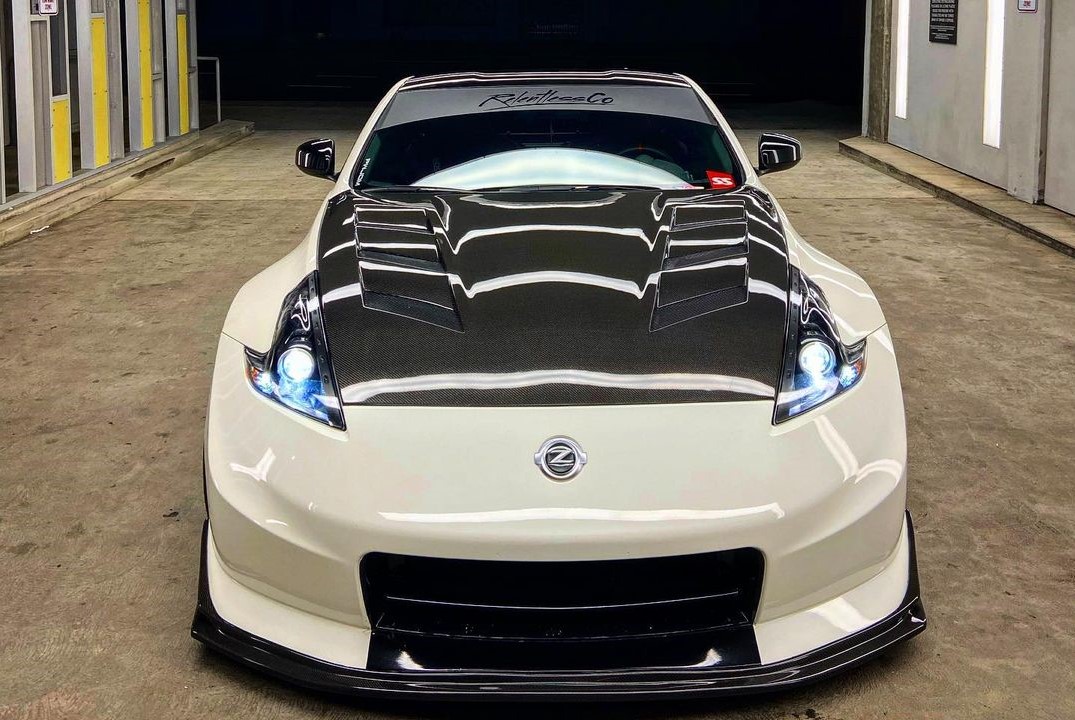 Are you apart of a club or crew with your car?
I am part of a team called Relentless. A small group of friends who have the same passion for cars.
Is there any part/mod on your car you had to do a few times, or installed and then removed?
Yes. I had to make readjustments on fitment for my work wheels meisters s1 3 piece and tires in order to get the right flush look. Also had to switch air suspension management for upgrading purpose. I had to also switch exhaust system for the quality of sound and performance.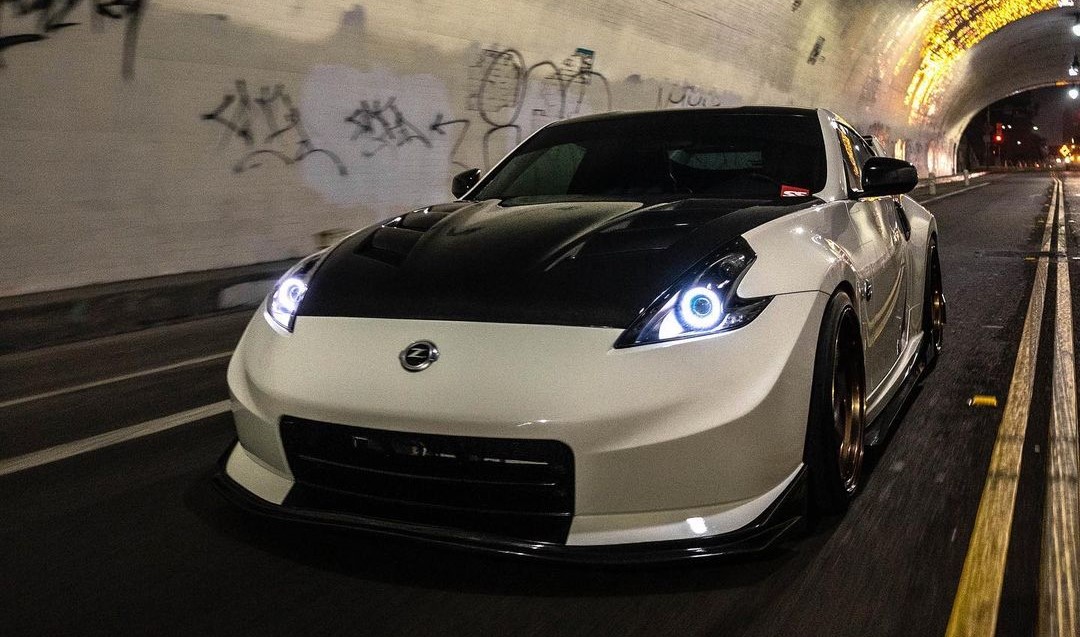 What is your favorite part on your car?
I would want to say the FBOs upgrade. The sound of the car and how the car feels from the tune.
What's the best memory you had in your car?
There are so many. I would want to say anything that involves driving thru sunsets, canyon drives. Listening to music with windows down & feeling the wind that passes thru your fingers. Kind of corny, but that's a great feeling.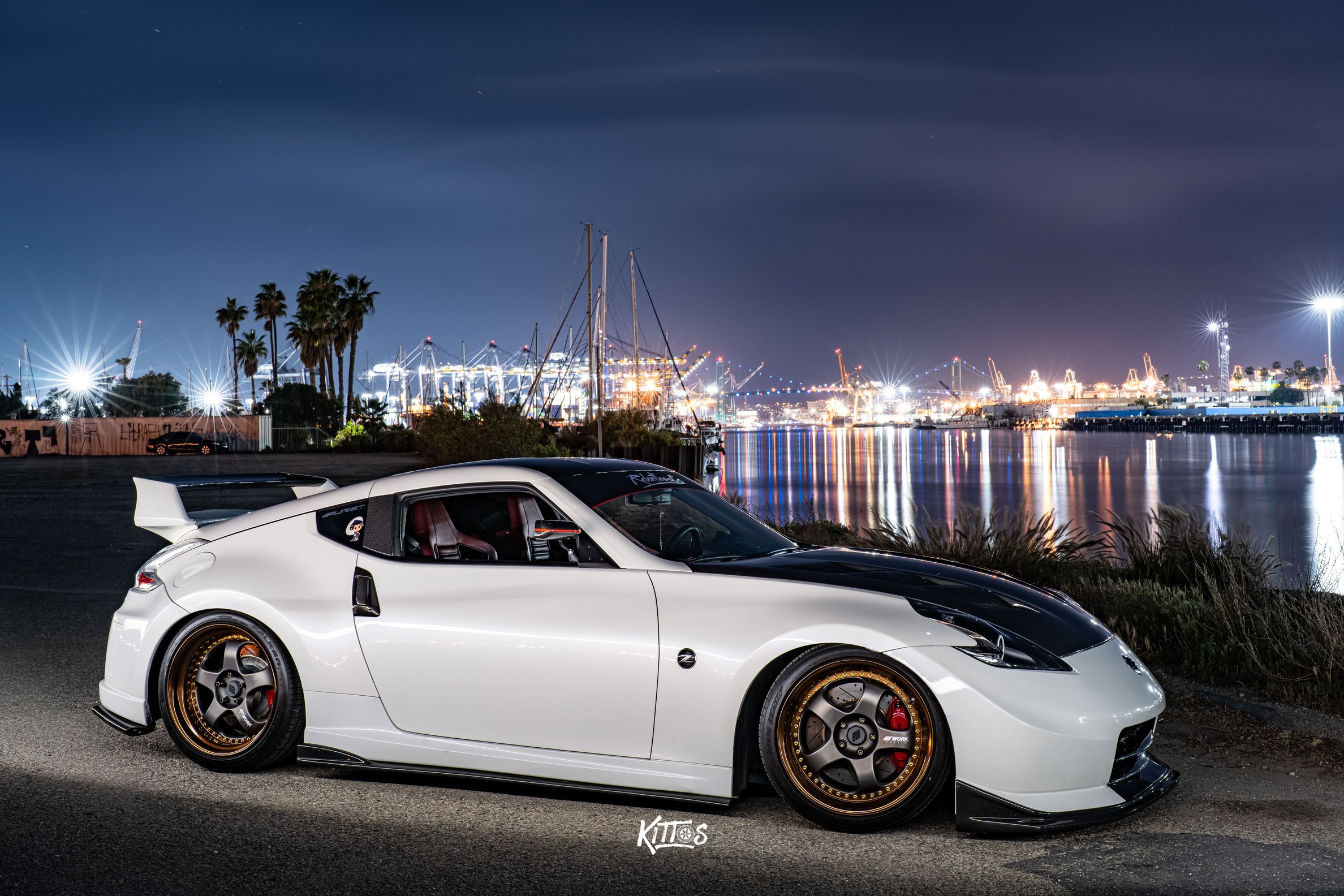 Build Report
Exhaust system:
Motordyne shockwave full catback – true dual pipe exhaust system w/ 4.5 inch burnt titanium tip
Motordyne art pipes
Intake system:
Stillen gen 3 dual cold air intake
Tuned – Uprev tune w/ launch control
Wheels & tires
Work meister wheels s1 3 piece wheels gun anodized powder coated in glossy bronze lip and gunmetal face with gold rivets combo
19s 11.5 rear offset +10 10.5 front +20
Falken azenis FK510tires
265/35 front 305/30 rear falkens
Big brake system:
akebono bbk w/ red calipers
R1 concept e-line drilled and slotted brake rotors w/ ceramic brake pads
Exterior:
VIS AMS carbon fiber hood
Amuse powerhouse spoiler
V1 Nismo rear bumper
V1 nismo front bumper
V1 nismo side skirts
Craft square CF mirrors
Custom CF side splitters
Custom Top Secret CF winglets
Carbon signal CF front lip
CF B pillars by Alliance carbon
CF door handles by Alliance carbon
Password JDM Kevlar carbon cooling plate
JDM tail lights
Custom black housing headlights w/ RGB halos, CF wrapped reflector
Interior:
Sparco champion steering wheel w/ NRG quick release.
Varis carbon fiber shift knob
Braum elite x series seats in maroon leather w/ planted seat brackets
Braum harness bar
Sparco 4 point harnesses
Full interior nismo conversion trim
Suspension:
Air lift performance air suspension
airlift management 3H w/ viair air compressors
Universal Air 5 gallon tank
Misc./hardware:
Bolts: dressup bolts
Titanium parts by masterpiece_automative and chasing Js
Pioneer double din 6400NEX
Z1 silicone master hose set