Owner: Lee Adler – Instagram: @lee_adler
1998 Nissan Skyline R34 GTT- Location: UK – Hertfordshire
"Give me all the bacon and eggs you have, do you understand?" – Ron Swanson
Was there any unusual circumstances around how you acquired your car?
None at all, was a pretty standard buying experience of a very near standard car.
Was there more work on your car than you anticipated? Did you find a bucket of wiring worms, find some secret hidden problems…..
I was really fortunate to find an unmolested example which was rust free – this is highly unusual on R34 Skylines as they suffer greatly from rust around strut tops / hidden deep inside the metalwork.
Having had a lot of Japanese imports over the years, the Japanese people have a penchant for butchering the wiring behind stereos / bodging in extras – so I only had that rats nest to sort out.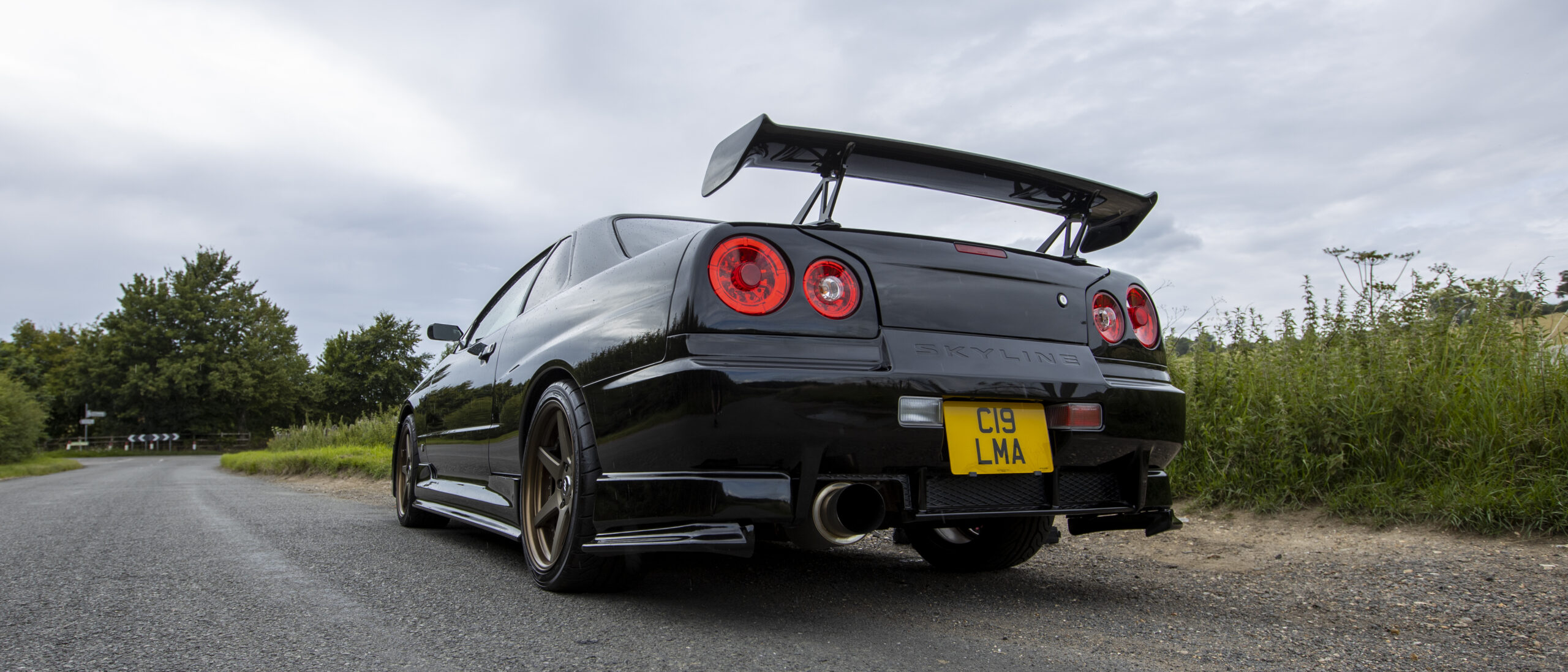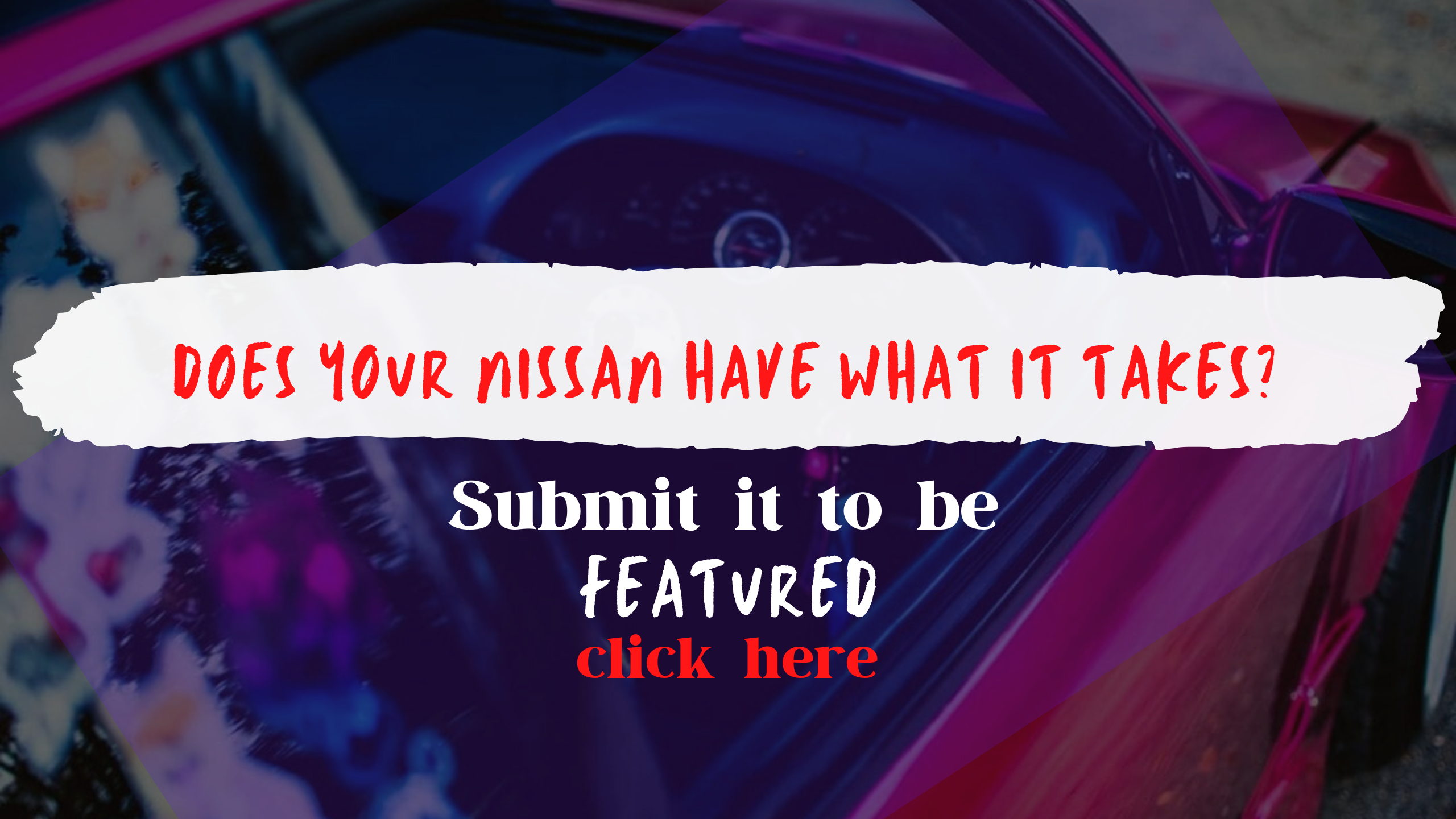 Are there any unique mods on your car? Hyper-rare parts, custom made parts…
Due to the ever increasing popularity of Skylines in the American market as it opening up to imports of this age, most parts that I put on the car are now rare as they are being snapped up / discontinued by manufacturers.
The mod that I was most proud of, as have always dreamt of having it, was the fully built RB30 supplied by RIPS racing in NZ, combined with a fully built race spec head. I was very specific to not buy generic or off-brand parts where possible, hence the spec list is filled with true JDM brands from Tomei, HKS, Greddy, Blitz etc.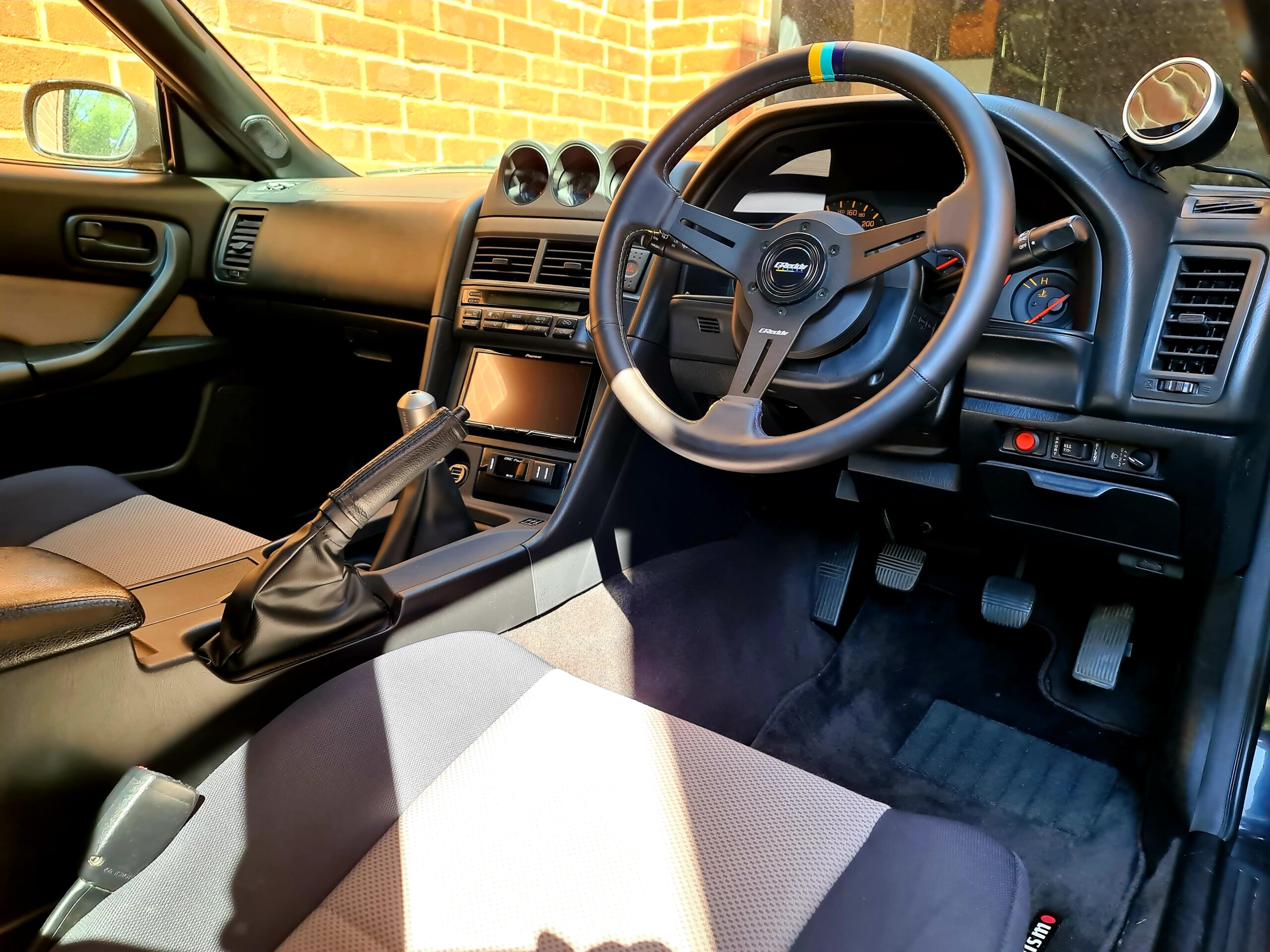 Would you consider your car done in its current form? Or do you have a list of "to dos" still left?
Project cars are never really done. I've now sold the vehicle to move onto the next project, but if I had kept it I was planning on a respray, aftermarket seats and strengthening the gearbox as well as continue tidying bits in the engine bay.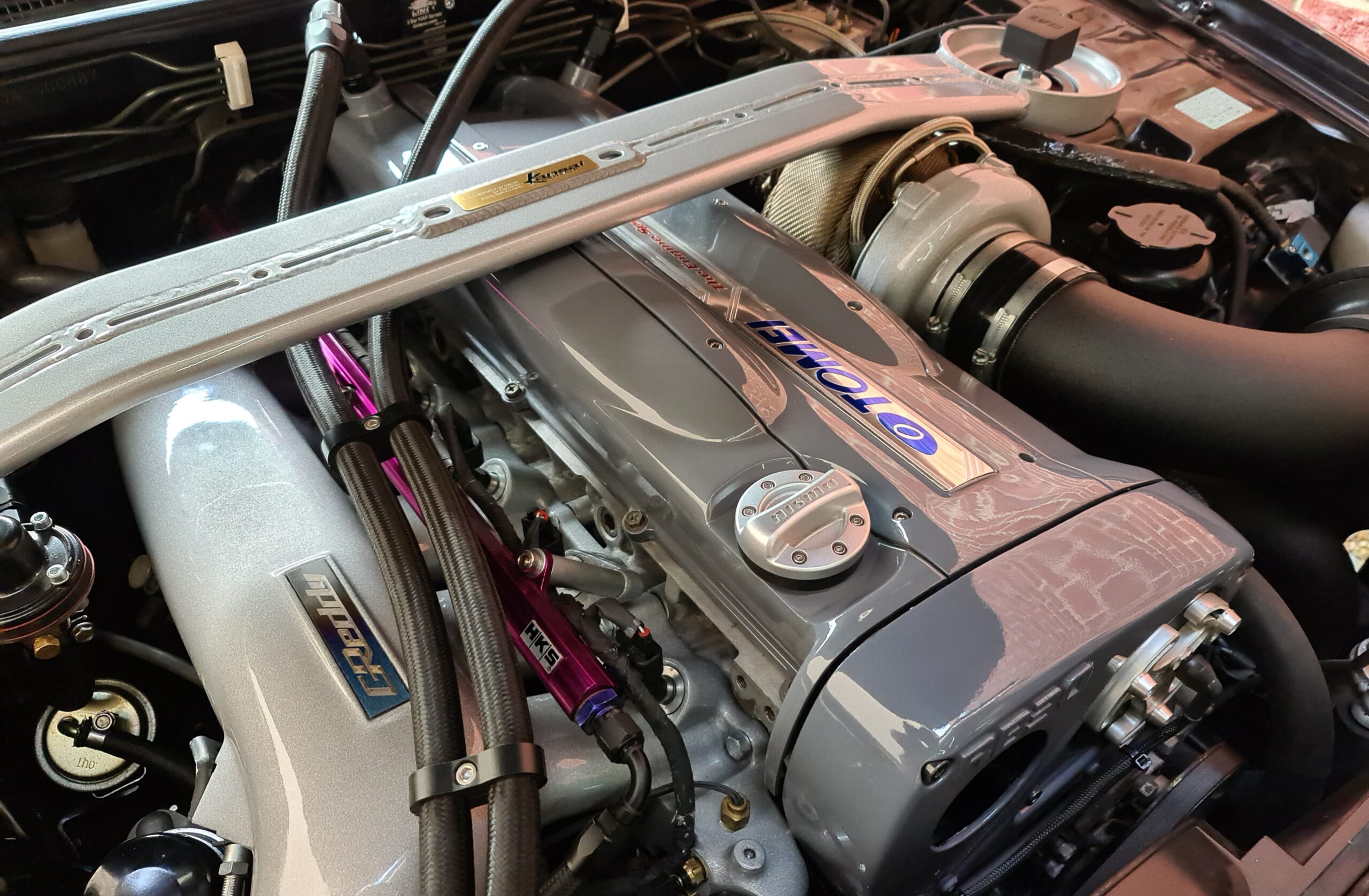 What is the biggest problem you ran into on your build?
The biggest problem with the build was me. The car was put into the workshop to have the first round of upgrades to the engine, taking the power to around 570hp – but then after all that was done the opportunity to acquire the RB30 presented itself, so the work began again. Nice problem to have I guess, but it cost a lot of time and £££.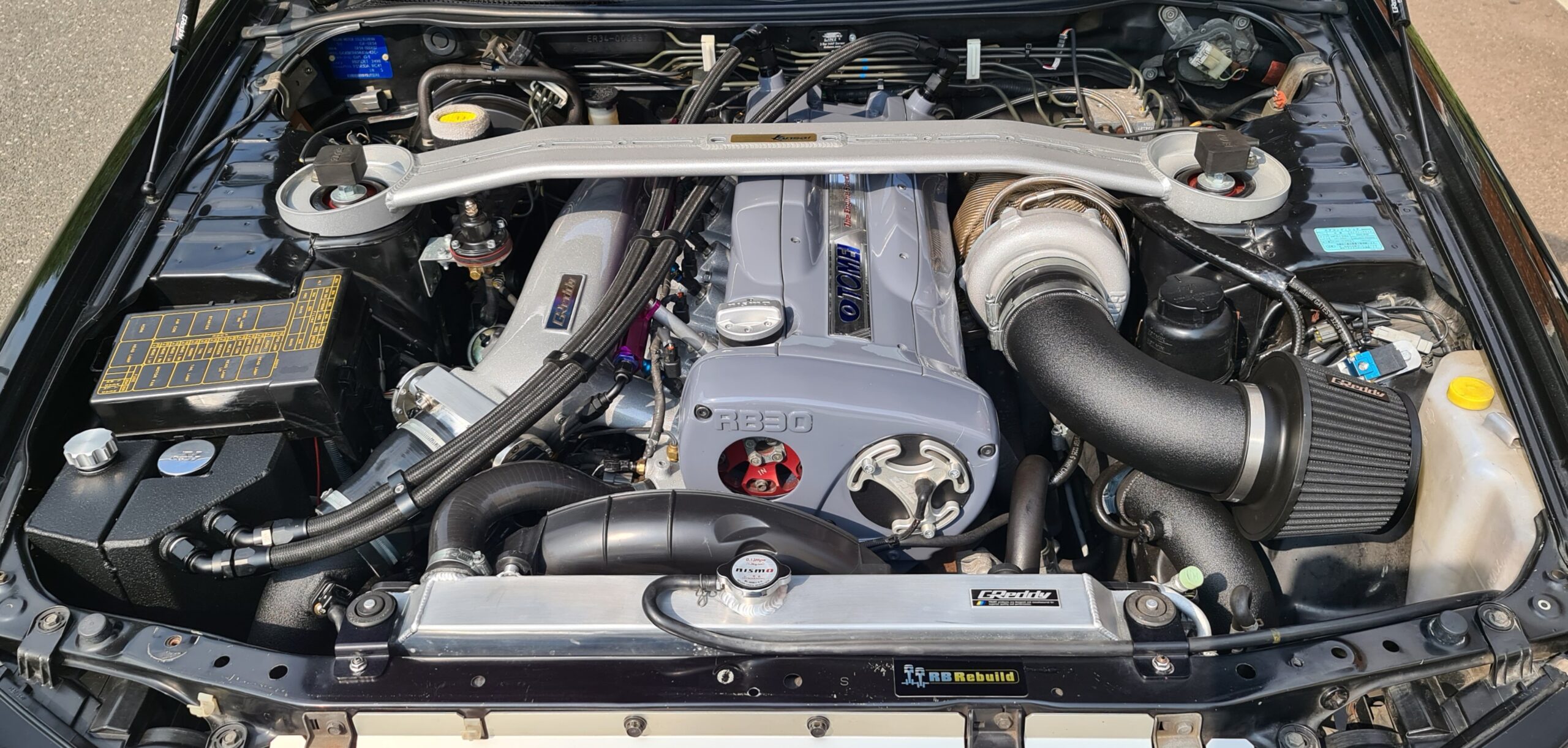 If you had to do it again, would you build the same car?
Yeah, absolutely. This was a 'no regrets' car – having owned 6 Skylines previously and never being in the position to go all out on it. This car was getting the best of the best.
Are you apart of a club or crew with your car?
I am a member of the Skyline Owners Forum on FaceBook – but I've never tried to let others influence how I built the car as I wanted it how I wanted it. One of the coolest little details though I imitated from Built By Legends R32 GTR – they fitted an R34 rear wiper spindle and a C25 Nissan Serena wiper blade. Sounds silly, but the OEM rear wiper blade only lifts an inch from the windscreen making it hard to clean under. The Serena blade stands fully erect 😀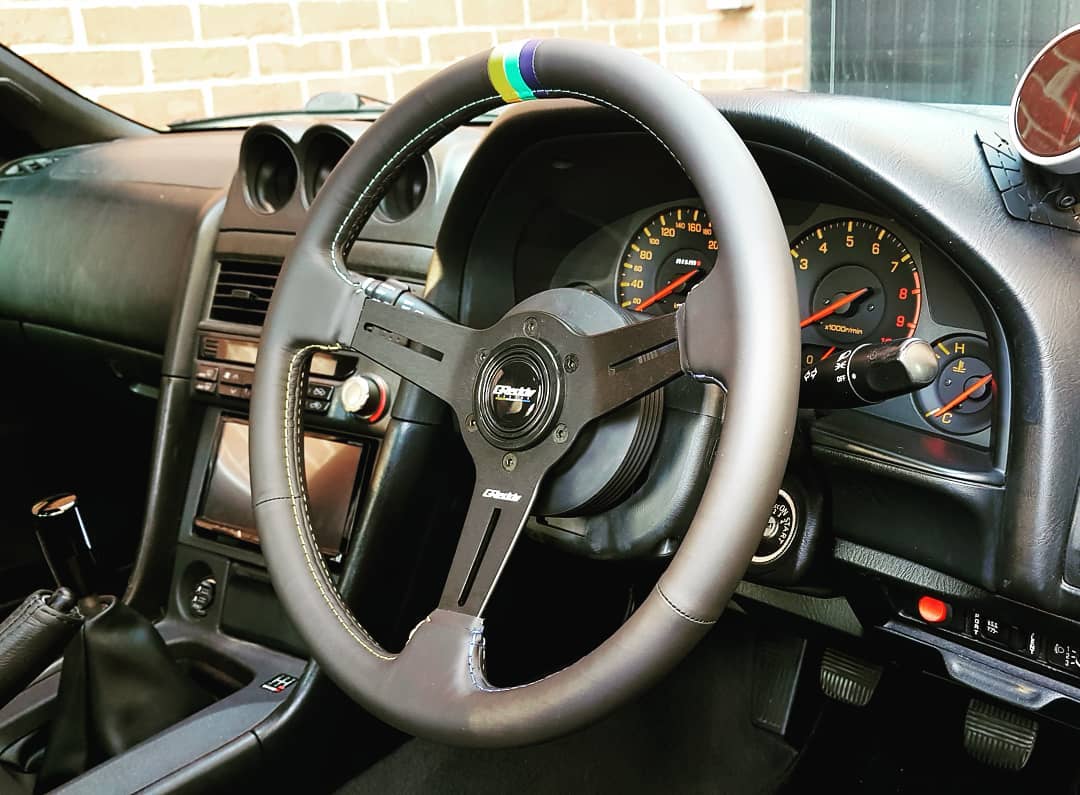 Is there any part/mod on your car you had to do a few times, or installed and then removed?
I had it in my head to have a Greddy oil filter relocation kit, just because it looked cool but offered no practical advantage. This part turned out to be a mistake as one time a hose popped off and another time the oil filter seal blew – both times dumping oil all over my drive. Not good. That was subsequently removed and replaced with a new oil cooling system instead.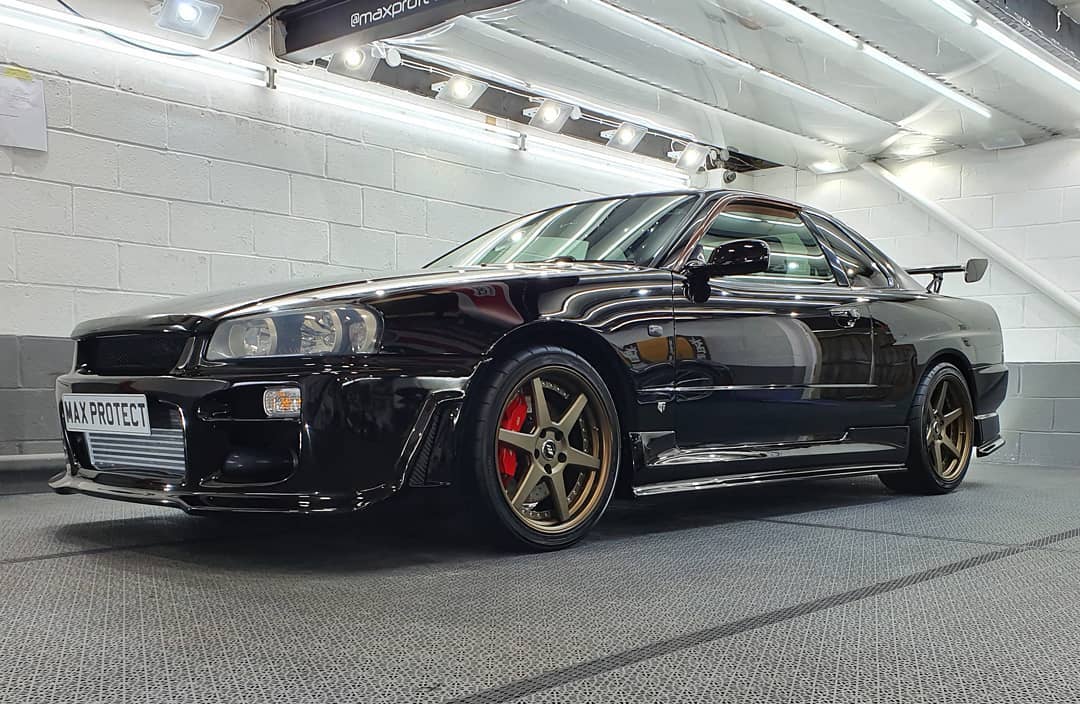 What is your favorite part on your car?
There is no specific 'part' – but the Engine bay was what I was most proud of. I had an image in my head of what I wanted it to look like and managed to recreated it almost perfectly.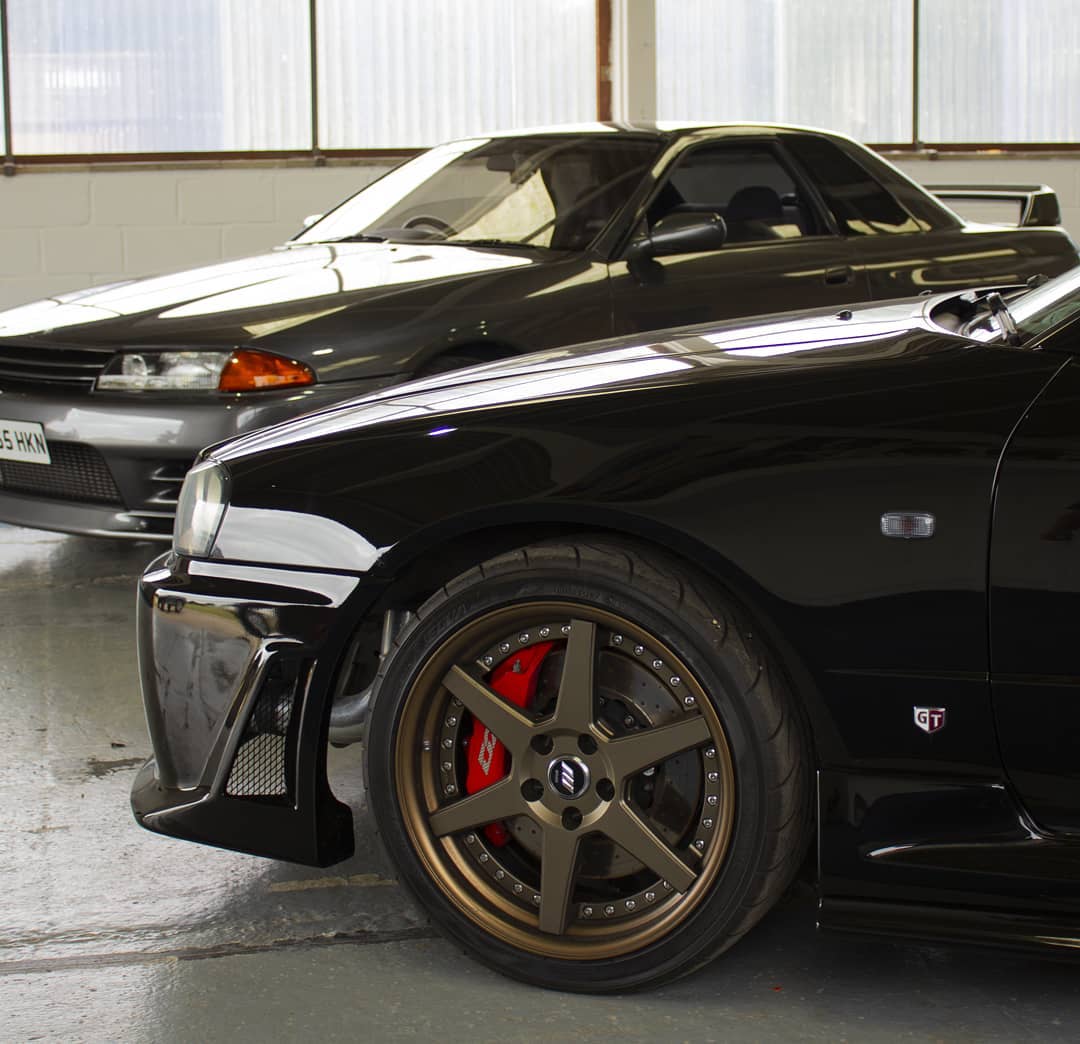 What's the best memory you had in your car?
There is a car show in the UK every year called JAE – convoying with my friends in their Jap cars at the time to the show was a riot.
Vehicle Acquired by New Owner, and….. one hour later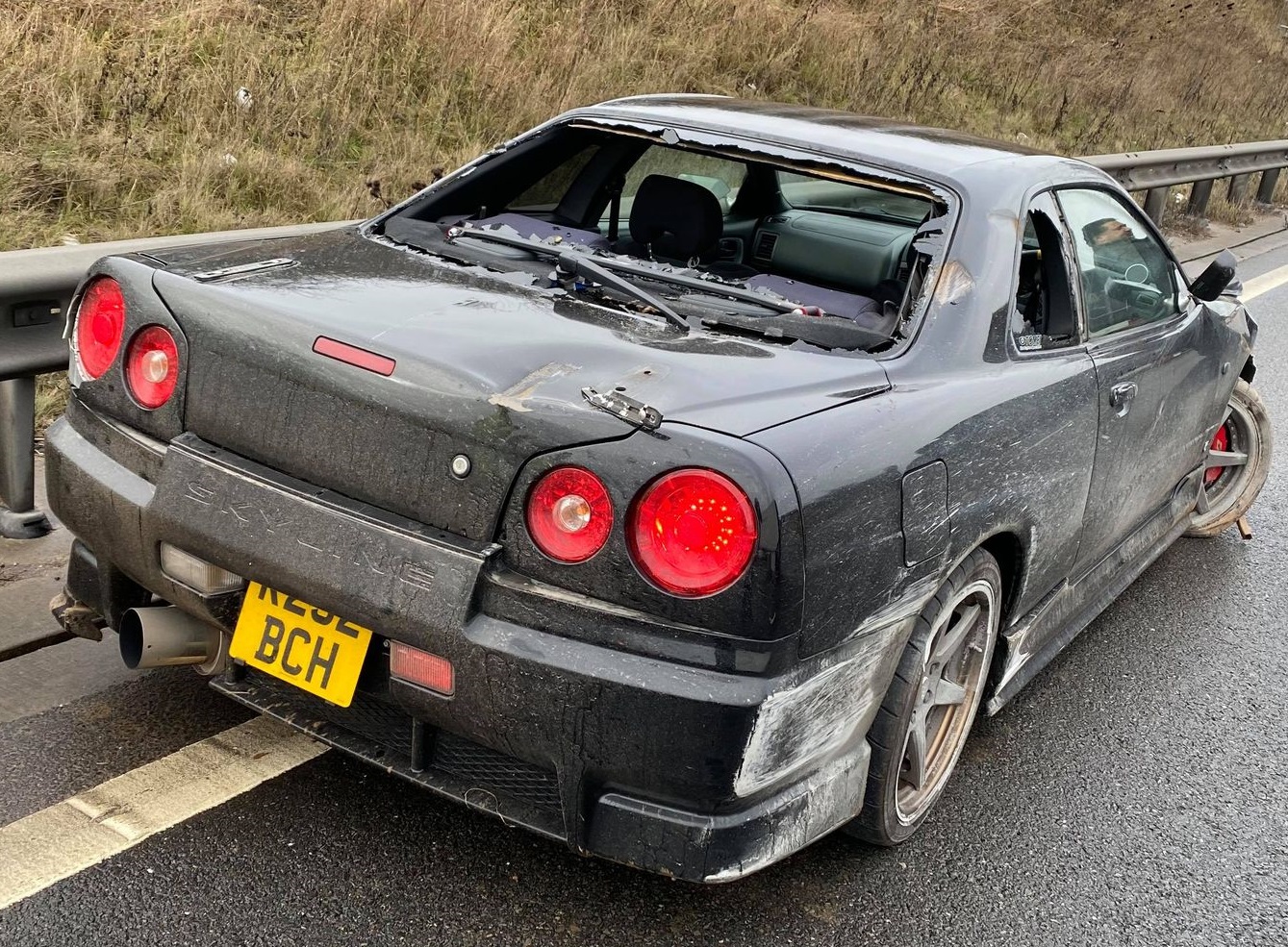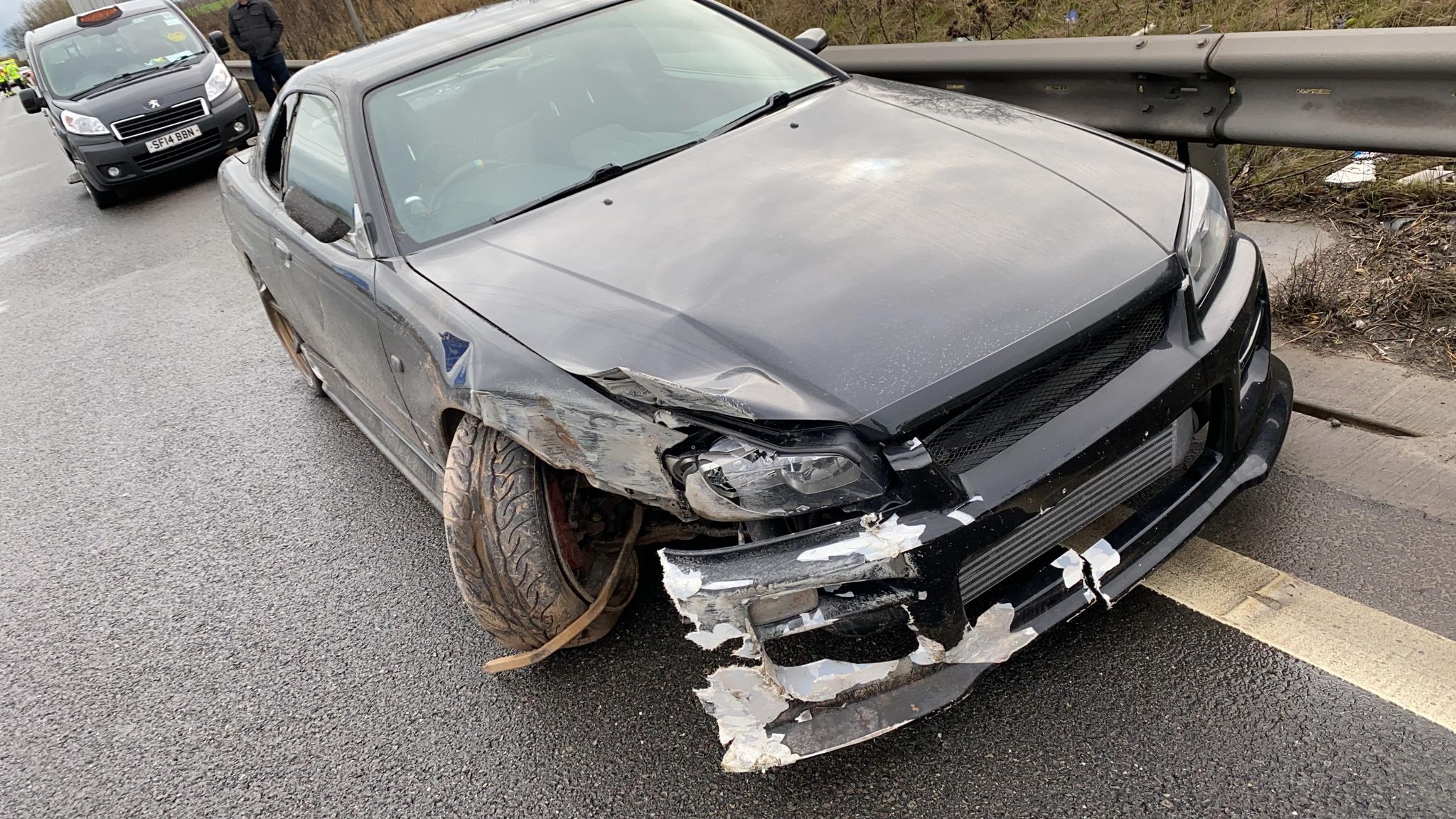 Build Report
*Audio*
Pioneer 5100 DAB / Android Auto double din stereo
Focal ICU165 front and rear speakers
*Electronics*
Defi Advance control unit
Defi BF boost gauge
Defi BF water temp gauge
Defi BF oil temp gauge
Defi BF oil pressure gauge
Link G4 ECU
Link 3 bar map sensor
Link AIT sensor
Link boost control kit
Nismo combination meter gauge
Speed converter chip (MPH)
Blitz DSC controller
Custom volt meter display built into wingmirror control switch
Autowatch alarm system
*Interior*
Custom retrimmed headliner in genuine alcantara
Custom retrimmed sun visors in genuine alcantara
Custom leather handbrake sleeve
Nissan S15 map light (black)
Nissan S15 dome light (black)
Greddy 340mm steering wheel
Works Bell short boss kit
Zoom Engineering Carbon fibre TS rear view mirror and stalk
Nismo GT500 titanium shift knob
Nismo floor mat set
Floor carpet dyed black
+second set of mats to protect the Nismo ones
*Exterior*
Altia rear bumper
Impul front bumper
Uras Type R skirts
Uras bonnet lip
Nismo S-tune rear spats
Behrman headlight lens replacements
Craft Square TCA-F competition touring wing mirrors on aluminium bases
Custom rear spoiler risers
Custom rear spoiler base covers
Driftworks LED rear lights
Nismo smoked side repeaters
EPRacing crystal front markers
Greddy engine hood lifter
Nismo fuel filler cap
Nissan C25 Serena rear wiper arm conversion
*Suspension and drivetrain*
Work Zeast ST1 wheels in matte titanium with matte bronze lips (R: 18×9.5 ET30 F: 18×8.5 ET30)
Rays 17mm locking wheel nuts
Blitz ZZ-R coilovers
Blitz rear strut tower bar
Kansai Service front strut tower bar
Kansai Service optional gold emblem
Chasing J's titanium strut nuts
D2 6pot front brake with 330mm discs
D2 braided front brake lines
Driftworks full HICAS lockout
Kaaz SuperQ 1.5way differential
Nismo engine mounts
Nismo transmission mounts
Whiteline front and rear anti roll bars
Cube speed premium short shift kit
*Engine / bay*
R.I.P.S Racing supplied RB30 block (86.5m bore and refaced)
R.I.P.S Racing extended and baffled sump
R.I.P.S Racing steel con rods
R.I.P.S Racing crank
Greddy neodymium magdrain sump plug
CP forged pistons and rings
N1 oil pump
Extended crank collar
ARP studs
Cosworth head gasket
Full race spec RB25 head – gas flowed, ported and polished with machined combustion chambers
Tomei Procam 272 intake and 272 exhaust cam with 10.5mm lift
Tomei solid lifters
Tomei adjustable cam gears
Tomei valve springs and retainers
Tomei oil restrictor plugs
BC +1mm oversized valves
RB Rebuild head drain
RB26 cam covers and backplate
Tomei ornament plate
Mine's cam cover baffles
Wiring specialities coilpack harness
Splitfire coilpacks
Genuine Greddy intake manifold
Greddy titanium emblem
HKS fuel rail
Bosch motorsport 850cc high impedance injectors
Platinum Racing Products cam and crank trigger kit
Sytec MSV fuel pressure regulator
Sytec 400lph fuel pump
RB rebuild 80mm throttle body
RB rebuild high flow intercooler core
RB rebuild water bottle / oil catch can with AN fittings
OEM Nissan cambelt
OEM Nissan water pump
6Boost T3 Open 50mm exhaust manifold
Garrett GTX3076R gen 2 turbocharger with .82a/r housing
Funk motorsport titanium turbo heat blanket
Turbosmart Progate 50mm lite external wastegate
Custom downpipe with screamer
Custom decat pipe
Aftermarket exhaust (unsure on brand, but it's extremely nicely made!)
Greddy TW-R aluminium radiator
GK Tech radiator fan upgrade
Greddy Airinx air filter
Nismo radiator cap
Nismo oil filler cap
Nismo reservoir sock
Rebuilt clutch master cylinder
Nismo large operating slave cylinder
Exedy Hyper twin plate clutch
APP braided clutch line
RB rebuilt 28 row oil cooler with thermostatic plate
Nismo veruspeed oil filter
Attain KSP radiator closing panel
Battery relocated to the boot
Intake pipe, charge pipes and catch can powder coated in crinkle black.
Intake manifold, strut brace, turbo compressor housing powder coated silver.
Cam covers painted in Ford Stealth Grey.
RB30 emblem provided by R.I.P.S racing.
*MISCELLANEOUS*
I have also replaced the following components with brand new OEM items:
Centre console
Gear surround
Gear gaitor
Lower centre dashboard
Triple gauge pod
Centre air vents
Door pull – passenger side
Driver electric window switch panel and switches
Wingmirror base covers
Boot hatch lining covers
Boot lid carpet
Boot hinge covers and clips
Bonnet rubber stops
Drivers seatbelt webbing replaced and extended
Drivers door lower seal replaced
Brake line clips