Got a Volvo and Haven't Ordered From Elevate? Here is what to expect.
We've been ordering parts for our S40 from Elevate Performance for almost a decade now. We did an initial build (seen here), and then went back to stock, and are in the build phase again. Engine performance build is slowed down by our epic, first ever in history, Fully Documented P1 auto to M66 swap. But for now we wanted to let the Volvo community know what to expect when they choose to order performance parts for their Volvo from Elevate Performance. In this article we will cover ordering, ship time, packaging and unboxing. Also, if you would rather, you can watch this article here:
Ordering from Elevate Performance
The online experience is pretty straight forward on the Elevate website. Once you land there you are on the primary store page which allows you to easily select your vehicle from the list of images. Simply click and go.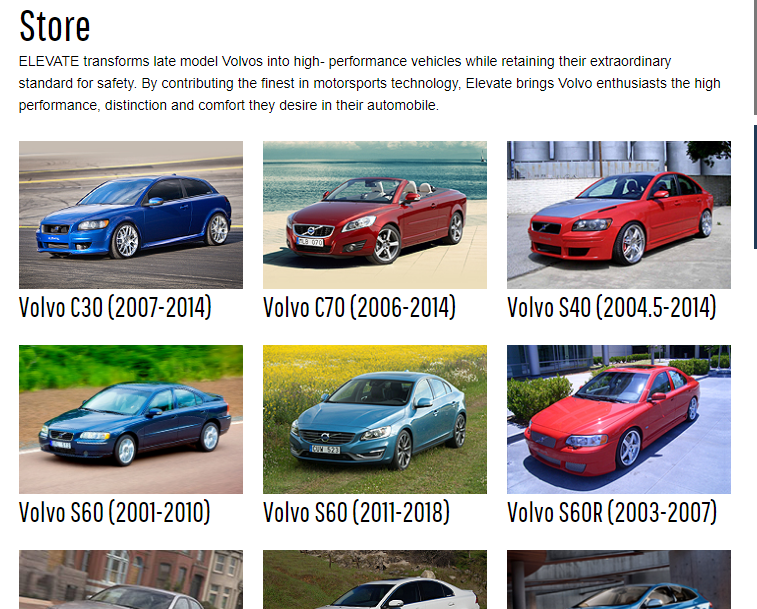 From there, you land on your vehicles main parts index page. All the parts are grouped by where they go on the car via horizontal tabs at the top of the page. Engine Performance, Chassis & Suspension, Brakes and so on. You can select the tab to dial further into each section.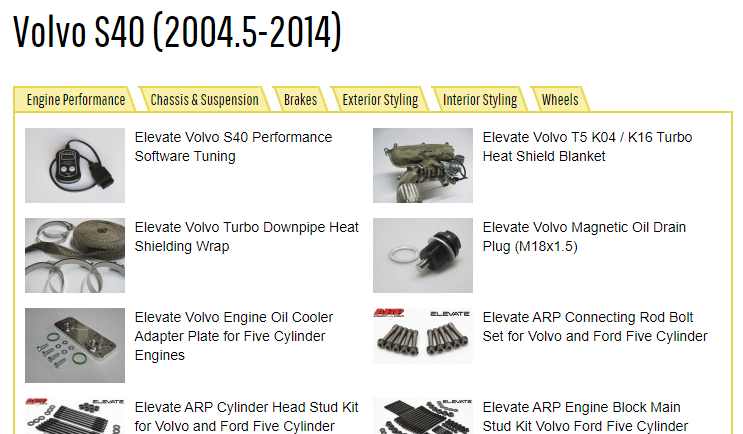 By clicking on any part, you are taken to the part detail page which includes a ton of information such as an overview, specific features, specs for HP and TQ gains as well as price, installation instruction downloads and even reviews from customers who have purchased the product. As expected, your "Add to Cart" button is right there ready for you to purchase.
Unlike other websites, clicking add to cart will add the item and allow you to continue peeking around, rather than taking you to the cart or checkout process. You do get a pop-up notification confirming the item is in your cart, and the right sidebar will show your current cart and allow for checkout if you're ready.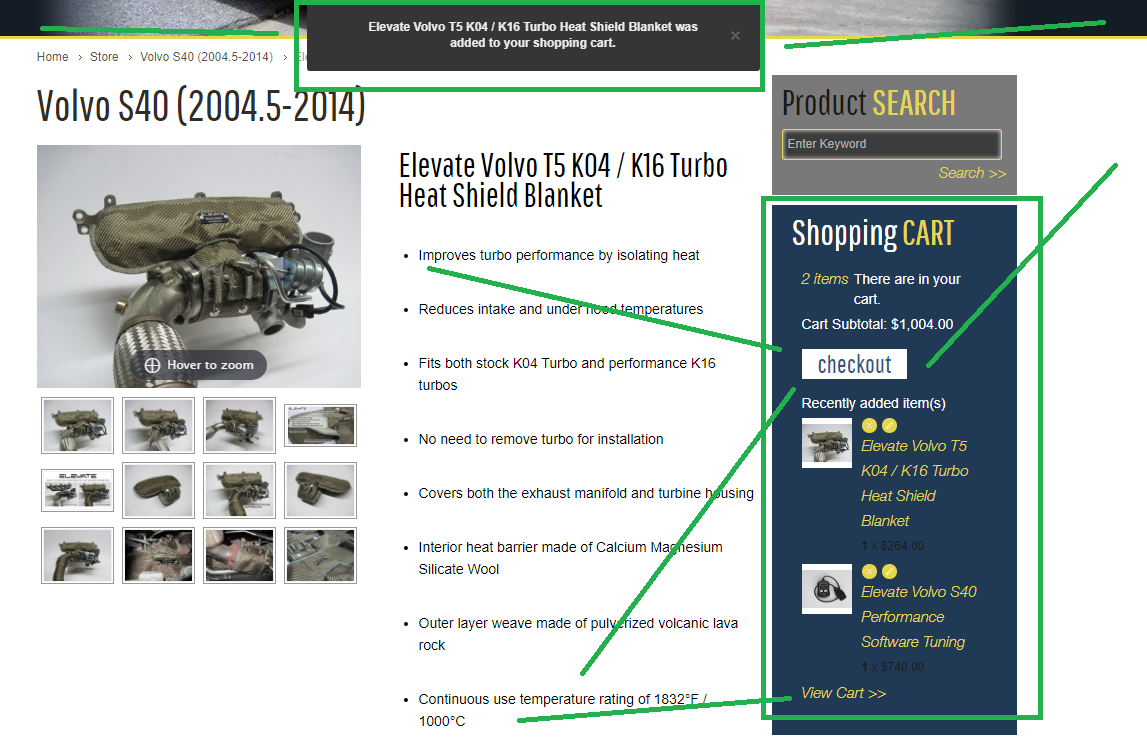 The rest is as expected, login for returning customers, create account for new customers. If you have an account, your vehicle and all order information is saved. Also and shipping addresses too. Select shipping information, method (FedEx Ground, 2 day or overnight for their respective price), confirm payment method, do a final review and you're done. You will get an automated email confirming your orders, and will also see all orders and status in your "account" page.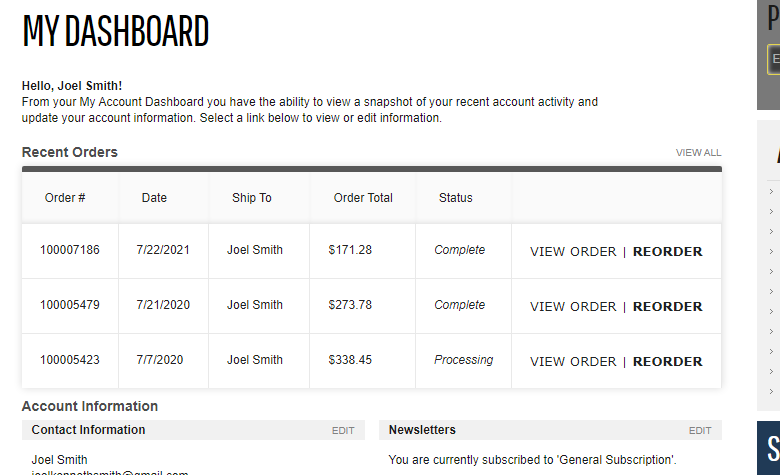 Last thing to do is sit back and wait for new parts to arrive, and you don't have to wait long as we explain now in our shipping section.
Parts Shipped from Elevate Performance
Depending on the method your choose, you know about how long you are going to wait. We are in Southern California, not to far from Elevate HQ, so we always choose the cheaper ground shipping, and have our parts within 2 days. I am sure you East Coast cats and those overseas are probably going to wait a bit longer.
You do get a tracking number almost instantly after order, so you do know exactly when the goods are going to arrive. On that day, just sit by the window and wait.
Packaging on Parts from Elevate Performance
As we cover in our unboxing video above, your parts are wrapped and heavily secured so that your parts show up as you would expect them. We have ordered large and small and the packaging is always consistent. Good to know especially if your ordering their intake systems or any other part you will be using as a show piece. Here is our latest order of the S60R hood vents, we are going to try and use these for some custom hood vents on the S40. Part is packaged in heavy plastic and heat sealed, outside that is super thick old school bubble wrap, not that new cheap crap from Amazon. Then wrapped again in some form style sheets, and all padded with packing paper to make sure there is no movement in the shipping process.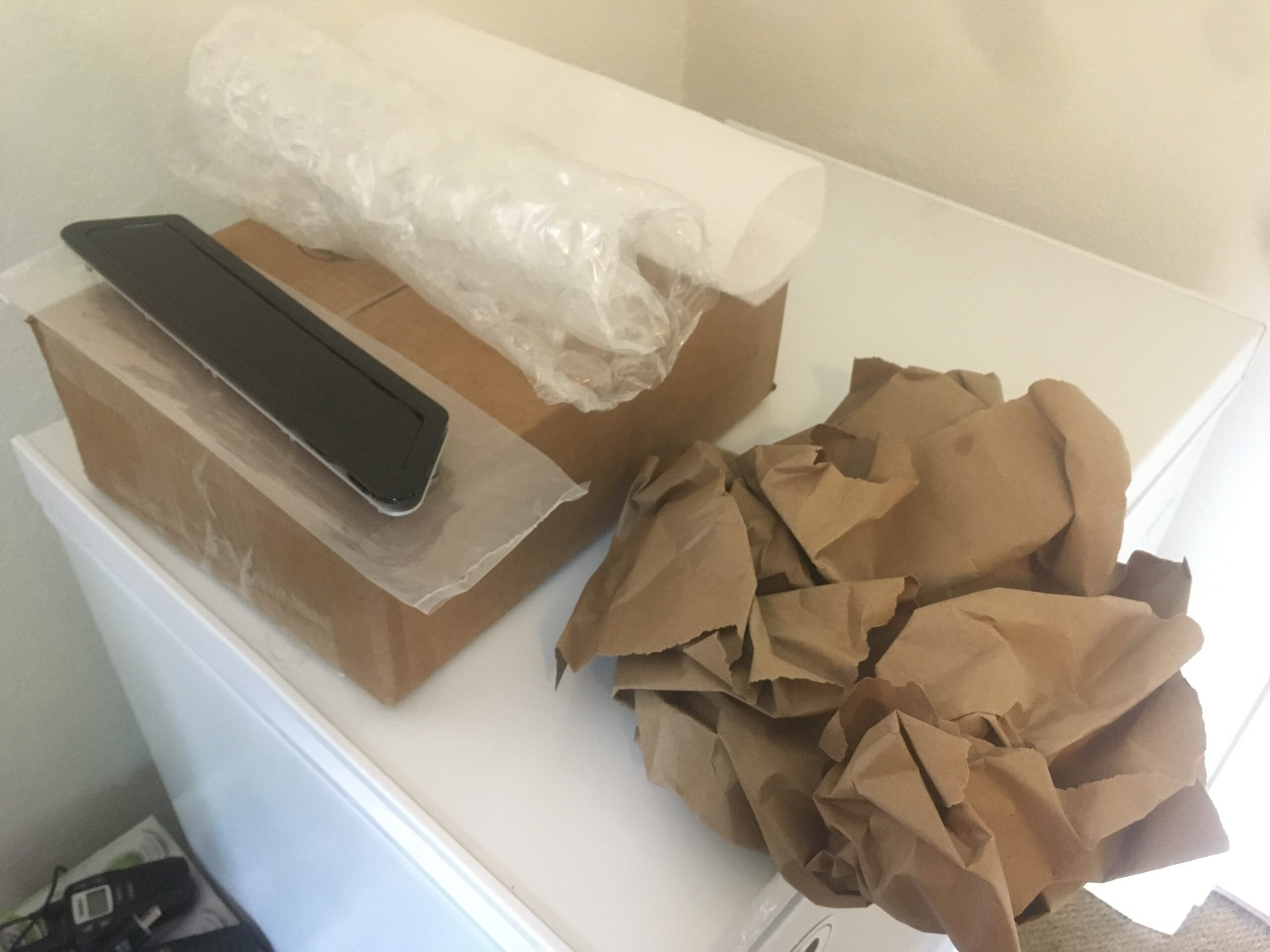 Bonus: Goodies from Elevate Performance
As always, you would expect a receipt and such with your order. Here is where Elevate goes above and beyond. Your receipt is personally signed by Don, the owner, with a thank you for supporting Elevate. You also get a few stickers to put on the car, air compressor, garage fridge or tool chest… and a full color oversized postcard showing you all the cool stuff you still have left to order. This also hangs on our garage fridge.
Forgot to mention your install instructions are in there too. Fully documented with steps and images so you can make the install quick. Even the more complex installs we've done, the instructions are to the point, and without question. If you prefer to have them on your phone in color, just visit the parts detail page on their website, and they have full color PDFs there too.
Overall, this is the same level of quality we have received on all our Elevate orders. Nothing less. If you haven't yet, hop over to Elevate's website and see what they have for your Volvo. Elevate Performance Website.