This swap is still in process – it is expensive… Any donations or contributions to the cause are welcomed and appreciated. You can

contact us via our contact form here

if you would like to support.
Shout out to our current sponsors from our Instagram community:
$300 from Greg Weeg (super clean Volvo V60 – BUILT) IG: @steg.tva
Shout out to IPD – The Volvo Parts, Accessories & Performance Specialists Since 1963, for their awesome support on this project, as well as getting all the parts we needed to us quick…
Okay guys and gals, so there has been a lot of talk about why you can't, or why you shouldn't do this swap, but since we are already financially committed to doing the swap, I figured I would do the research, and make this guide for everyone else out there with the questions, and the ambition to knock it out.
This article will be a living update as the process evolves, but for starters we think we have most of what we…. and you will need. We welcome anyone to add in any thoughts or information we're missing here, and we will update this original article to make sure we always have the most up to date and accurate information.
We just finished the parts sourcing phase, and all at local junkyards and via donor cars, so we should be ready to start the actual conversion mid 2021.
Why You Can't or Shouldn't Do This Swap
For starters, here are the reasons that everyone on the forums were saying that you should not, or can not complete this swap:
Cost too much money.
Cheaper to buy a stock M66/M56 car.
ECU/computers will not work after swap.

While it is true that it may be cheaper to buy a factory manual, at any given time on Autotrader, there are less than a handful nationwide ever available, most with high miles and for many of us who have put blood, sweat and tears into our car simply love ours too much to go this route. I did a quick search on AutoTrader for any distance, S40s with a manual…only 3 results in the entire US. Then I added AWD filter and NONE.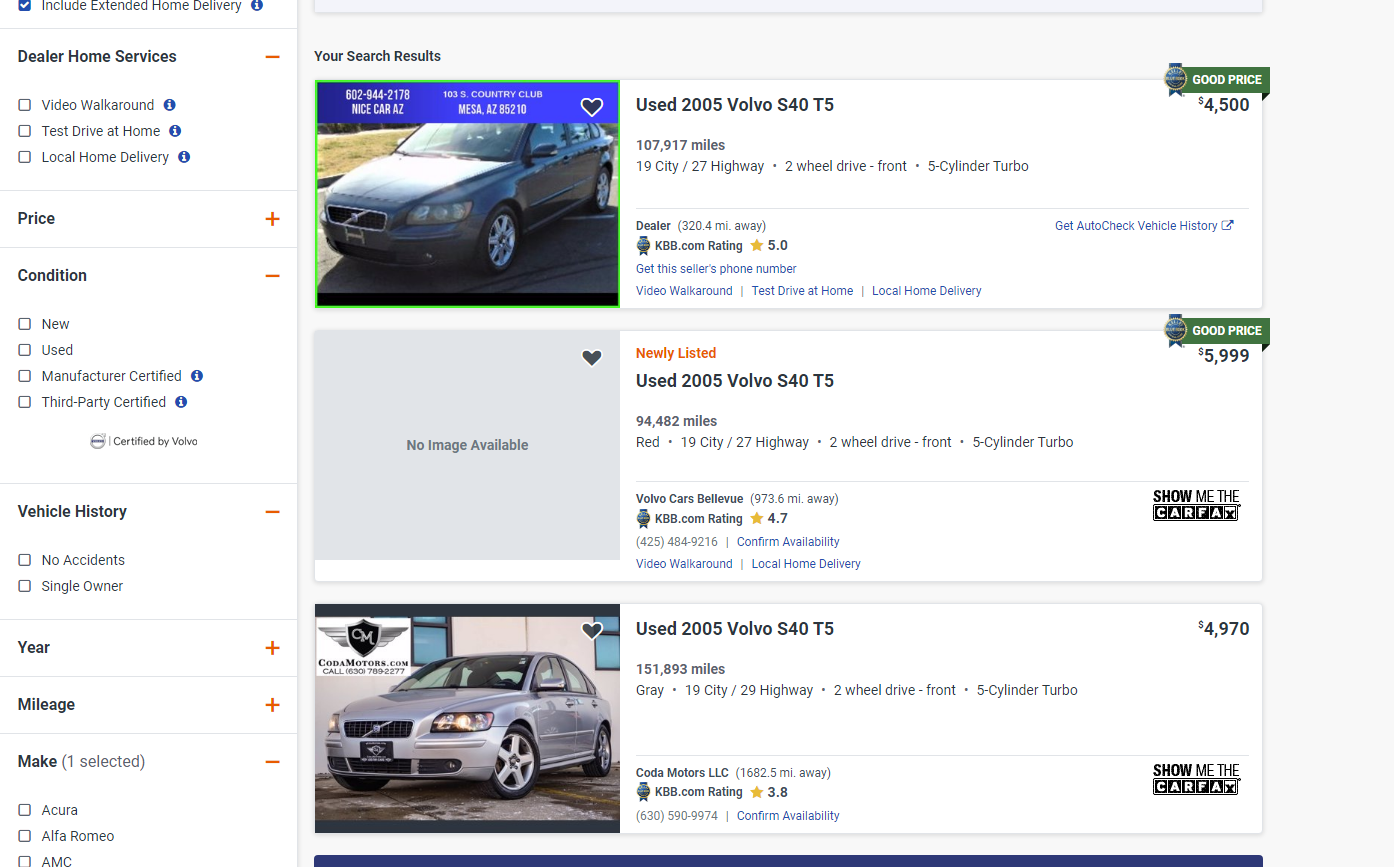 Also, for many of us (us included) you cannot find a replacement car with the options configurations you currently have, meaning you are trading out many options for a manual. We cannot live with "either or", but rather opting for "ALL". This includes a rare color code (476), AWD T5, with every factory option installed (climate package, premium sound, factory AUX, sliding sunroof, black leather and more….).
For the last rebuttal of computer systems not working….that has been solved with Hilton Tuning successfully converting your current ECM and CEM to work as a manual.
Forum Chatter – Consolidated
Next, here are a few of the threads around this topic (went looking to combine anything useful and save others time of hunting):
– A successful swap on a c30 here: Reached out and talked to levolvolagt, and I confirmed with him over a lengthy chat on Insta.
Someone selling the components you need for the swap here, showing that people are thinking about it, and compiling parts to execute it.
Successful swap with advanced wiring (reverse lights, reverse lockout, clutch position sensor) on an R. While different platform, it shows the process for tracking down and completing the final wiring portion. Also in Mvl_S60R's thread he links out to some other useful information here and here.
Then a a few threads on people asking the question….with no real answers or information: here, here and here.
And finally the threads just saying it is possible with enough money: here and here.
Which is a perfect lead in to costs overview.
What Will It Cost?
There are 2 ways to go about this and a few variables each way. They are just some parts you have to buy new, and some you can decide if you want to upgrade in the process and many parts you can source used. Essentially it breaks down like this, but anyone can mix and match for their own swap.
$10,582.00: This is every part number you need, and buying it brand new from Volvo dealership parts department. Wanted to lay out the high end of the swap…and obviously at this price it isn't an option…unless you got mad funds.
or
~$2500.00: Sourcing re-usable parts used from junkyard/ebay.
Here are the expensive things that are factored into both breakdowns:
New flywheel: $500-1000
New Clutch: $300-600
Transmission: $150 junkyard, $650 LKQ shipped or $4400 dealer 0 miles.
Software: $825
Also to consider in price, if you have a tune on the car, it may not work after the software conversion to manual. Don at elevate said his should load right up onto the Hilton conversion after. Hilton said other tunes may not work after. Here we will try to load the Elevate tune on the Hilton conversion software, and worst case we lose a tune, and gain a 6 speed. At that point we know we may have to look at a Hilton tune or a modified Elevate tune. This is a big if, as purchasing a new tune could run $300-$900…. more!
Required Parts with Part Numbers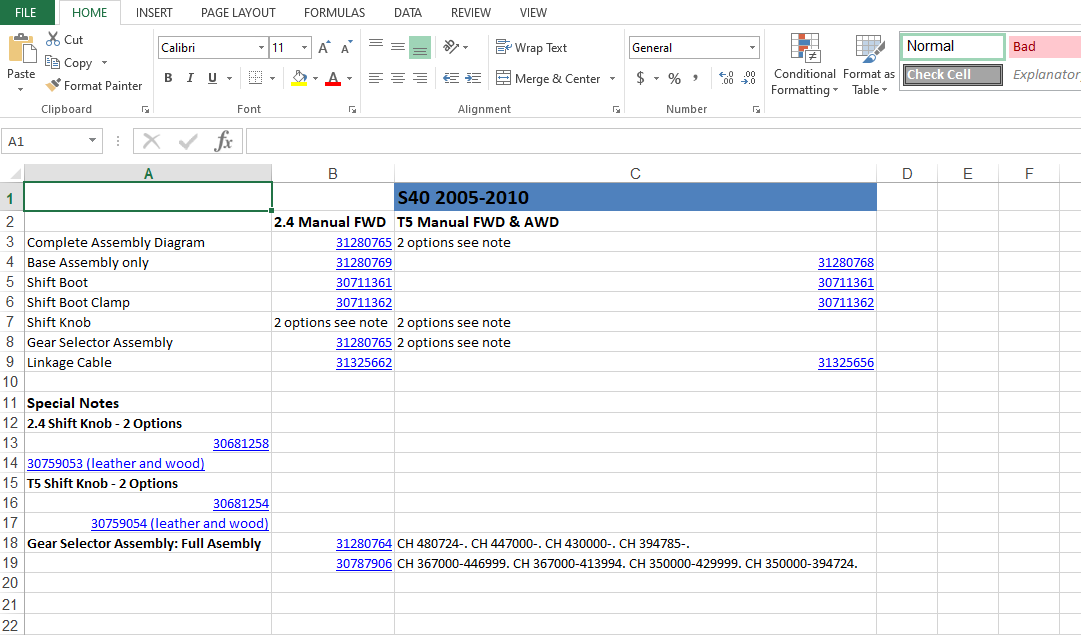 So for this section, we made a master spreadsheet with all the parts we could think of for our 2006 T5 AWD. From there we searched the Volvo parts webstore and noted all parts and part numbers. Then we expanded the search to USDM S40s of the same year, which included the 2.4 FWD Auto, 2.4 FWD Manual, T5 Auto AWD, T5 Auto FWD, T5 manual AWD and T5 manual FWD. Then we went down the list and cross referenced all parts against the webstore. This was because we were confirming which parts were different, and which parts would possibly be used again, and more importantly, which cars would be donors we could grab parts from at the junkyard.
Then we decided why not expand my list of donor cars, as well as make our research benefit all 2005-2012 Volvo S40s and V50s. From there we then cross referenced and checked all the same above 6 USDM powertrains across 6 years (2010 was the last factory manuals per Volvo parts website). That worked out to be 85+ parts X 6 power trains X 6 model years….that's over 3,000 parts checks…all to realize that they are pretty much the same across the P1 platform for the entire 6 years. Their are variations, which was why we checked them all. Certain donor parts will need to be from certain donor cars, and part numbers may also be chassis/VIN specific.
So here we are, and again, if we missed anything, please let us know and we will cross reference and add to the article for everyone. Further, this is the complete list, but below in our parts section, we have a quick reference shopping list for the parts you need to actually buy new.
Pedals:
Brake Pedal (All years and engines): 31341384
Gas Pedal (All years and engines): 31445344
Clutch Pedal:31317868 (CH 74719-.) 2.4 and T5, 31341443 (CH 63833-. DSL, 4CYL, L.H.D.) 2.4 and T5 and 31317872 T5 only.
Clutch Master Cylinder: 31367403 and 31367404 for 2.4 and then for T5:31367404
Spring Kit 2.4:31200941 and 31200238 (CH -135505. CH -452602. CH -453119. CH -472317. CH -473361. CH -74718. CH 17951-135153. CH 304267-. CH 320804-. DSL, 4CYL, L.H.D. DSL, 4CYL, R.H.D.)
Spring Kit T5: 31200942: CH -72770. CH -63833. CH -396178. CH -380303. and 31200239 for CH 72771-. CH 63834-. CH 63833-. CH 396179-. CH 380304-.
Clutch – 2.4 FWD
Clutch & Pressure Plate: 30711578
Clutch Line (pedal to tranny):30759391
Air Vent Pipe:30787651
Bleeder Nipple: 8675509
Bleeder Nipple Cap 656456
Suction Hose (clutch pedal to reservoir)30614449
Clutch Pipe 30759394
Quick Coupling (Clutch Pipe to Clutch Line)(Dicsont)9181729
Throw-out bearing/slave cylinder (Gearbox section)8675052
Clutch – T5 FWD and AWD
Clutch & Pressure Plate: 30783253 (-4248477) and 31367641 (424847
Clutch Line (pedal to tranny)31256074
Air Vent Pipe30787651
Bleeder Nipple: N/A
Bleeder Nipple Cap: N/A
Suction Hose (clutch pedal to reservoir)30614449
Clutch Pipe30759394
Quick Coupling (Clutch Pipe to Clutch Line) (Dicsont)9181729
Throw-out bearing/slave cylinder (Gearbox section)31258380
Axels: Listed Auto and Manual to show there are very specific part numbers, that do not match others. They are year and model specific.
2.4 Auto
CV Axel Right: 36000559
CV Axel Left36000550
2.4 Manual
CV Axel Right: 36000559 for 2005-2006 and 2007-2010 is 36000555.
CV Axel Left: 36000546
T5 Auto FWD
CV Axel Right: 36000559
CV Axel Left: 36000550
T5 Auto AWD
CV Axel Right: 36000561: CH -472491. CH -452736 or 36002670: CH 472492-. CH 452737-.
CV Axel Left: 36000551: and 36011266: EXCH FOR 31367540, 31280679, 31280683. EXCH FOR 31280679, 31280683.
T5 Manual FWD
CV Axel Right: 36000555
CV Axel Left36000546
T5 Manual AWD
CV Axel Right: 36000556: CH -452736. CH -472491 or 36002669: CH 452737-. CH 472492-.
CV Axel Left>36000547
Shift Knob, Boot, Gear Selector and Related….2.4 M56 and T5 M66 are almost all different in this section.
2.4 M56
Complete Assembly Diagram: 31280765
Base Assembly only: 31280769
Shift Boot: 30711361
Shift Boot Clamp: 30711362
Shift Knob:30681258 (standard) or 30759053 (leather and wood).
Gear Selector Assembly: 31280765
Linkage Cable: 31325662
T5 M66
Complete Assembly Diagram
Base Assembly only: 31280768
Shift Boot30711361
Shift Boot Clamp30711362
Shift Knob:30681254 regular or 30759054 (leather and wood)
Gear Selector Assembly: 31280764 (CH 480724-. CH 447000-. CH 430000-. CH 394785-).30787906 (CH 367000-446999. CH 367000-413994. CH 350000-429999. CH 350000-394724.)
Linkage Cable31325656
Engine Bay Parts
Flywheel bolts: 9454743
Flywheel 2.4 FWD: 31259331
Flywheel T5 FWD & AWD: 313254102 part or 31325792 or 31259452 2 part
ENGINE MOUNT BRACKET (#12 in pic)
2.4 Auto Trans: 30680782 CH -194443. CH -190210 or 30778794CH 194444-. CH 190211-.
2.4 Manual: 30680783M56. CH -194443. CH -190210 or 30793552M56. CH 194444-. CH 190211-.
T5 Manual FWD & AWD: 30680784 or CH -194443. CH -190210. M66. M66 AWD.30778793CH 194444-. CH 190211-. M66. M66 AWD.
T5 Auto: 30680782 CH -194443. CH -190210 or 30778794 CH 194444-. CH 190211-.
The Transmission (M56 or M66)
Would love some more help here. We know the M66 came in a lot of things, but the part numbers below only cross reference between S40 and V50. Are there other cars we can source these from with small modifications?
Also the main options we see here are brand new from dealer ($4,000), pick yourself at junkyard ($170), LQK online ($500-700), buy from someone on forum, get it in your donor…
2.4 FWD:8252146
T5 M66 FWD: 8252159 & Special Note: CH -236961. CH -541494. CH -616844.
T5 M66 AWD: 8252157
Parts researched that turned out to be the same auto vs manual, so not needed for swap.
Brake Booster, Brake light sensor, Waterfall interior trim, master brake cylinder, crankshaft, angle gear (awd), driveshaft, all other engine mounts, carrier bearings….
As mentioned above, if we am missing anything, let us know and we'll research and add it to the list.
Sourcing Your Parts
So initially as we were making the above list, we were peeping the junk yard app and went out and had grabbed a few pieces to start the swap. This included shifter assembly, which we later trashed because we hadn't got that far in research and grabbed a set from a 2.4 which didn't work for our install. We also spent a few hours ripping the pedal assembly out which is usable.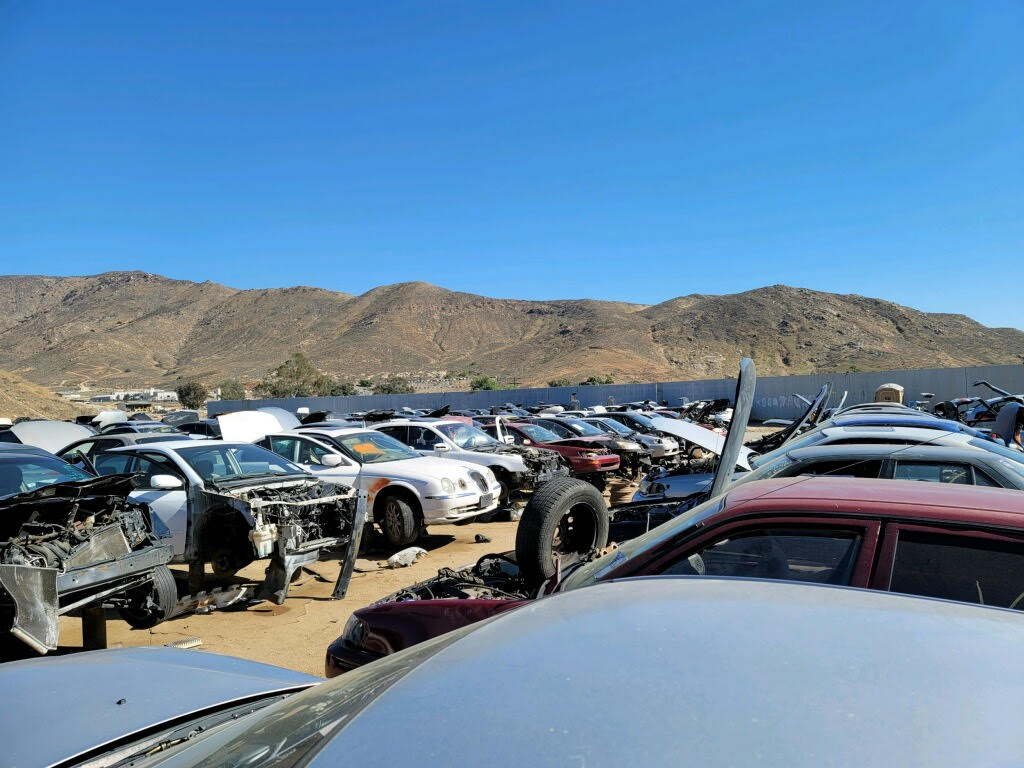 And then we saw a Facebook notification that a marketplace item we chatted about a year ago dropped in price. This was a guy who had our exact sister car with a M66. Since we have the AWD and T5 application, we can almost only use parts from a AWD T5 M66. His engine blew and he was selling the car as is. Within a few days we were getting this thing towed back tot he garage. $1600 all in. As of today, 5 months later, we have sold $1100 in extra parts on eBay. We did have a few C30 guys interested in the AWD components, but shipping a whole car made it not worth it, so last week we scrapped the donor as we are moving and need it gone.
For most people you are in two categories for sourcing parts. This will be a full donor or part by part online/LKQ/Local yard. Lets explore both:
Sourcing Parts Via Donor: This was by far the easiest way to get the complete parts bundle we didn't know until we had the donor. As mentioned above, we started the junkyard route, and figured it would take a year or two to complete. The local pick a part no longer sells full cars, so here in Southern California, we couldn't find a donor and bring it home. Many of you will be pulling these parts one by one at the yard.
I would encourage you all to look weekly at the craigslist, the AutoTrader, the offer up and any other Facebook groups or marketplaces. Many times people will blow an engine, or have a totaled car they will sell you for $1000ish. After I purchased my donor I saw a few more come up in the same condition, for cheaper. So doing it again, I would be looking here all the time and probably get lucky. Further, some of these cars will have high mileage and you may even get one for $2000+, which I would still consider a deal. We made most our money back parting the car out, and still have a few hundred of eBay listings up.
The donor route is also great because you have no time crunch or crazy conditions when trying to get the parts off. With the donor, we were able to put it on stands in the middle of our four car garage. We had air tools, power tools, a flat clean ground, and climate control. It took us a week to fully strip the car. This was what we needed for the swap, and then pulled the rest part by part, and listing each on eBay.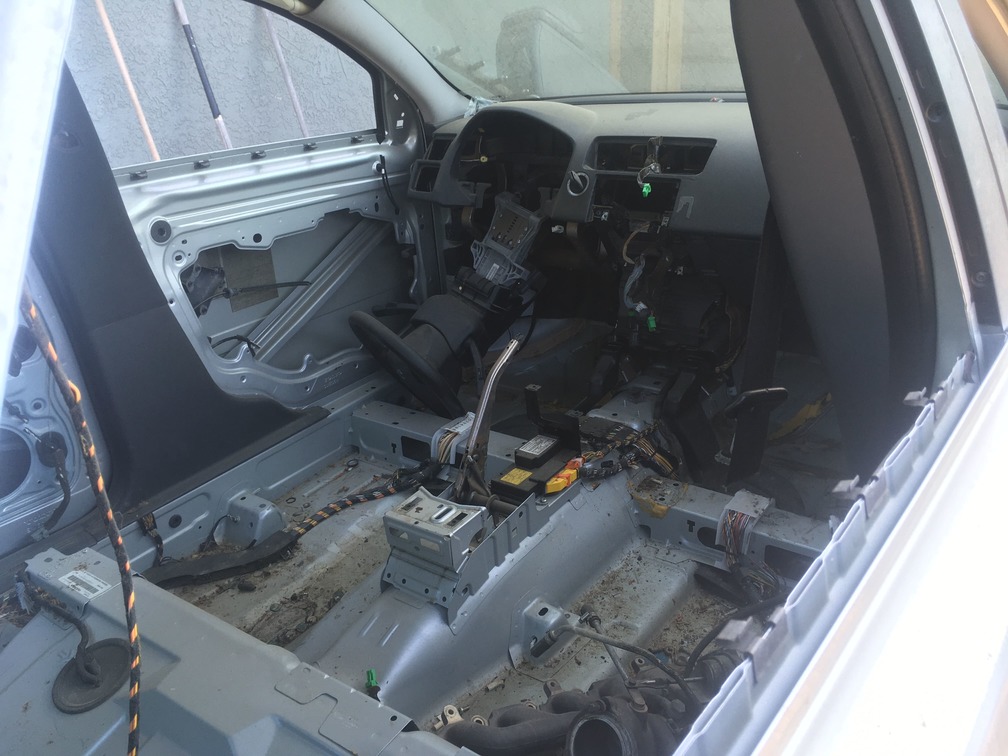 Sourcing Parts Via Junkyard and Used Online: This was again where we started, and so glad we found a donor. After plucking the M66 in a nice controlled environment, we realized how hard it would be to do it at the yard, on the dirt, with the car teetering. This however is if you're going for the cheapest sourcing of parts. We were also looking at grabbing an M66 from LKQ, which would essentially be delivered to us, and with a warranty if we chose. The yard price for the tranny would be $163, and LKQ was $600-$800. Big difference and we thought for that price we could even go through a few at the local yard if the one we got was bad and still save money.
While the junkyard and online would take longer than a donor, you can still get everything you need, but also may pay more than a straight wrecked donor. If you are going this route, know it will be hunting for the right parts, in the right condition. This also seemed okay to us initially as it would let us spread the swap cost out as long as we wanted it to be.
Grouping Parts Before Installation
As mentioned above, there are some parts you can install used, some you want to buy new, and some you can rebuild. Used parts could include the pedal assembly, the shifter assembly and other parts that don't ever fail. Parts you would want to buy new, but we won't judge if you install them, would be the clutch, the flywheel, clutch master cylinder… any part that does fail, and or is a B to install. Then those parts you can rebuild such as axels and seals. This is also a good chance to upgrade any parts that are coming off anyways. Lets take a look at the parts in each of these categories.
Parts we are cleaning and using as is:
Pedal Assembly: After cleaning any debris, and then greasing/oiling any moving parts, the pedals are pretty much bulletproof. All the mounting hardware will also be used without upgrade. Here if you notice too much play, you could look at the $44 spring kit.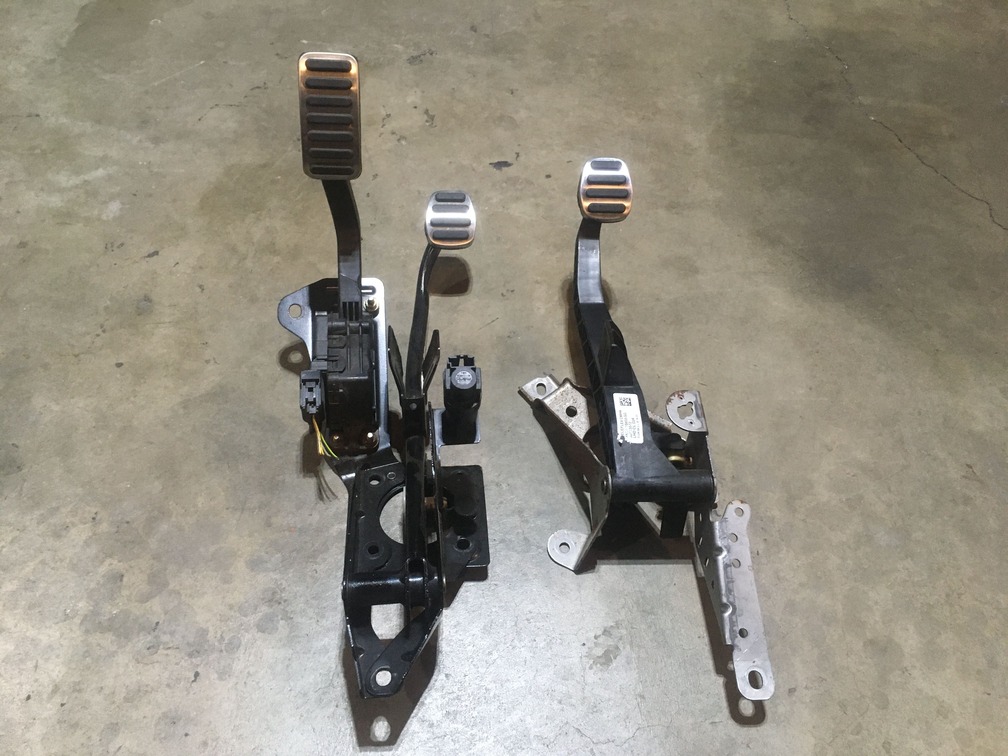 Clutch Hose Lines: There are a few hoses that provide pressure from the clutch pedal to the actual slave cylinder. These are a cross between soft and hard lines and are actually a hard plastic contoured to fish through the bay. These lines are pretty solid, and if not brittle, and the connections are clean and sturdy, re-using should be fine. But upon inspection, if you see any weakness or potential points of failure, move these to your replace category.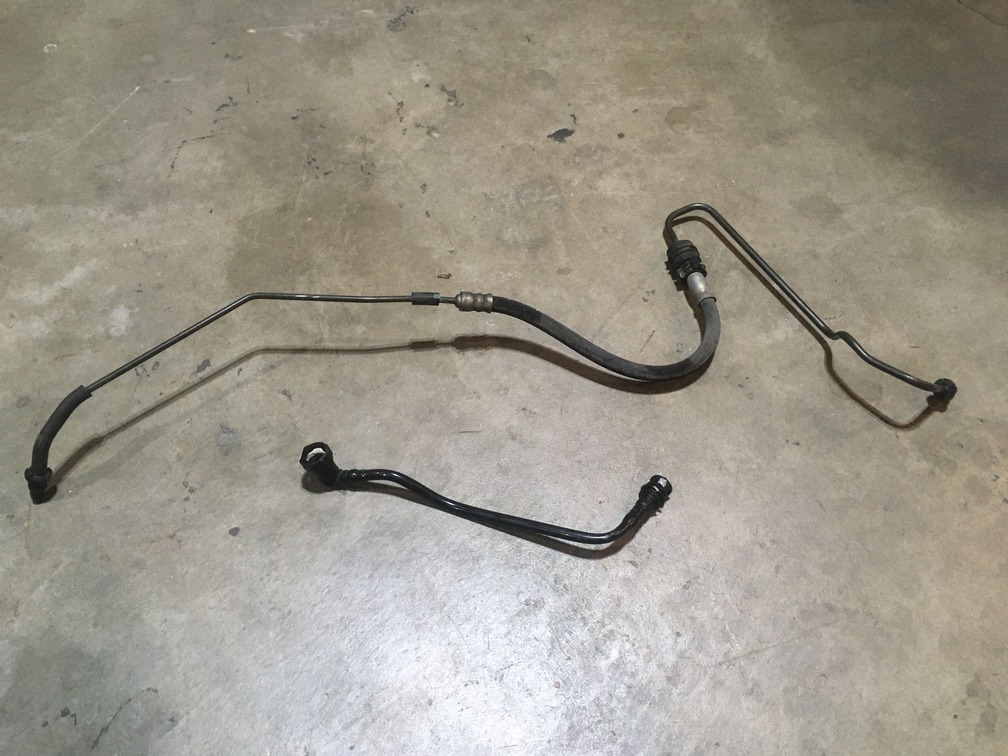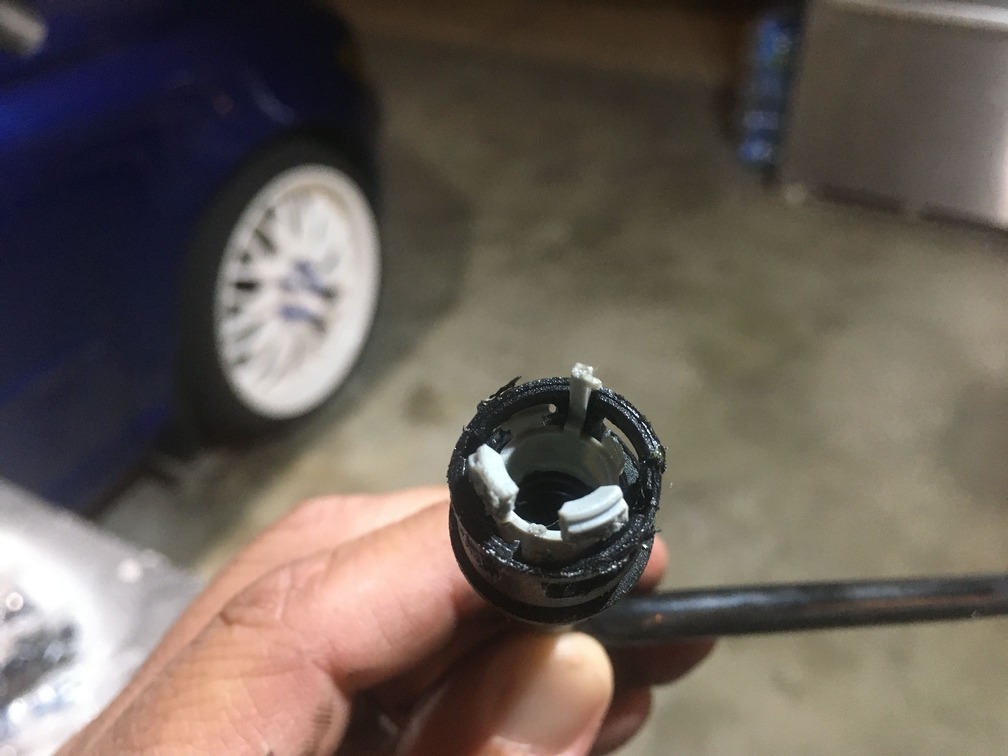 Shift Linkage and related: This section is your gear knob, shift boot, shifter assembly and the cables. These are all inside the interior trim, and should be solid from the donor. A little cleaning of crumbs and spilled soda as well as some greasing should put this whole assembly ready to go. If you do however see any issues with the cables such as wearing, stretching or anything else to give you issue later, you can swap out just the linkage cables cheap enough.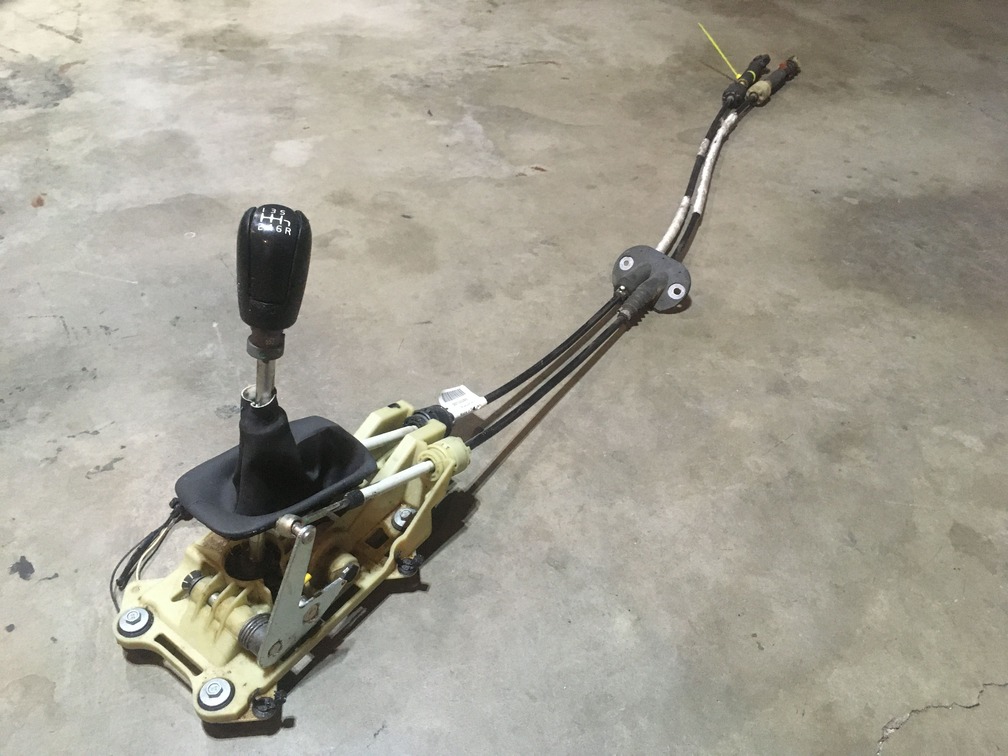 Parts we are rebuilding from the donor: This group of parts are some of the core essentials for the swap. They are however too expensive to buy brand new. If yours are in good shape you could simply install, but to reduce potential issues later, and to know you are putting in maintained core parts we are doing the following:
The transmission: This is the whole reason we are here writing this article, and why you're reading it. While the M66 are not easily rebuilt…haven't seen much on that anywhere, there are components you can get to get it more stable. The dang thing is already sitting on the floor so these are quick and easy. We will be replacing all the seals, obviously putting new fluids, and the air vent pipe. Since the vent pipe is inside the tranny/engine mounting, if this brittle plastic breaks or cracks later you are pulling the whole M66 out to replace this $50 part, just do it now.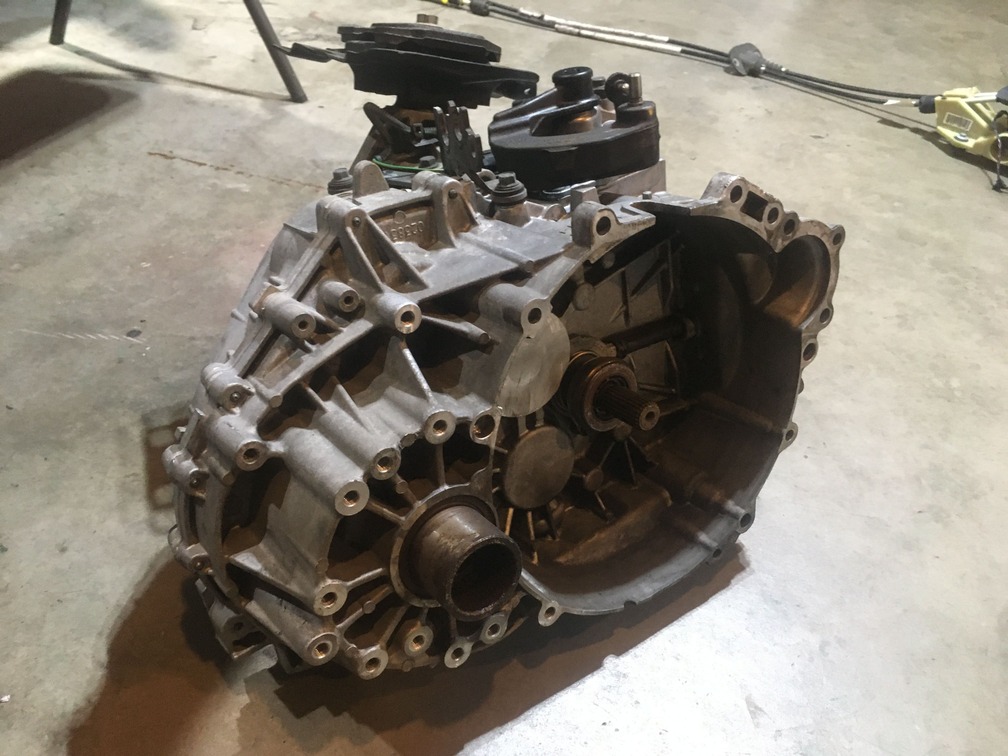 The Angle Gear: For us AWD bosses, we have this extra part to be concerned about. While the angle gear is exactly the same part from your donor, you will want to decide which one to use. We are using our current since it has dramatically less mileage than our donor car. However, again, the thing is sitting on the floor at the moment, so we are doing the collar gear kit which includes a new collar gear, the seal and the new hardware. We're grabbing this from IPDUSA.com for a cool $165. Last thing you want is issues sending your new gear ratios to the rear.
Axels: If you looked at our spreadsheet above, you did see that every single drivetrain variation does use a different axel for both driver and passenger side. Meaning you will be using the axels from the donor car, what you have now is not compatible. If you've spent any time on the forums, then you know the original Volvo axels are superior to aftermarket replacements. We've seen tons of posts of fitment and quality issues with the cheap replacements, which is maybe why they are like $600+ from Volvo for the factory replacement. Any ways, we went ahead and swooped up the full axel rebuild kits here which includes the new boots, clamps, bolts and grease. We're going to clean these things up squeaky and after the re-build they should be solid.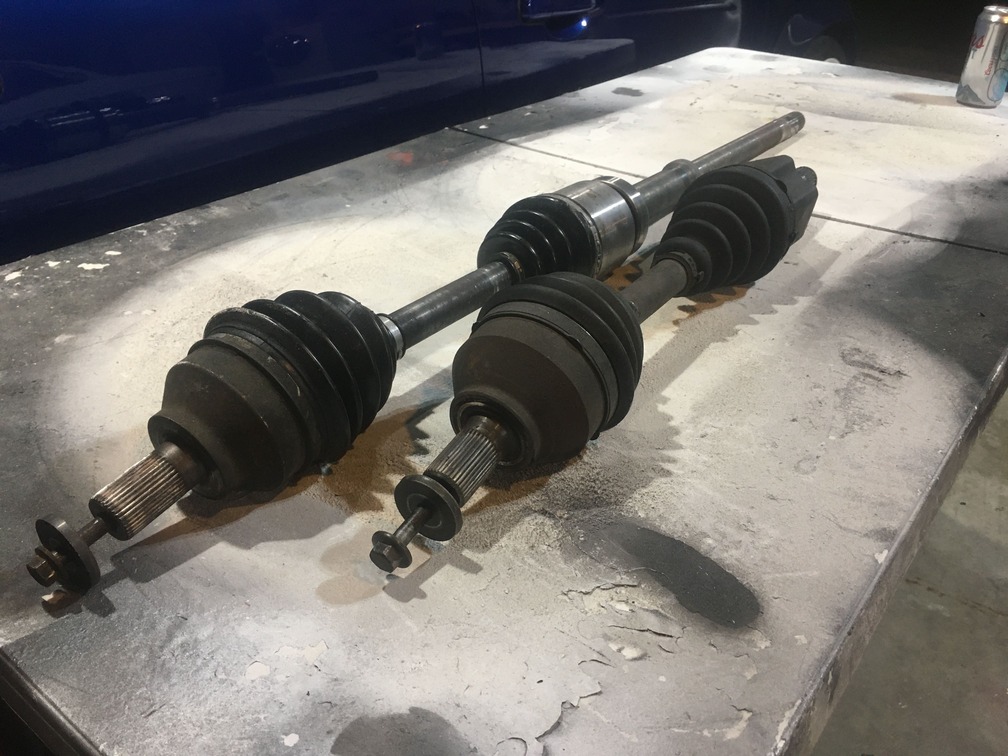 Parts we are buying brand new: There are certain things you simply do not want to re-use. Here we talk about those. These are mainly things you are replacing at interval anyways, and since the whole install is out, it's the best time to do it. Also, putting these parts in used from your donor would just be irresponsible as you can't judge if they will last another 30,000 miles, or break into pieces on your first test run. Here we made a quick shopping list using the best option for Volvo parts, IPDUSA. This includes what we discuss below as being things you should replace while you are converting. Shopping list PDF here.
Guys!!!! IPDUSA – That's Where you need to get your oem/oe replacement parts, no questions asked. Don't waste your time looking elsewhere. 
Performance Parts and Upgrades aside from Stock, check out Viva Performance, who we are using for the SMF upgrade and Elevate who also has a complete kit.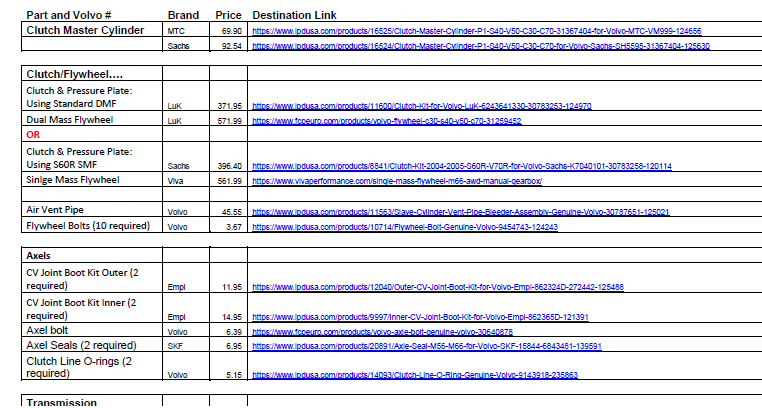 Clutch: Don't really need an explanation here. Replace it.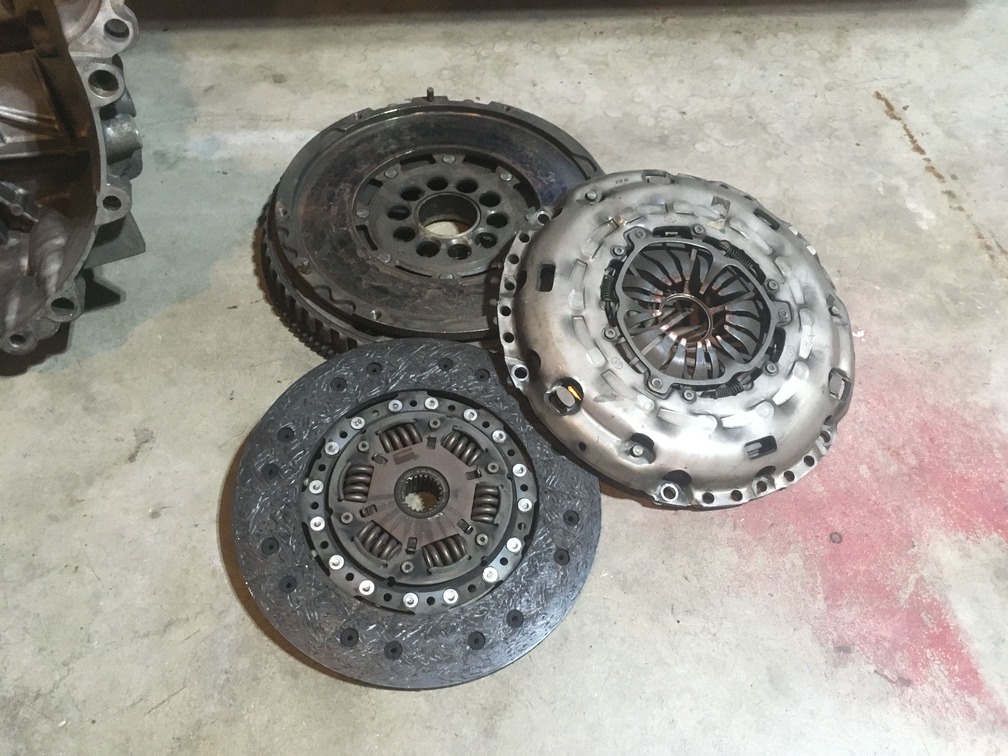 Throw out bearing/slave cylinder: This is inside the tranny/engine assembly, so going back later is a waste of time. Also these come in the clutch kit and are cheap enough.
Pressure plate: Subject to warping and waste of time to replace later. These also come in the clutch kit, so just get the bundle and know you're good to go.
Flywheel: A lot of forum chatter here, but overall the thoughts are that these cannot be re-surfaced. This is one of the more expensive replacement parts, but you'll be glad you did it. If you did get a low mileage donor (unlikely) then maybe just maybe it would be re-usable. This is also an opportunity to upgrade to something a bit better since it's already being replaced. Further, either way you should get the flywheel bolts at $4X10. We are doing the single mass flywheel upgrade and sourcing that from Viva Performance, see that part here.
The Master Cylinder: Found directly on the clutch pedal assembly. Half in the cabin and half in the engine bay. This was by far the hardest part to remove from the donor as the battery and other firewall panels must come off, and and bolts that secure it in are located behind the gauge cluster. Since this operates the entire clutch, and is super hard to remove and replace, and prone to leakage and failure, get a fresh one, they are between $50-150 on IPDUSA.com.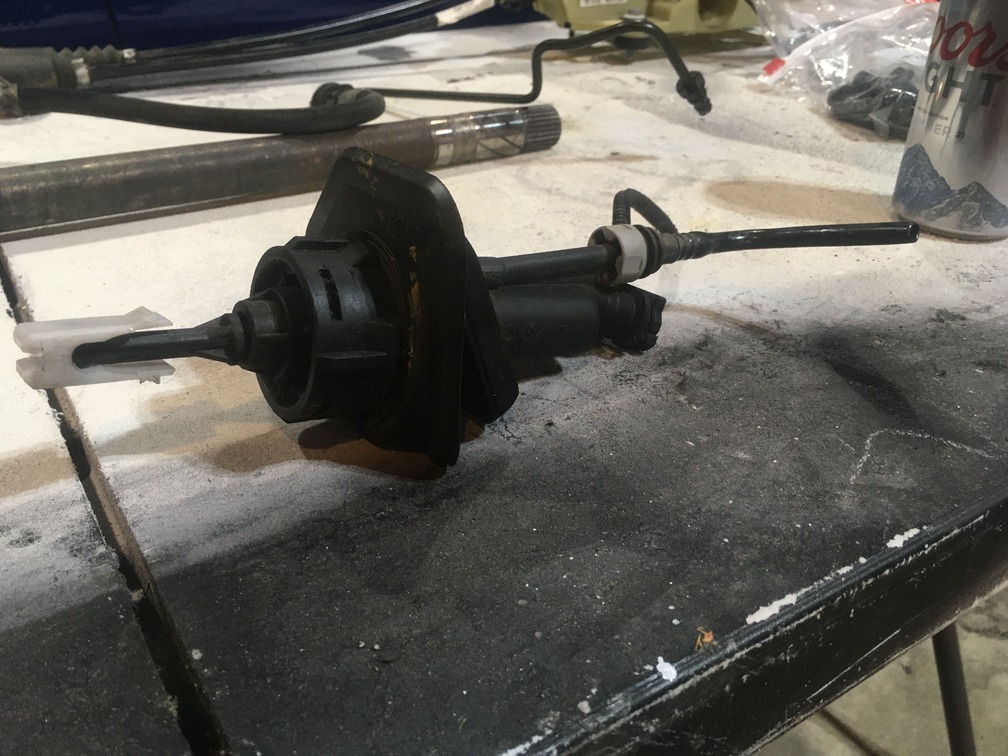 Potential for Upgrade Parts:
This section is optional, but depending on your flavor preference and future mod list, you can knock a few birds out here.
We will be doing an upgraded stylish shift boot and custom shift knob. We also already purchased the R-Design (Sport Pedal Set) pedals for a more sporty and uniform look.
You could look at performance clutch and flywheel. We are going with the S60R clutch kit and the Viva Performance Single Mass Flywheel.
Also the lower torque mount and transmission mount can be swapped out for some poly bushings for some more cushy cush on the ride. We are going with these via recommendations of Volvo P1 Guru Michael C. Hallock:
Powerflex Ford Focus Mk2 / Volvo Transmission Mount Insert
and
Ford Focus Mk2, Mk3 / Volvo C30, S40, V50 Lower Engine Mount Insert – Late Type
Let's Get Started – Prepping the Parts
Axels: We are starting with the parts re-build and first up was the axels. Here we ordered 2 full rebuild kits from IPDUSA.com for both axels at about $65 all in. Inner kit and Outer Kit. We did a full cv-boot replacement and bearing clean and grease here, but you can see the overview on the video here:
Shifter Assembly: As mentioned above, there isn't too much to do here. Clean and prep. We however, decided this was a great chance to get rid of the boring factory shift knob and boot, and spice it up a little. We went for the king of all shift knob companies, LIKEWISE.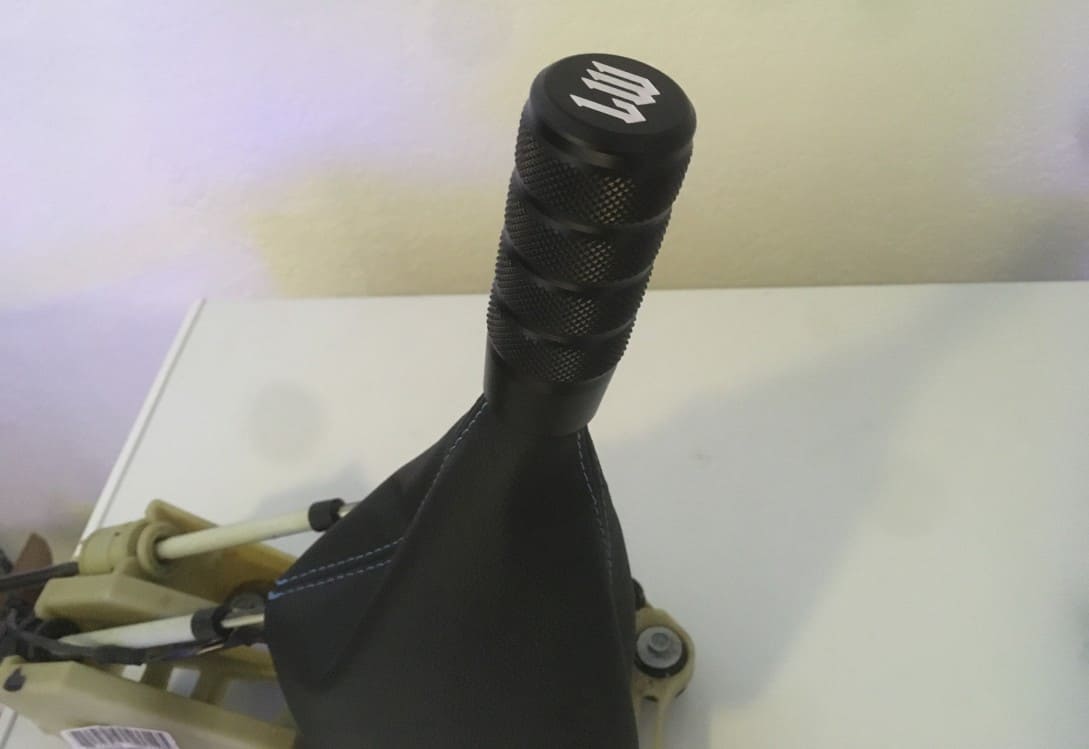 You can see over overview and product review here:
LIKEWISE Shift Knobs & Accessories – One of the Best Out There
Pedal Assemblies: Covered above, nothing really to do here. Just make sure they are clean, and the springs have tension and the pedals move freely. We decided that since the pedals were out, and we had no idea how much tension and play was normal, that we would replace the 2 springs on the clutch pedal assembly, ordering part #31200941 from Volvo. You can see our quick write-up on that installation here: pending link…
Hoses: …
The Tranny: After a deep pressure wash and scrubbing, we are ready to re-seal.
Parts Arriving Video to go here…
more coming daily….
This swap is still in process – it is expensive… Any donations or contributions to the cause are welcomed and appreciated. You can

contact us via our contact form here

if you would like to support.
Un-Related But Why Not Now
Battery Relocation…
Creating a Timeline for The Swap
…..
Final Check List Before Go
……
Our Plan of Attack & Schedule
…..
It's Go Time
….
Swap Day 1
….
Swap Day 2
….
Swap Day 3
….
Software & Start-up
…
Test Drive Reactions
…
The Numbers – HP & TQ Stock AW, Tuned AW, Stock M66
…
Closing Thoughts