Owner: Joel Smith – Instagram: @importsauce
2006 Volvo S40 T5 AWD – Location: Southern California
It's only nuts and bolts
Where there any crazy circumstances around the purchase of your car?
Well it was actually a 2 day process. I tracked down the only AWD T5 for sale in Southern California at the time. It was out towards LA, so my pops and I took a trip. We did our usual kick the tires, under the hood and test drive. That passed inspection so we took the car off site to a local mechanic and paid $75 for them to do a full inspection. The car got a clean bill of health minus so oil leak residue under the car. The dealer had shown us receipts for the repairs that were done to remedy that, but we asked for the engine bay to be cleaned and that we could then take it back to inspection again to confirm.
We drive back out the next day, the engine bay was detailed top and bottom, and we returned to the mechanic for a second closer inspection. All good to go at the mechanic and we were back to the dealer.
Long story long, it was raining those 2 days. We did the song and dance, and after half a day on our second visit, worked out a decent deal. Maybe 7K tops, can't remember. Get it home, a few days later the rain passes, and the car reveals that it was in a massive hail storm. Hood, roof, trunk, even side panels had hundreds of hail dents. FML… Hail specialist dent removal, and years searching for the same color perfect condition panels at the junkyard has resulted in a 10/10 perfect body.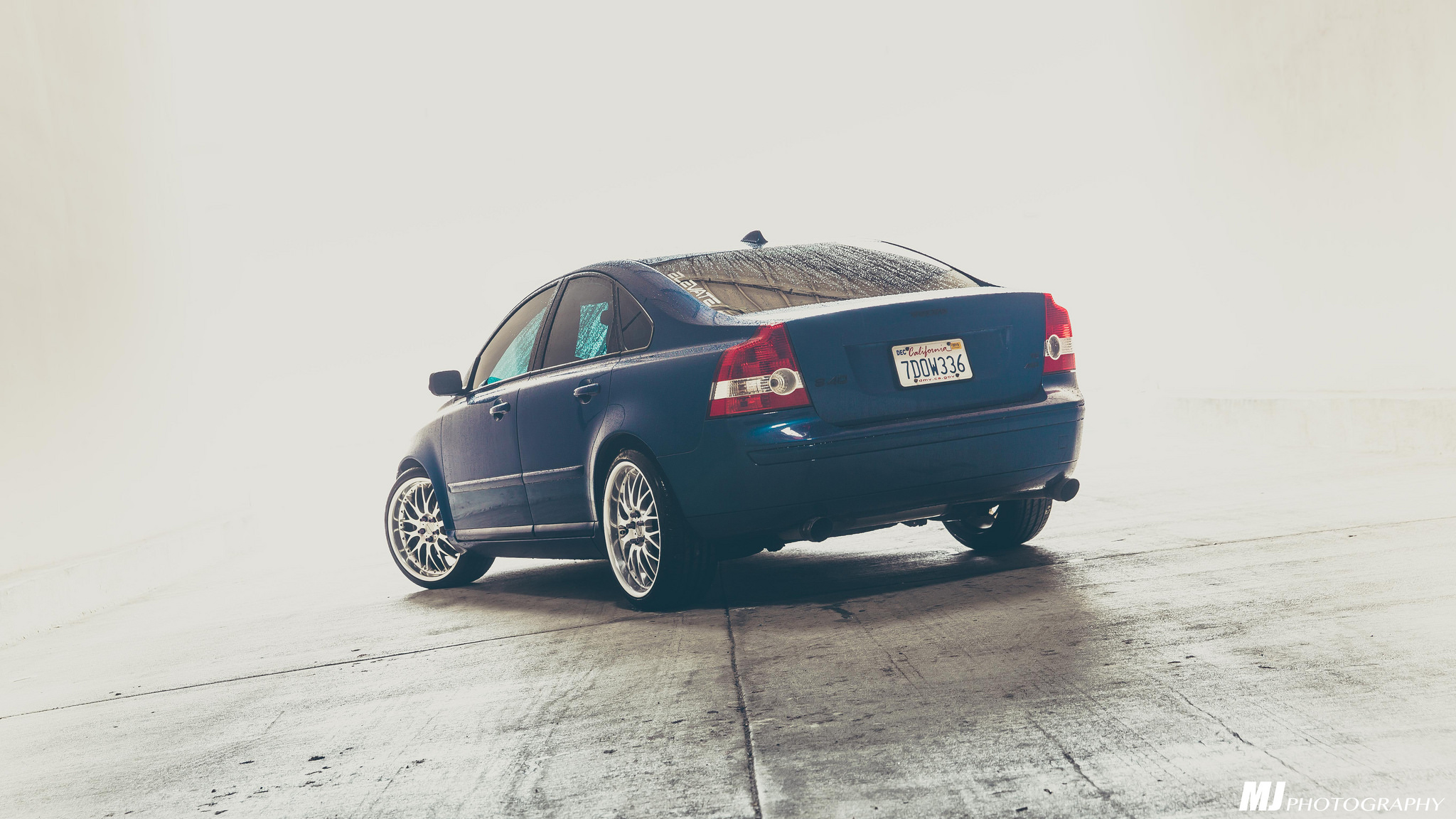 Was there more work on your car than you anticipated? Did you find a bucket of wiring worms, find some secret hidden problems…..
The biggest surprise was the learning curve of working on Volvo. I had always been a Honda dude, and anything on this car was more involved, and more expensive for parts compared. The biggest surprised and longest to remedy was the hail damage for sure, but the car had been gone through and I would say it is in the same condition or better than when it rolled off the assembly line.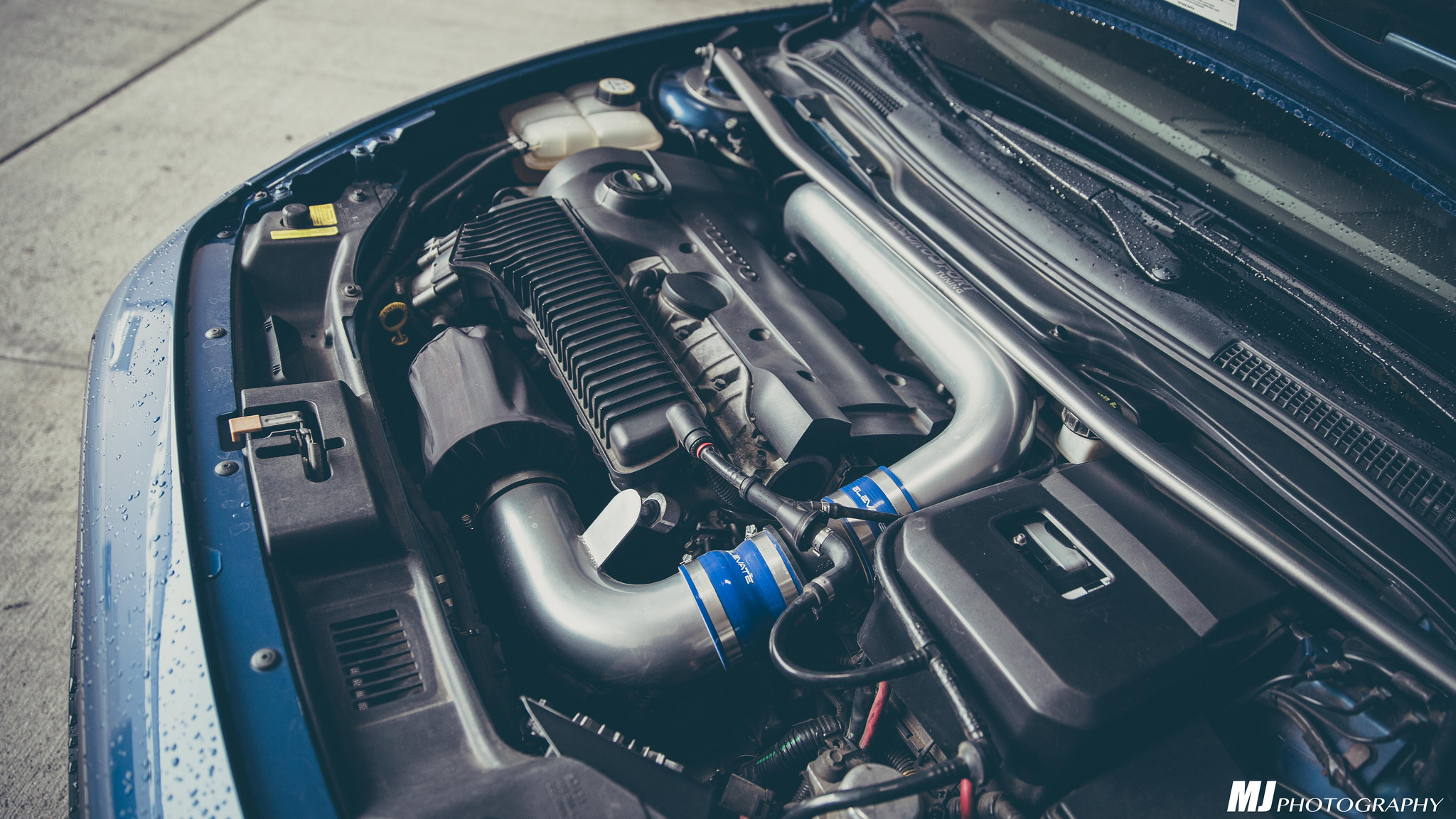 Are there any unique mods on your car? Hyper-rare parts, custom made parts…
Custom rear bumper trim and diffusers, custom deviated blue stitching on all interior, custom paisley hydro-dipped interior and headlight bezels, Evolve (pre elevate) 19″ rims – only 3 or 4 sets ever made.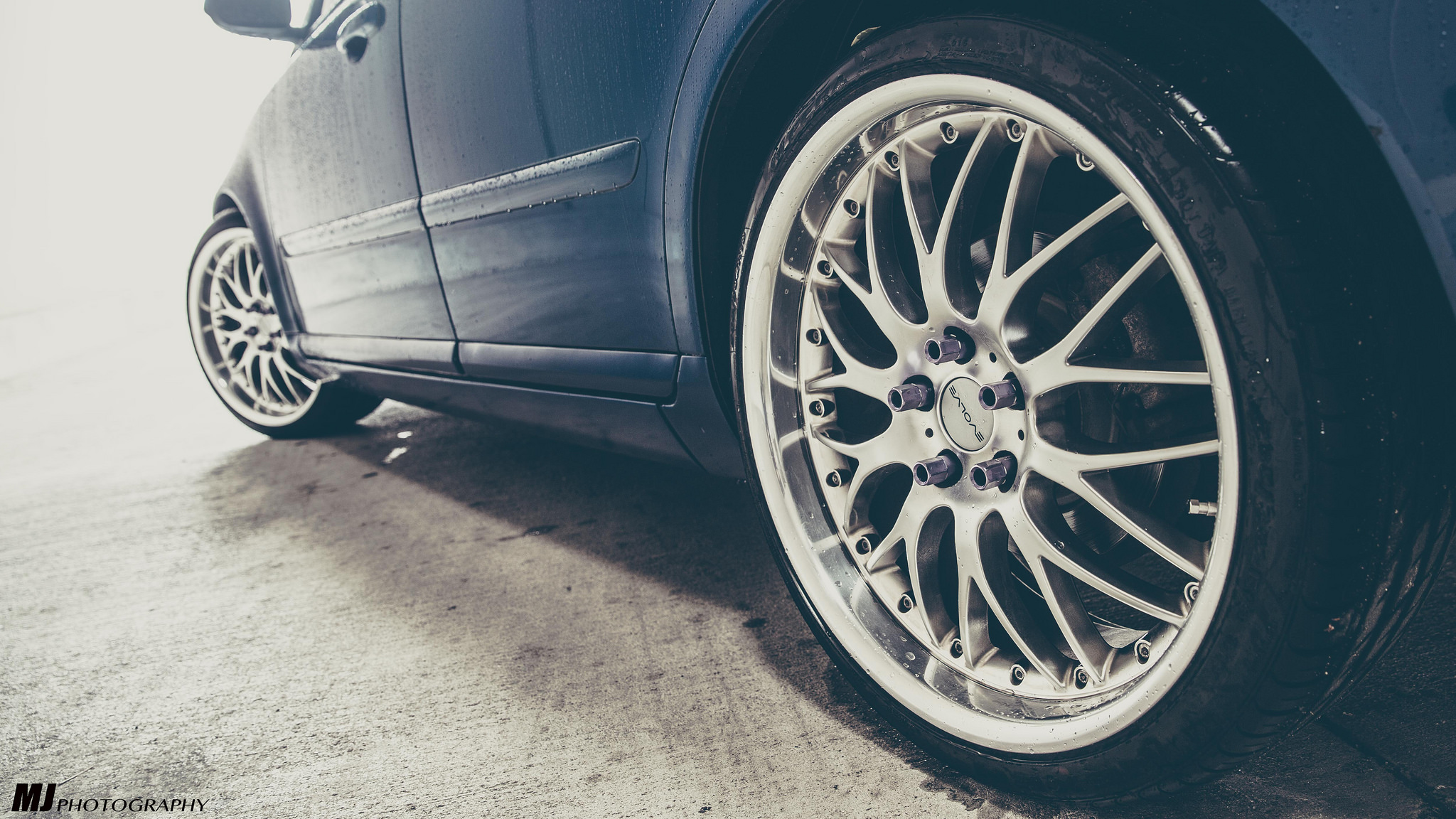 Would you consider your car done in its current form?
Is it ever? I have the complete M66 AWD swap donor gutted and parts ready for the first ever documented M66 swap in P1 S40 history. From there, complete engine rebuild with forged internals and then the K16 turbo. Interior to get some custom stitched floor mats, complete green to blue LED light conversion, engine bay make-over, more performance bolt-ons, and probably a handful of other things are on the short list…. the 5 year short list.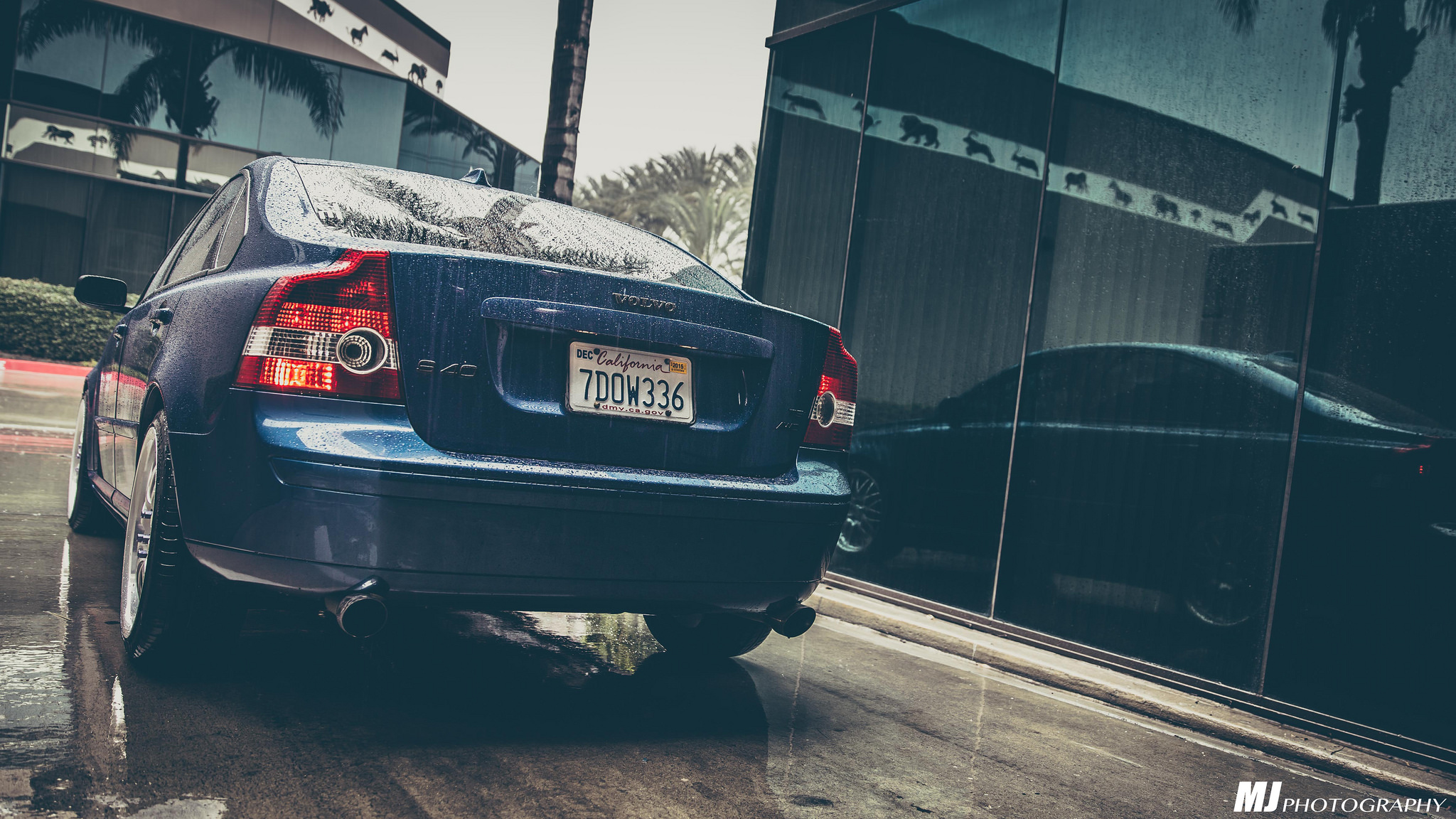 If you had to do it again, would you build the same car? 
Hmmm, I always play this game in my head. I need AWD, and fast, that only leaves a few options. But those have all been done before. Sure a fully built T5 may only yield 400+ to the wheels, but there are probably less than a dozen of those done. Sure it wont beat a fully built STI or EVO, but it will surprise a lot of other people light to light. So I guess the answer is who cares, this is what I have now, and I'm keeping it and moving the build forward.
What is your favorite part on your car?
The whole car is my fav, the rare color, every factory option installed, the rare AWD and T5 and the soon to be first documented AW55 to M66 conversion. But I do love that I was able to do a complete white to black leather color change on the interior from a junk yard donor for only $300.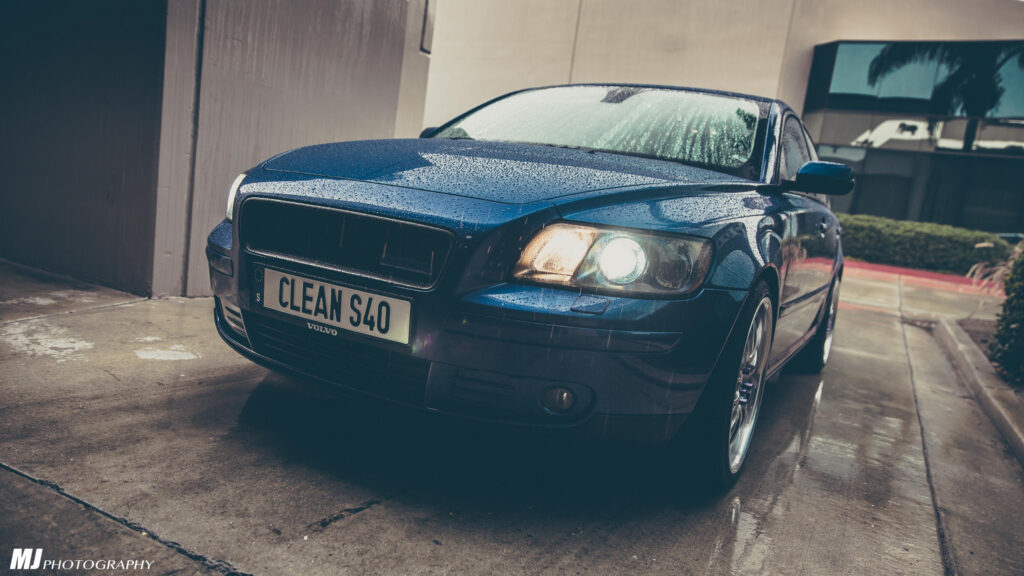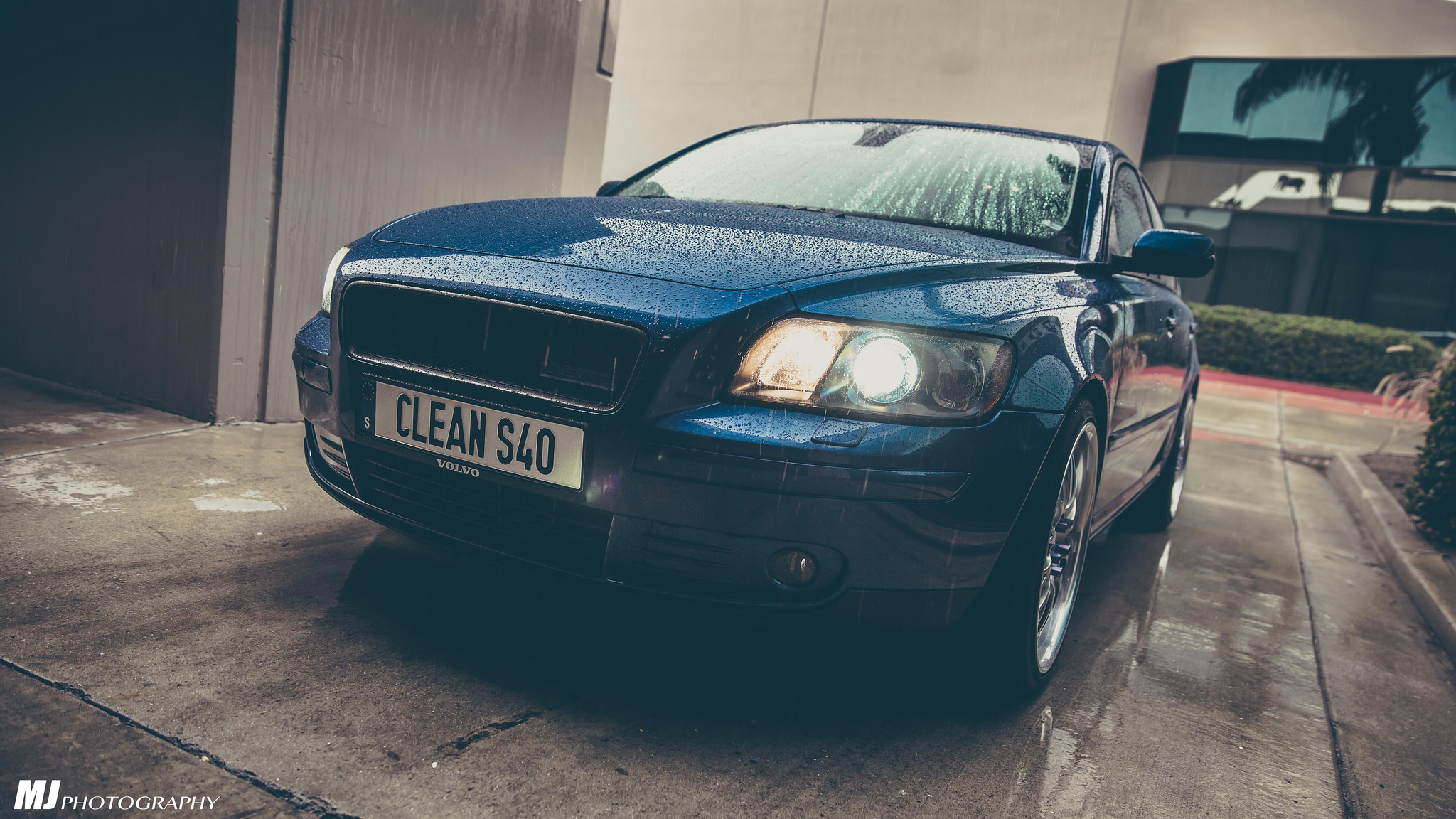 Build Report
Custom painted to match exterior trim
Custom rear bumper and diffuser
Gloss Black wrapped roof
R- Design read truck spoiler in black
Euro Yellow headlight and fog light wrap
Paisley Hydro-dipped headlight bezels
Dub-stop front grill
Vanity rear Euro Plate
Recycled Euro front plate
Eibach pro lowering springs
Evolve M10-19″ rims with 235/35/19s
R-Design Top Strut Bar
Elevate adjustable rear camber kit
Elevate Performance Intake Pipe
Elevate Performance Air Intake
Elevate Performance 3″ Turbo Downpipe
Elevate Performance tune
Elevate turbo control value
Magnaflow Exhaust
Bosch 92mm throttle body
Turbosmart Recirc/blow-off valve
Custom blue deviated stitching
Custom blue digital display update
2007 Volvo AUX upgrade
VanTop Digital Rear view and dashcam
Custom Paisley hydro-dipped interior trim
White to Black full interior leather conversion
Interior LED light conversion