We Love Our New Harbor Freight Tool Chest and Here's Why
We have already covered the pros and cons of Harbor Freight tools over on our article "Harbor Freight … A Good Place to Buy Tools???", but here we will look specifically at their new line-up of tool chests.
As time goes on, and we gain more experience in the garage, we often increase the size of our tool collection, thus requiring more space for tools. I remember my first real box (maybe 15 years ago) was a red Craftsman 3 drawer with a handle on top. Not the easiest for lugging around, but it fit my kit. Back then my kit was some screw drivers, some crescents, maybe a single mm socket set, and some odds and ends. Single ball bearing slides, so not the smoothest, but I really felt like a champ with my very own box.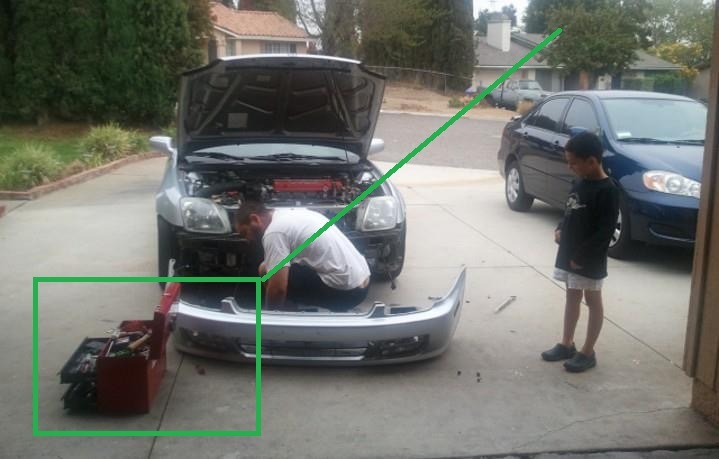 As time went on, the projects got more intense, and the need for more tools arose. The real estate inside the box was scarce, and it was time to upgrade. My dad always popped into harbor freight when he was in the area, and got their mailers too, and he loves to point out a good deal. Every mailer they have highlights some tool chest and I decided to drive down and take a peek at their rolling 4 drawer tech cart with hinged lid. It was branded US General and was going for somewhere around $115-$125. You could choose your colors, and this was about mid 20-teens (2011-2016ish) when they still offered the basic slide drawers, and the nice smooth ball bearing drawer options. This one was the ball bearing drawer option. While they no longer sell this particular model, the newer version of it is here for $199: U.S. GENERAL – 30 In. 4 Drawer Tech Cart, Black. Mine was essentially the same, just without the side table, and did not have the shock supports on the top door.
The wife picked it up for me for Christmas and my pops went down to sears and grabbed me a 300 piece craftsman mechanic hand tool set. Man was that a good Christmas. Well except I got the box first, and it required assembly, and it would have been nice to have those tools first. I was almost like a coming of age project, once you put this box together with your limited and weak ass tool set, you will be rewarded with a nice shinny new box full of nice shinny tools. I was game… and 2 hours later the chest was on all 4 wheels and ready for the tools.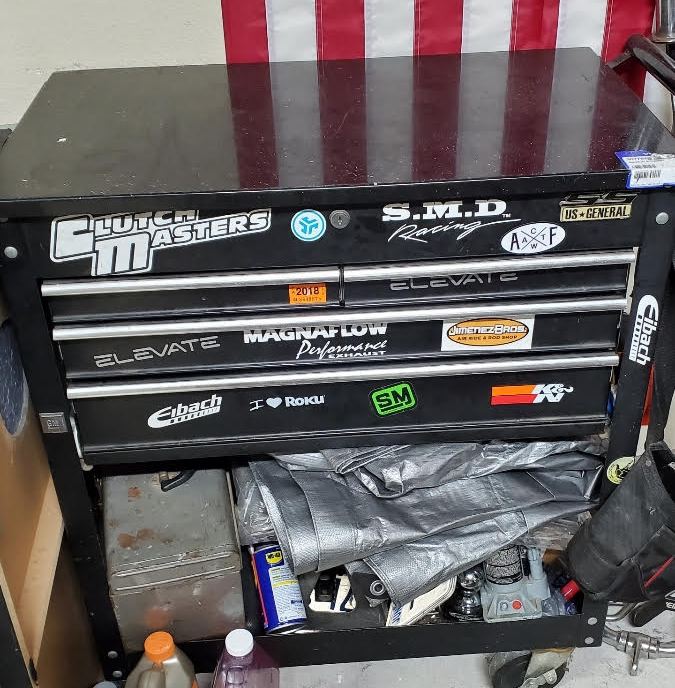 I ran this box up until maybe a year ago, when I was quickly outgrowing my storage again. As with my previous box, I found a good home for it with a buddy who had always been in the garage with me during the thickest of projects. He needed a bigger box, and this seemed like a great new home. He also got to inherit all the cool stickers that I had placed over the years.
And thus is was time to see what Harbor Freight had to offer. I would have to say their new line here, is pretty much what they had when I was looking a year or so ago, and it was about that time their new ICON line was hitting the floor. While I did not opt for the ICON (a direct competitor to Snap-On), the offerings in the new US General line were impressive.
Photo courtesy of the Harbor Freight Website Here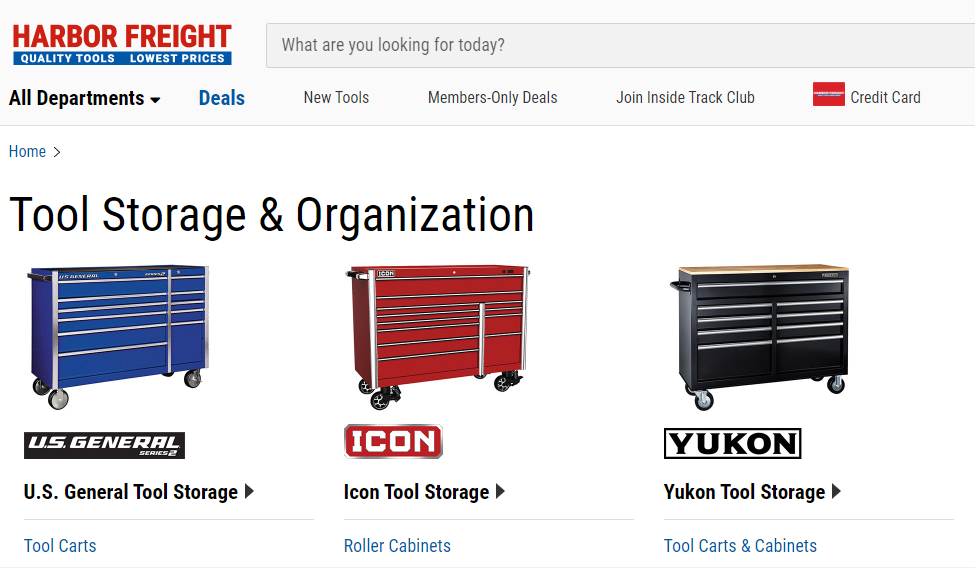 There seemed to be no more low-end boxes available. As mentioned above, my first rodeo there offered differences in drawer slides, but now they were all heavy duty ball bearing slides. So really the only choice after the 6 color choices (Black, Red, Blue, Green, Orange and Yellow), was how big do you want to go. Currently they have 30 inch tech chests starting at $199, all the way up to 72 inch triple bank rollers for $1,299. Compared to their ICON 73 inch professional at $2,999, the US General is still a steal.
I settled on the 44 In. X 22 In. Double Bank Roller Cabinet in Blue, currently $499, but I think I got it on one of their weekly specials for $449 or so. The reason I went with this rig, was because of the marketed expandability. I wont be in the same situation as twice before where I had to upgrade boxes for size. They make a double bank matching width top chest, as well as two available side end cabinets, one tall to match the height of the top chest, and one equal height of the chest alone.
Photo courtesy of the Harbor Freight Website Here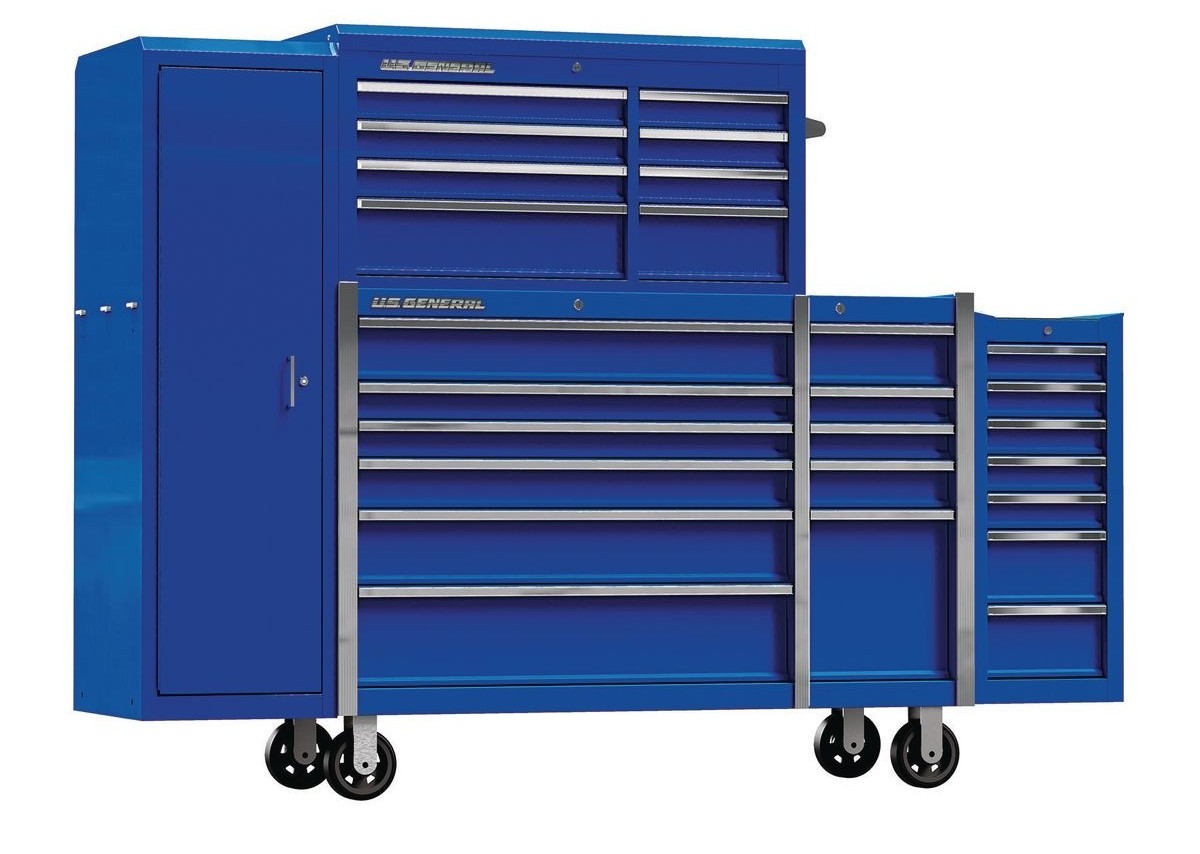 I've actually already added on to my box with the equal height end cabinet, and will likely add one more to the other side at some point soon. My thought here is, while I don't need the space now, I want to get the entire matching set in case the line-up changes later and the optional add-ons are no longer available.
Quality – The New Advantage of the US General Line
The new US General line-up is pretty solid and I would say competes with other similar brands from other big box retailers. I would say the description on their website sums it up pretty well:
This 44 in. industrial grade roller cabinet was designed, tested, and built to last. This double bank unit has full extension drawer slides with double slides on the large drawers. With 14,000 cu. in. of storage available, the double bank drawer configuration with 13 drawers gives you the flexibility to organize a wide variety of tools with narrow, wide and extra-wide drawer options. The industrial powder coat finish is durable, easy to clean and looks great in any garage.
The earlier lines available when I purchased my last box was great, but again they did have lower-end options. It seems like they have moved to eliminate all that and only sell some super solid and sturdy chests now. Using this box for over a year now… no complaints. I have not seen any visual defects, the drawers all move as freely as they did the first day, it has plenty of room and with the available extensions, so I shouldn't run out of room anytime soon. Here we can see the double ball bearing drawer slides on the top shelve. I've easy got a hundred or so pounds up there at the moment, no issue.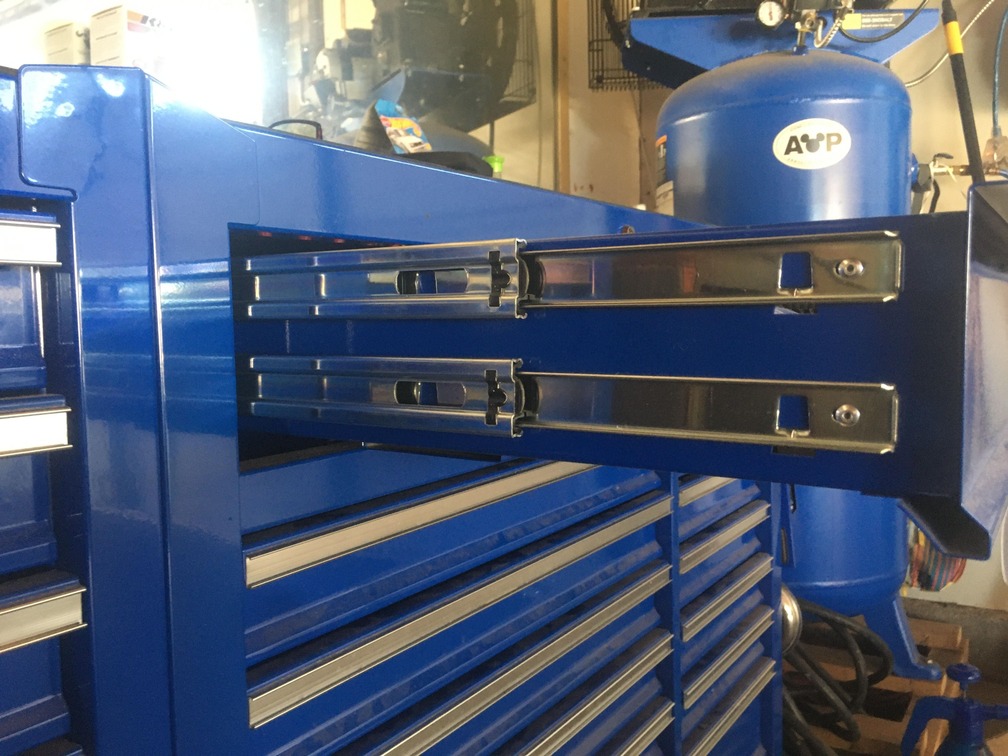 Further, Harbor Freight has a ton a cool products to compliment your box, in whatever color you choose. I personally have the color matched magnetic glove dispenser on the side, and the color matched electrical extension port on the back. Color matched paper towel dispensers and more are also available. Semi-related are the US General Peg- Type Socket trays, available in both metric and standard, of which I have 3 sets of each. You can see here in the image, my top drawer is "All Sockets – All The Time", and the drawer handles the weight no problemo.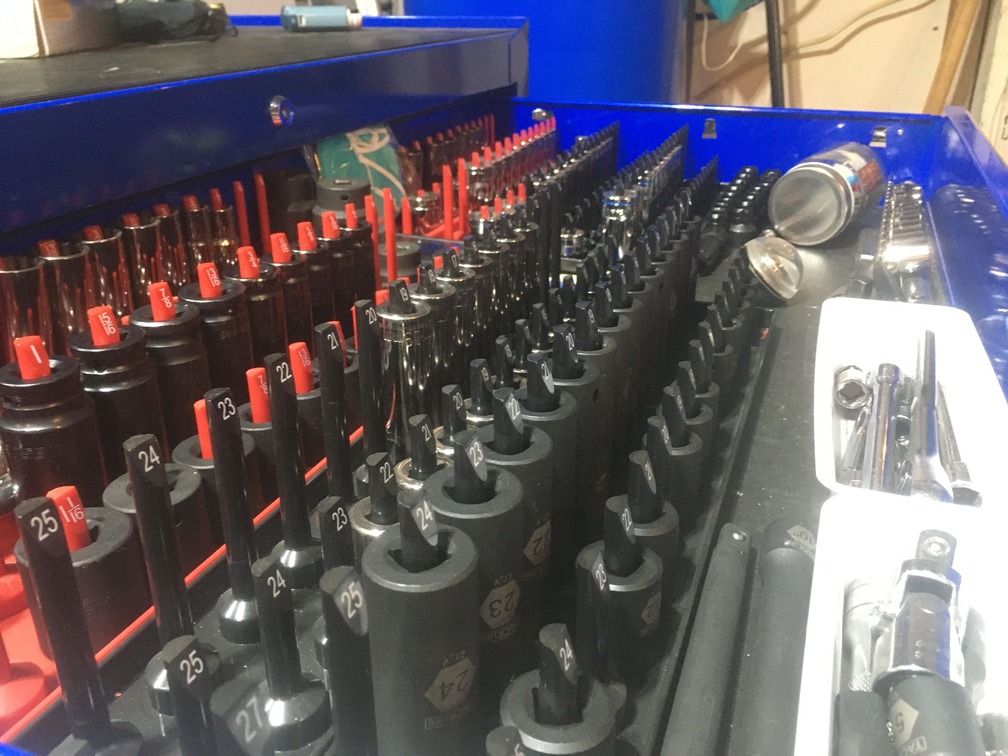 All and all, 5 stars all the way, and at the time of writing this article, this chest on the Harbor Freight website had 1,176 reviews, of which 1,047 were 5 star, 121 were 4 star and only 8 were 3 stars or below.
Would I buy it again: yes. Would I buy for a friend or family member: yes. Would I recommend to a friend: yes. If you haven't been over to Harbor Freight in a while, go check it out, store locator here. They really have some awesome selection if you're looking to upgrade your chest. You can also find the latest savings and deals on the Harbor Freight Mobile App for IOS and Android phones. It's free and available for download at both the App Store and Google Play.