Stop Messing Around with the eBay Shift Knobs
In the earlier days of ImportSauce.com, team member Derek (you've seen his 2020 STI all over our YouTube) sent me a link to some Australia company that made shift knobs, and some $500+ lug nuts. I was like "whhhhaaaaattt?" He was all pumped, but I wrote it off as out of my budget.
It wasn't until he ordered his shift knob setup, and it showed up that I took these guys serious. The company is LIKEWISE, website here: https://wearelikewise.com/.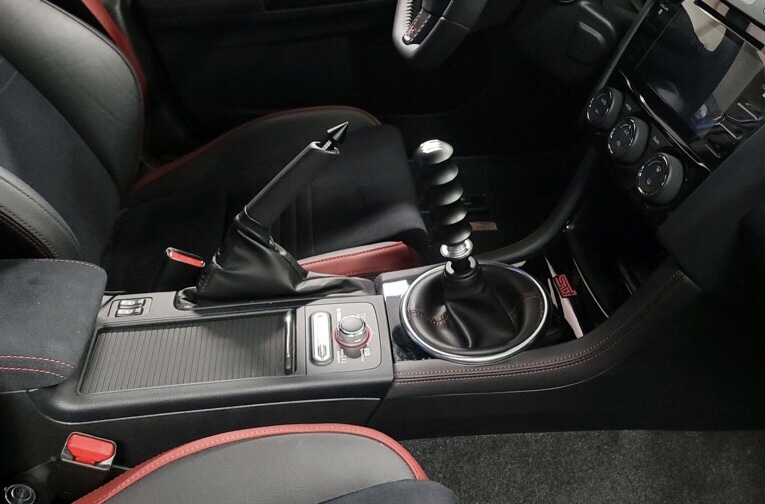 He ordered the "Finger Banger" seen here for a cool $80. It would have been financially irresponsible for him not to get his cart to $100 for the free shipping. So with it, he combo'd in their "Suzuka" extension, and their "Love Button" e-brake button, to really set off the shifting experience.
While sourcing parts for our extremely rare (first ever documented) auto to manual swap on a Volvo S40,
I thought this was the shift knob setup that would be worthy of such an awesome accomplishment.
The problem is that this swap is expensive for us common-folk, and we were pinching pennies to get this thing done. I thought, well after it's done, maybe sometime later I would get some LIKEWISE of my own for sure. I mean, while I was going from a factory auto shifter to a factory manual shifter, it was still factory… looks pretty crappy and doesn't let people know the work it took to get that manual shifter in there. Here is the basic factory manual shifter that came for almost all P1 Volvos (S40/V50/C30/C70).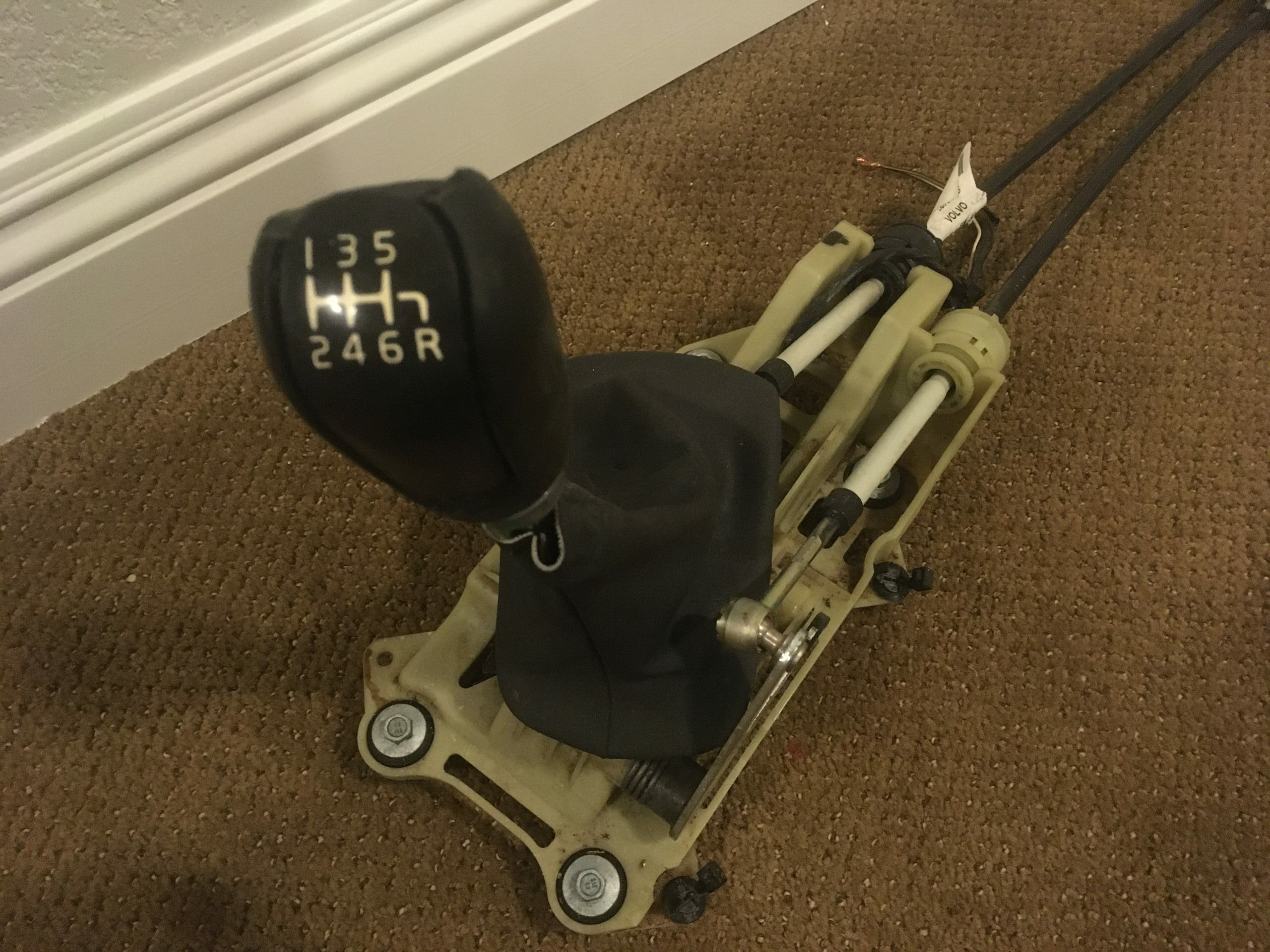 Honestly, I was also talking to Mat Blackwell over in the UK who makes super sick custom shift knobs. You can see those here: https://www.dreamfastofficial.co.uk/. Also, if you spent any time in our Nissan section you probably saw his hot pink S13 here: Mat Blackwell's Pink 1992 Nissan Silvia S13. The problem was that these shift knobs are super sick, but I spent months thinking of what I would actually put inside the knob. Swedish tribute with some blue and yellow. Maybe something to pay roots to my Japanese blood, maybe something crude and offensive like my jokes. Had no idea.
Long story longer, months later I just gave up. Factory shifter it would be, and deal with this mess later.
It wasn't until we went to a company retreat, and I was bestowed with a $150 MasterCard prepaid gift card… Cha – mother-effing – ching! This was my chance. Every part for the M66 tranny swap was acquired minus the final software ($850), so this gift card wasn't gonna make a dent in that, and this $150 was ready for a free-to-me $150 upgrade. That's when I got serious on the LIKEWISE website.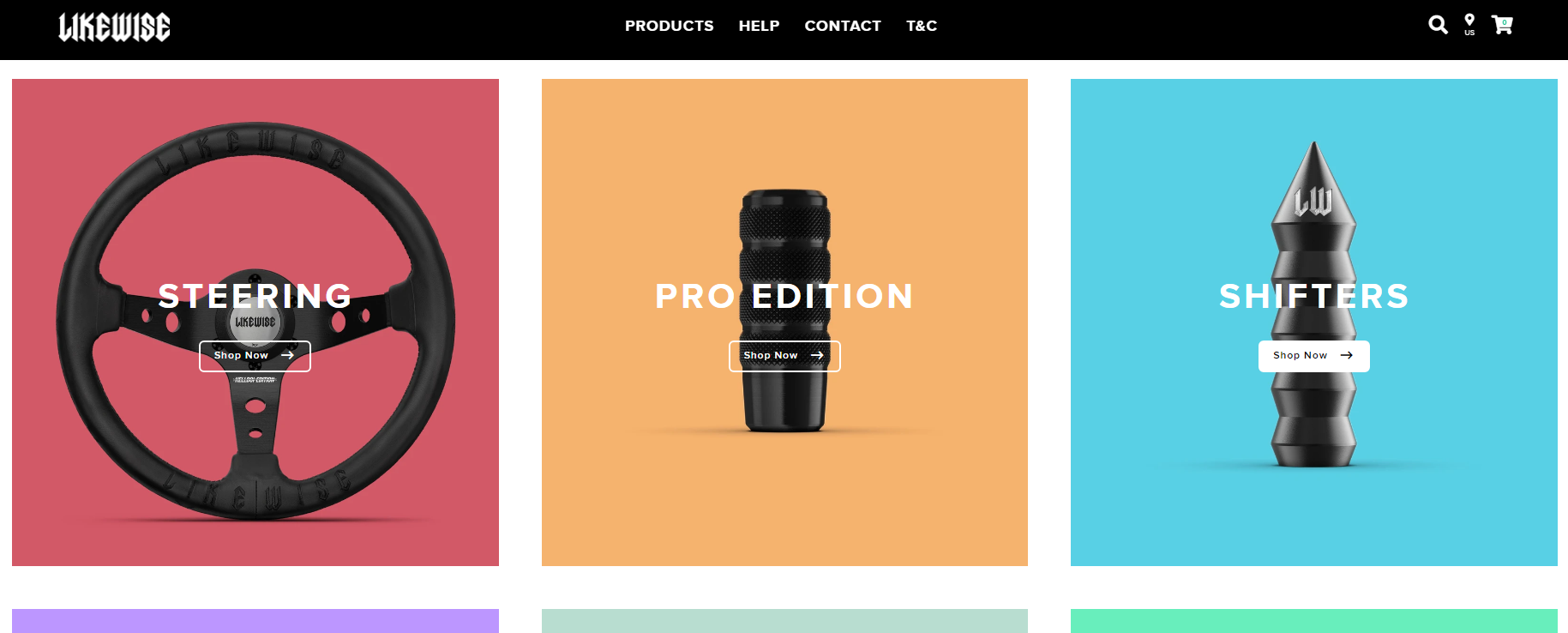 Started placing items in my cart, started measuring my shift shaft to determine what adapters I needed. All said and done, I went with the Daytona in black. Since Volvo put a crazy lock pin twisty shift knob fitting, I also added their Euro Adapter, to make sure the shift knob mounted up properly. All in, $110 bones, and over $100 means free shipping. PRO-TIP: The problem was this gift card was being flagged as spam or something with the international transaction, and after days of fidgeting and researching, the solution was to add the gift card to my PayPal account as a payment method, and then use my PayPal account to purchase from LIKEWISE.
Product arrived in like 6 days, crazy fast considering it came from the other side of the world.
By far this is probably the cleanest packaging and presentation on any car part I've ever purchased.
The box came in tapped with their custom LIKEWISE branded yellow tape. All secure and snug.
You open the box and your parts are all tucked in tight with packing paper, making sure they aren't being tossed around on the journey. You get a cool sticker, install instruction help and my Euro adapter with wrench sitting pretty in its own bag.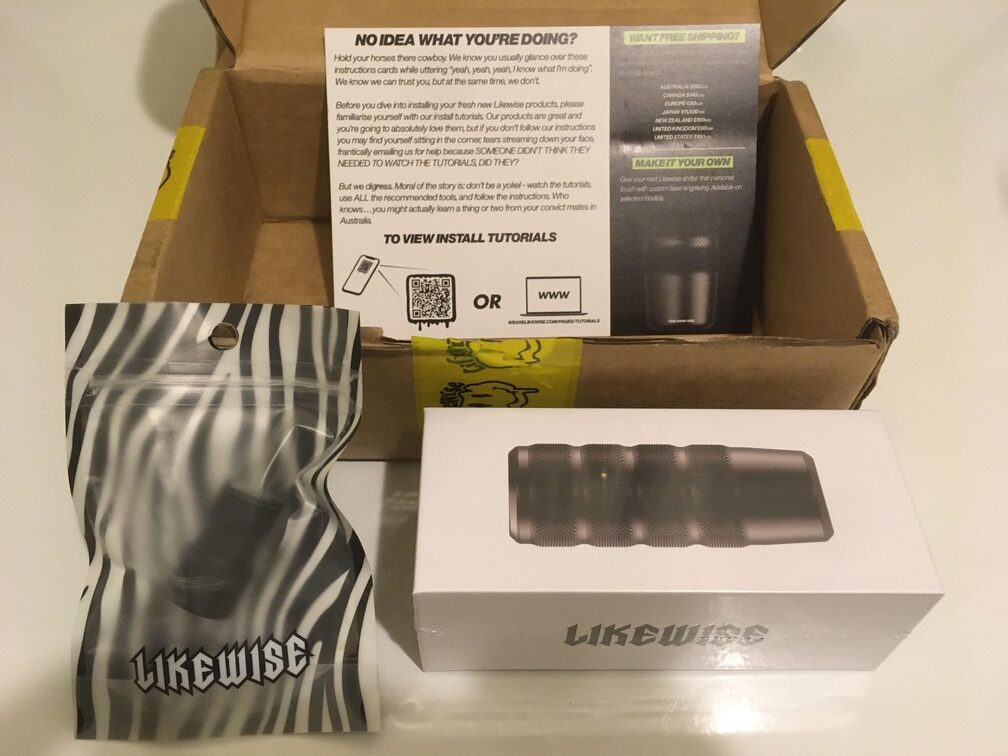 Now the shifter alone, man, that was impressive. It reminded me of un-boxing a brand new iPhone, but better.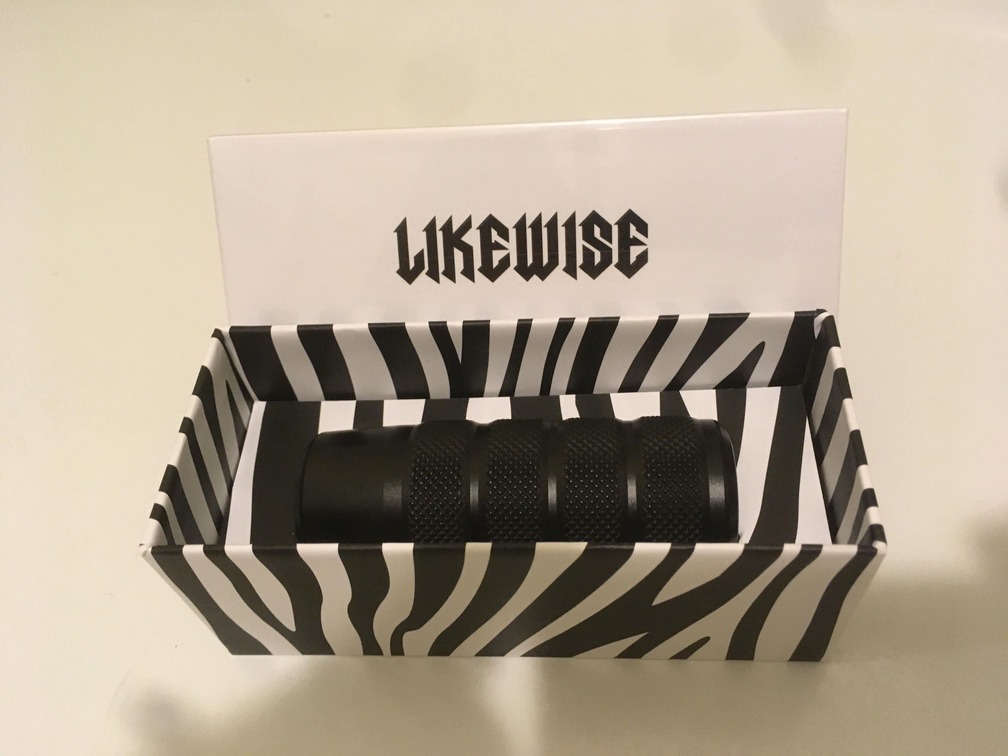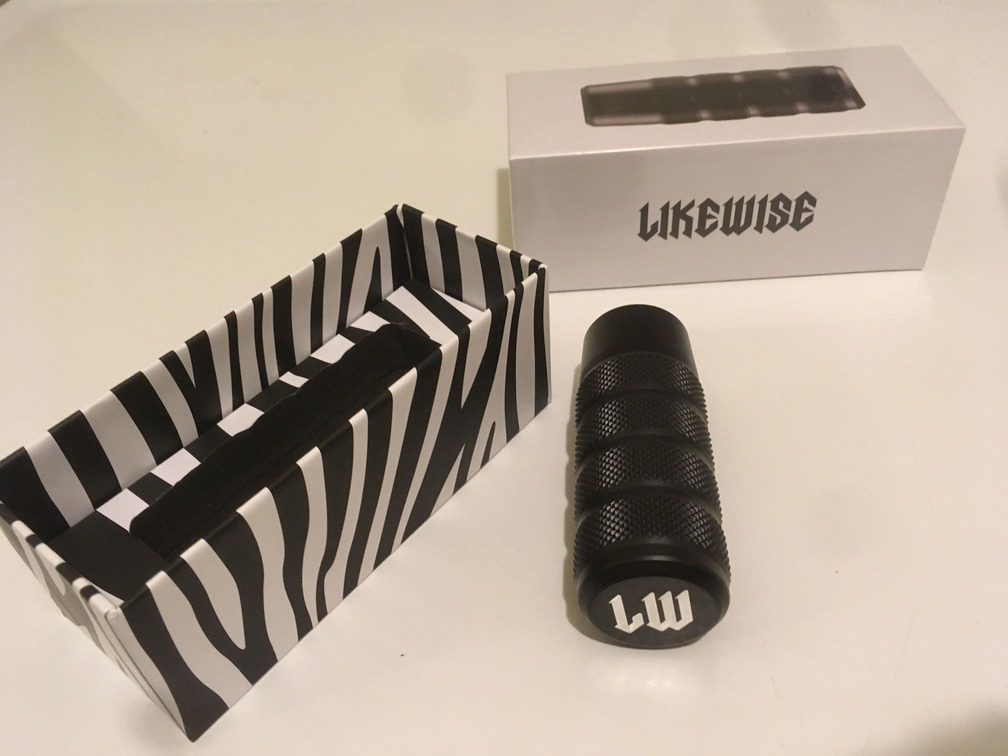 I'll save you the installation overview, most shift knobs are screw in, and if you bought an adapter from LIKEWISE, it is specific to your car, and should go in without an issue. Further, they provide installation instructions for your specific part.
While I can't pop this on and start grinding gears yet, I did do some test fitting on the shifter assembly out of the car and it is gonna be great.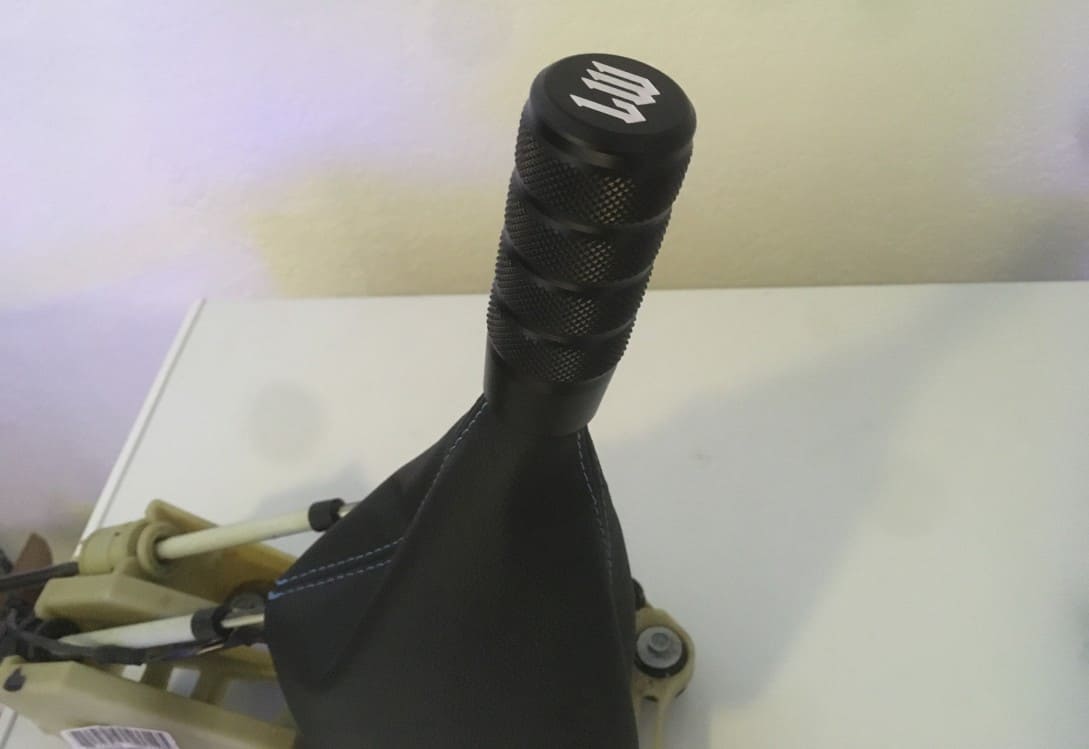 I borrowed Derek's Suzuka extension for this write-up, but did a test fit to see how it looks…. and I might be forgetting to return it.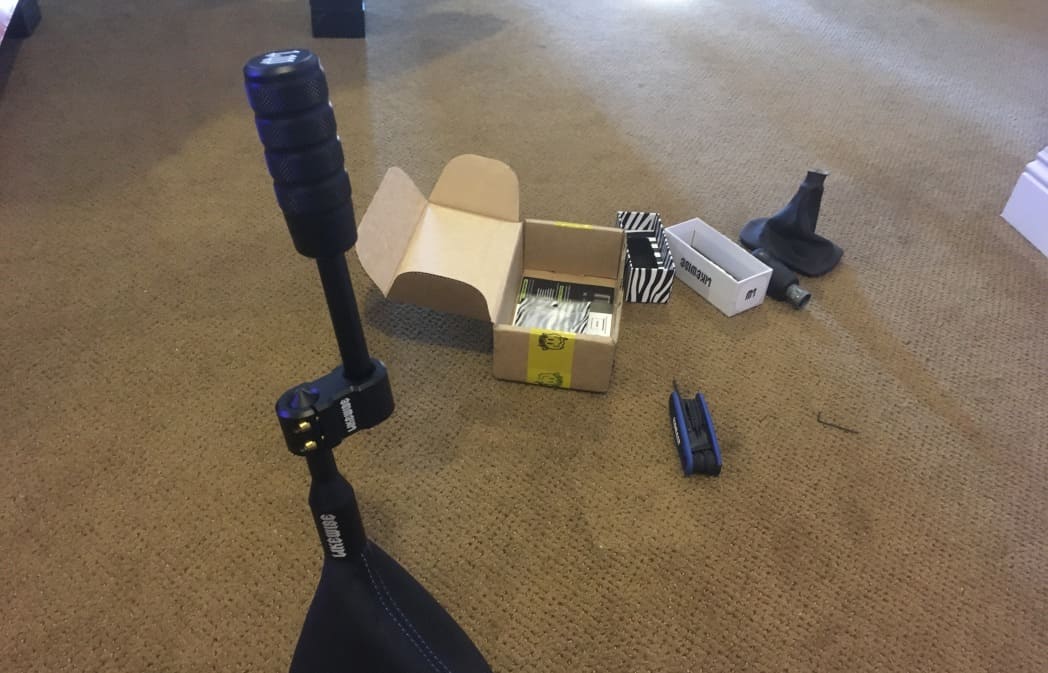 Overall, if you're looking for a shift knob, check out the website to at least know what you're missing. Our one complaint, which seems to be from others as well, is the lack of color choices. With just a handful, and aside from black, you're making a statement. So it is super hyper unique, but I would guess there are other people who simply don't buy because of that. I'm rocking black leather interior, so their black line works for me. I did also seriously consider their "Tiffany & Hoe" blue/green, but it just wasn't gonna work with the car's color scheme.
Massive shout out to @LIKEWISE for the sickest shift knobs I've seen, and shout to to Greg (@steg.tva) for supporting our M66 swap like a boss.