Listen to this article on the go on our podcast.
One Man's Trash is Another Man's Cash Flow
About two years ago I was re-introduced to the glory and hidden potential of local junkyards. I had visited a few local yards at the age of 16 when my dad and I needed to track down pocket parts for my first car, a 1991 Chevy Blazer 2 door.
It wasn't until recently, after my buddy snapped a valve cover bolt due to our failing torque wrench, that we needed to source a new bolt. We called a couple Toyota dealers for the bolt new, but for some reason, this common bolt, probably used on dozens of models was special order and a week away. He needed his Solara on the road that day, so he opened his PYP Garage App, and we made a 2 mile drive to secure our new(used) bolt.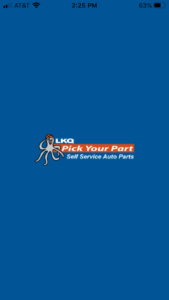 On the way, he mentioned I should grab the app, and maybe I could grab some parts for my car. Interesting thought, and strangely regardless of wrenching on my car weekly, I had never considered this. I added the app on the drive over, and found there were a few P1 Volvo S40s on the lot. While there, I poked around and grabbed a trunk lid shock and a few panel clips, and that was the start of the monster that is my bi-weekly junk yard trips.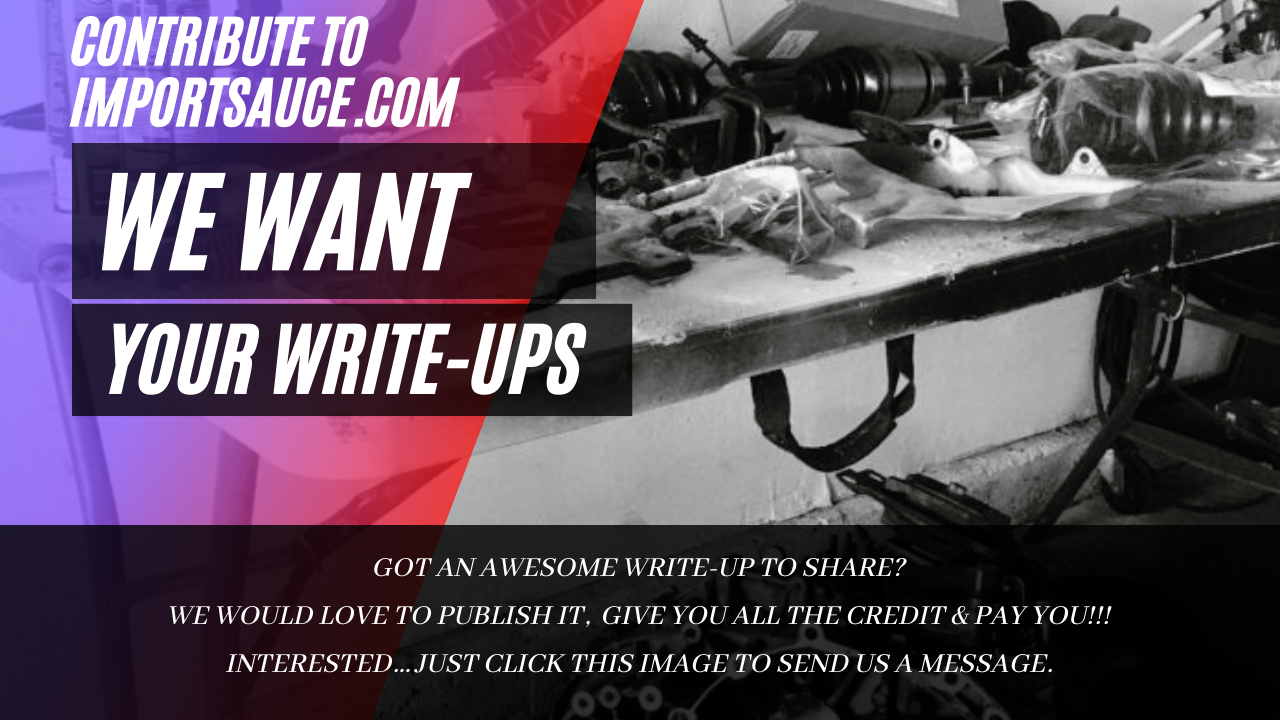 I think I never considered this because my last build was a cherry one-owner BB6 Prelude, in which I never needed any parts…it was cherry, so the junkyard was never on my radar.
I have my PYP Garage app notifications coming via email and SMS, and daily I check current inventory of local yards to see if there are any golden treasures to go scavenge.
So long story long, one of the many ways I found to move my build forward, was to grab some choice parts while already at the yard, in order to sell and make a quick profit.
one of the many ways I found to move my build forward, was to grab some choice parts while at the yard
The process is pretty simple. I already have read every forum article about upgrades, cross model parts swaps and more, for my own build. After I had sourced these parts and upgrades for myself, I thought hmmmm, why don't I grab another set and sell these parts and parts bundles online on the forum and eBay.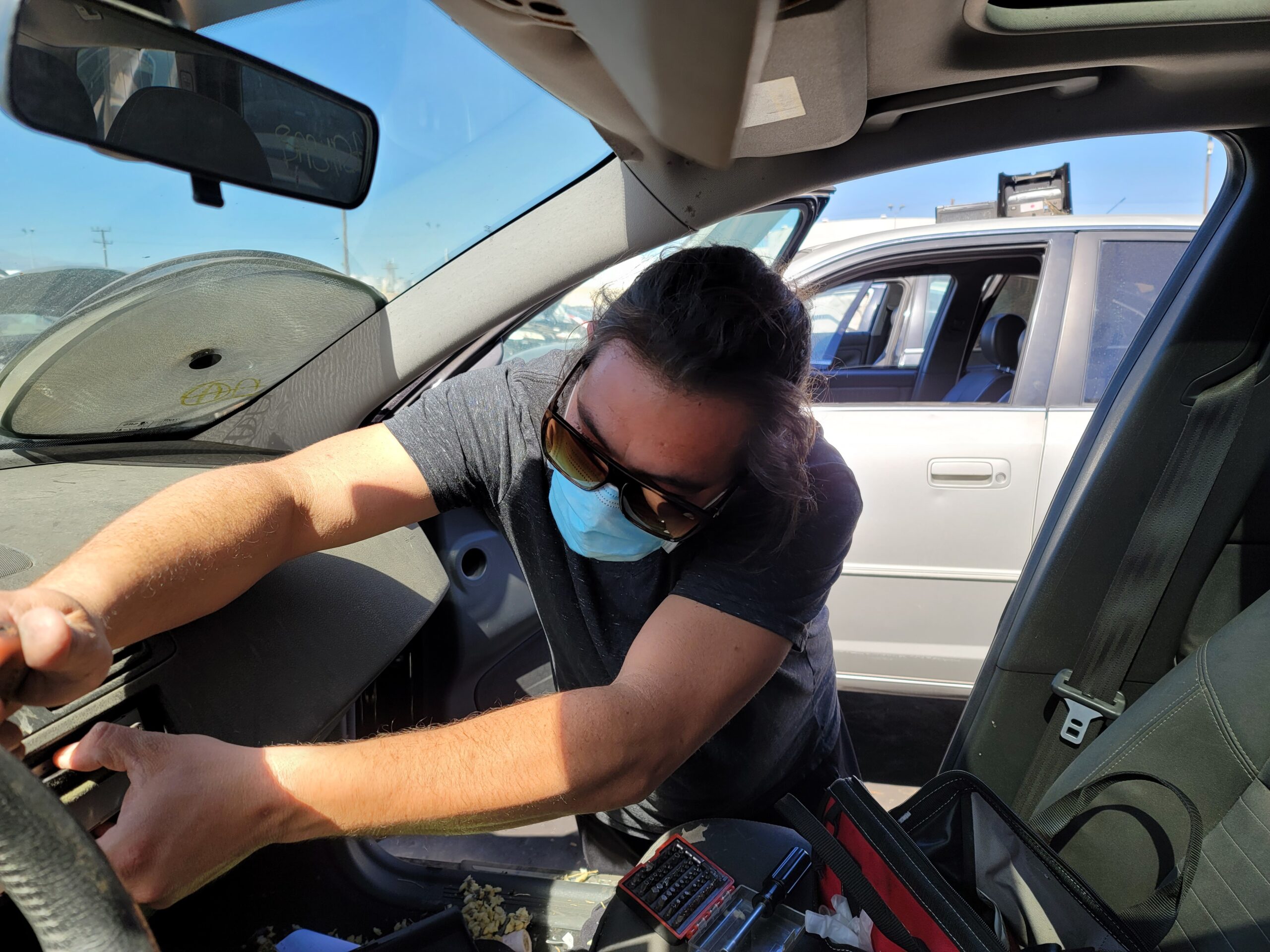 Some might say that people could just go to their own junkyards, or purchase these parts that are already on sale online…but they're wrong for a few reasons:
I'm lucky that I have about 10 junk yards within 30 miles of me, many people don't have a yard within hours of driving.
Parts online that are used are often from vehicle dismantlers, and there is a huge mark-up on these parts from those sellers.
New parts from the dealer are almost always about 10x the price of these parts that are exactly the same, just used.
People don't want to go to the junk yard… too lazy, too scared, no picking experience….
The Nuts & Bolts of Junk Yard Parts Flipping
A few examples of how I have successfully done some parts to cash conversions come to mind, but keep your mind open as the options are limitless with a little research. I now have a short list of parts I am ALWAYS on the hunt for, and if I see come in through the app, I will go get them immediately, as they have proven to provide quick tax free cash.
Making your list of parts isn't hard, and a few ideas to start are factory options your car didn't come with. Also factory options that came on later model/facelift models, factory optional accessories, aftermarket performance parts and even parts that seem to break all the dang time. I'll explain a bit more on these.
Factory Upgrades – Vehicle manufacturers typically will have a few different trim levels on the model cars they pump out each year. For the most part, the base models get little to none of these, while the top tier models have all the options. The play here is to grab those upgraded parts and then put them into the hands of those owners who have base models, or a version that didn't come with those upgrades. Quick to my mind are fog lights, stereo upgrades, leather trim, navigations, seat warmers, better looking interior trim panels, HomeLink garage door openers and more.
For the most part, many of these parts will simply plug and play right into other versions of the car… even electrical components. The chassis, and typically the wiring harnesses are the same, and the final part is either installed or omitted from the factory. It is cheaper for them to install one universal part (say a master wiring harness) that may not be used on certain trim levels, than to manufacture and install a separate part in different vehicles.
One example is fog lights on many Volvo cars as the wiring is already there, and simply adding the lights, interior light switch and maybe a software update puts you in business. Factory fog lights from the dealer in my P1 Volvo run about $1000. 2 lights, 2 bumper trim bezels, a new headlight switch and your software update. I can get all 5 parts at the yard for $30, and have sold these setups for $200 no problem. The new owner either software updates themselves, or just has the dealer do that portion, and they are still hundreds and hundreds less than full pop at the dealer.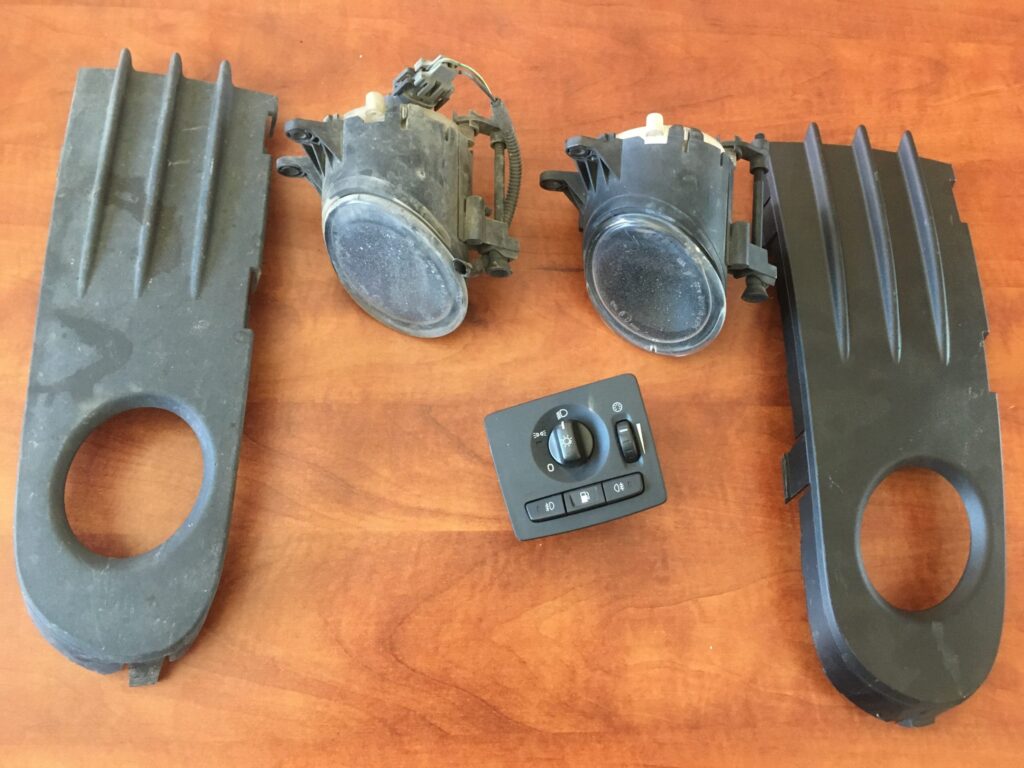 Post Facelift Parts: These are parts that came standard in your same model, but simply in a year after yours. Depending on the span of a model, manufacturers will typically upgrade components on the vehicle as it progresses. Major upgrades or groups of updates may be known as a "facelift". These could be slight body style changes, interior changes, and even mechanical upgrades.
With these updates you will typically find some good candidates for upgrading your own ride, as well as grabbing some extra sets for selling. These could include many similar parts in the upgrades category above like fog lights, new stock body kits, new radio options and even different interior trim panels.
My favorite part in this category I make money on is Factory AUX connections for radios. The 2005-2006 Volvo S40s did not come with any way to hookup a phone to stream tunes. And if you've ever owned or seen the infamous "waterfall" center console, you know there are no after market radio options (without TONS of money and/or custom work). In 2007 Volvo added a 3.5mm jack. By grabbing the cd deck, the jack and the radio screen you are able to add AUX to your car in less than an hour with factory parts. I pluck this particular bundle of parts for $30 and sell them easily for $200 all day long.
I pluck this particular bundle of parts for $30 and sell them easily for $200 all day long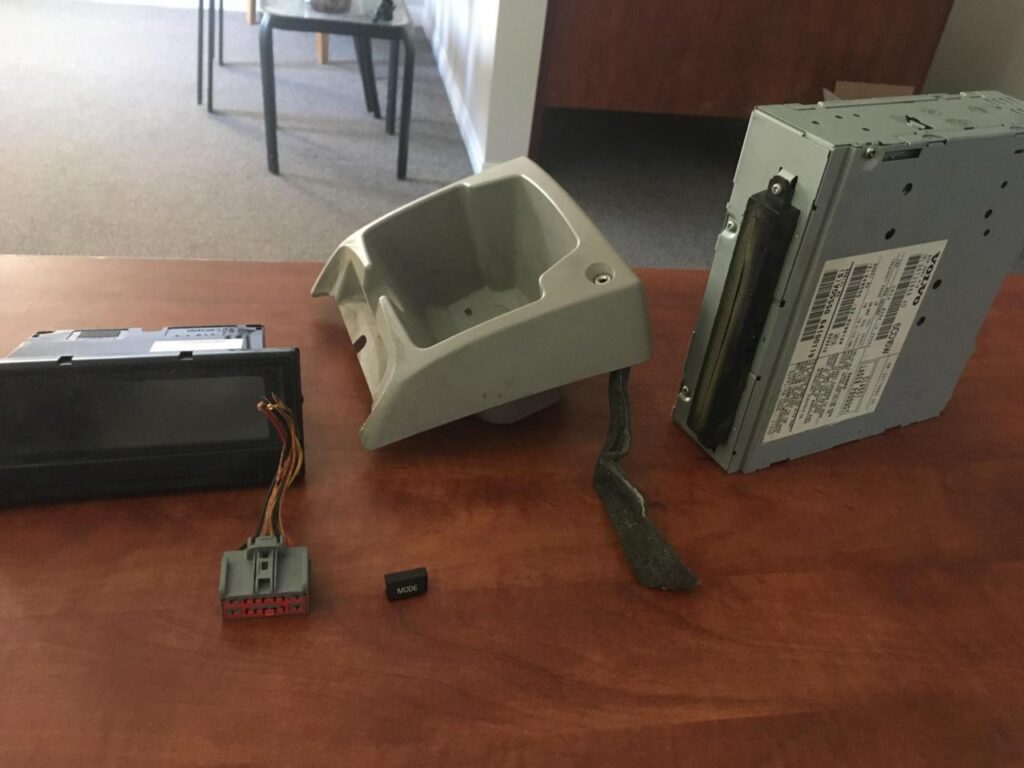 Factory Optional Accessories: This category of parts is a little less common to find at the yard, but I've still been successful here too. This section requires that you have eyes like a hawk when looking through inventory online at your local yard. This group of parts are anything that the manufacturer offered as add-ons at the time of sale. These parts cost an arm and a leg to go buy at the parts department new, but can be sourced for dirt cheap at the junkyard. These could include strut bars, roof racks, optional body kits, special interior trim upgrades/accessories, speaker upgrades, rubber floormats, mud flaps, HomeLink visors, bike racks, spoilers, pedal covers and more.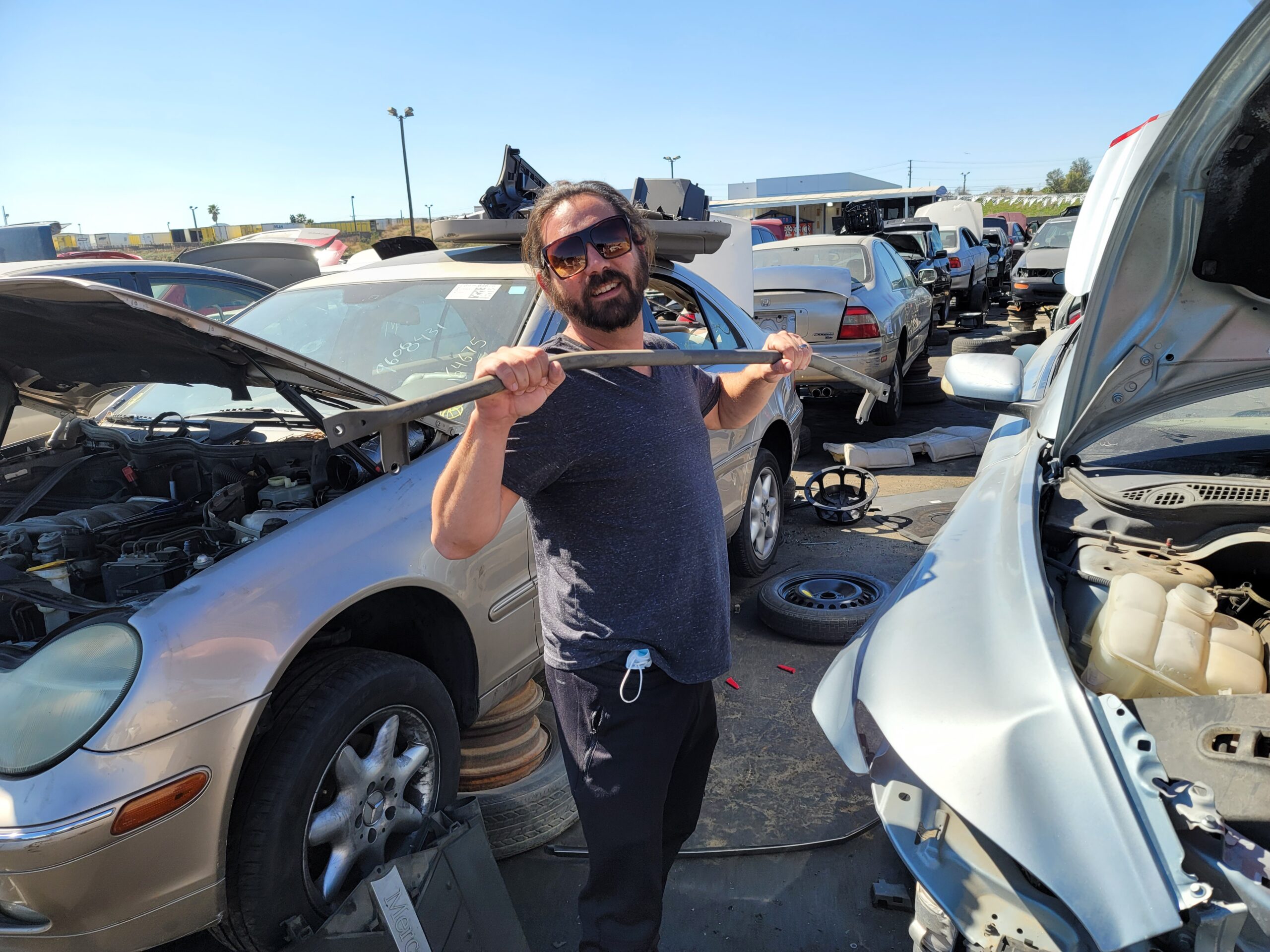 These parts are like gold because they are produced in limited quantity, and I would bet there are more of them sitting in a warehouse than actually sold and installed on cars. If you can find these, grab them! I recently found a factory roof rack for my car for $20. And while these sell on the forums for $120+, and new at the dealer for $300+… I'm keeping this one for me… but you get the idea. There is a demand for these parts, and even more so when people don't have to pay dealership prices on them.
Aftermarket Performance Parts: Now this is the real "cash in hand" hidden treasures. These parts are hyper-rare at the junkyard for two reasons. People who have spent money on choice parts and totaled their car will likely rip the parts off before the tow truck hauls off the shell. They know they value of the parts and know they can recoup some cash. Second, these parts wont last more than a day or two at the junkyard.
These parts can be name brand cold air intakes, big brake upgrade kits, premium double din stereos, exhausts, shift knobs, digital gauge clusters, lowering springs or coil overs, racing bucket seats, and the list is endless, but also very unpredictable.
These parts all cost tons of money to purchase originally, and finding them used is limited to eBay and forum classified ads. Even there, on the secondary market, these parts still demand a premium.
The way to capitalize on these parts is to keep your eyes open when you're at the yard. Searching and looking isn't specific to cars you know. You can cruise a few rows at the yard looking under hoods, inside cabins and in wheel wells. Like your wife at the thrift store, you're look for name brands. If you see something that looks good, look for a stamped part number and do a quick Google search to see what it is and what it is selling for. I almost certainly guarantee that you will pay way less money than it costs to be the cheapest listing on eBay, while still making a nice profit.
Breaking Parts: So this category of parts came to me a year or so after junk yard hunting. I was on the lookout for a sunroof/dome light trim piece. Mine was cracked and the dealer wanted $300+. I found some used ones on eBay for $150-$180. I wasn't going to pay that because of a crack, so I just relented to keep my eyes open at the yard for a replacement.
In the year 2020, I probably made 25+ trips to local SoCal  yards and had seen 100+ Volvo S40s in person….all with the same CRACKED piece. That's when I figured at some point I would have bite the bullet and just grab one, cutting in on my Coors Light funds. Until one lucky day, I found it, the trim piece without a crack. I grabbed it for myself for $10.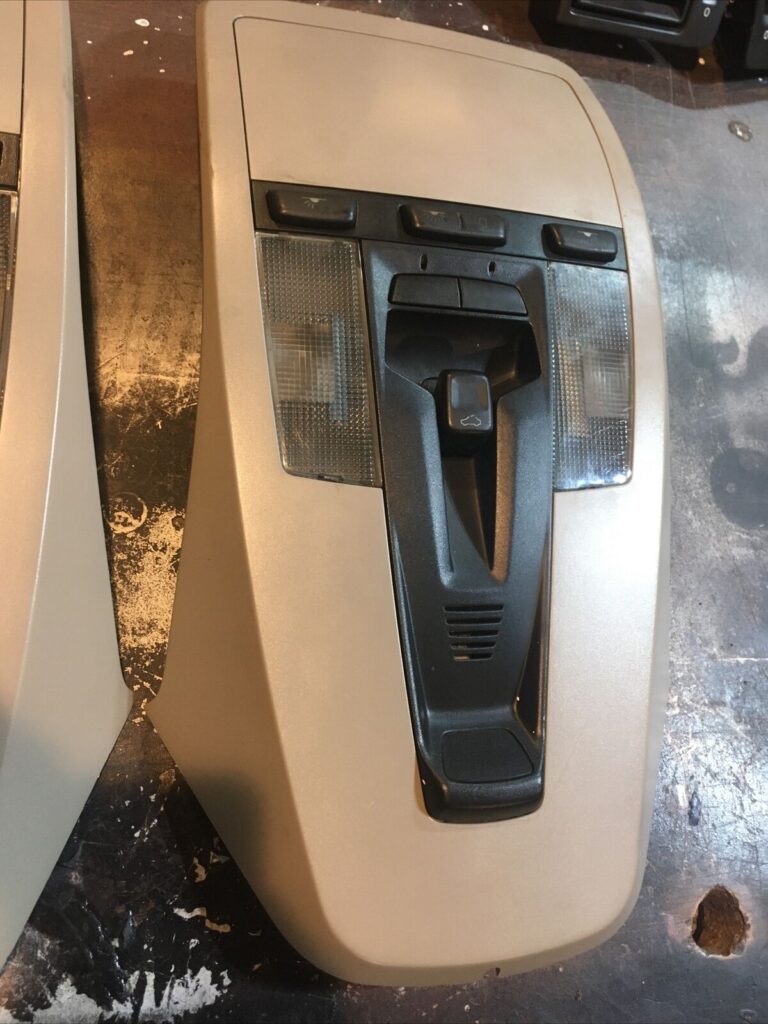 Since that day it started raining (parts that is), and on the next few junkyard runs, I've seen a handful of these in perfect shape. Maybe just a dry spell ending, or luck. Anyways I initially thought "man, I already found mine and now I can't stop finding them". Then I thought well, other people must need these too, and remembered how much eBay listings were. I've been grabbing these guys for $10 and am selling them same or next day on eBay for $75.
If you treat your car with respect but have found a weak link, odds are others have the same problem. This little hack has offered me some nice cash flow for other upgrades to my whip.
In Conclusion – While the junkyard game isn't for everyone, it can be pretty profitable for those who want it to be. I've found that it is a good way to make money for a build, without having to ask for a permission slip from my wife for expensive parts all the time. Lastly, your doing your part to keep trash out of landfills….. we only have one Earth. Be good friends.
Update: You can also find something nice for your girlfriend or wife while there if you keep your eyes peeled. Isn't she always talking about shoes….